Sally Andrew Debuts a South African Mystery Series with Recipes for Love and Murder
Author Photo by Bowen Boshier
Books
Features
recipes
Sure, Sherlock Holmes can solve mind-bending mystery before breakfast, but can he cook the perfect buttermilk chocolate cake?
Meet Tannie ("Auntie") Maria, a 50-something South African advice columnist with a talent for sleuthing and a penchant for cooking glorious Afrikaans specialties. Possessing more than a little moxie, she stars in a charming new mystery series from debut novelist Sally Andrew.
The first book in the series, Recipes for Love and Murder, opens with Tannie Maria transforming her recipe column in the local newspaper into an advice column to pacify the paper's sponsors. Her common sense (coupled with mouthwatering recipes) is a hit, and she soon receives mail from readers across the country. Then Tannie Maria gets a letter from a woman who wants to escape her abusive husband—a situation that mirrors her own violent past. When the woman is murdered, Tannie Maria is determined to find the killer herself. After all, suspects are more willing to talk if you ply them with food.
Paste caught up with Andrew (who lives on a South African nature reserve frequented by a secretive leopard, pictured above) to talk about the series' origins, the recipes in the novel and Tannie Maria's next mystery.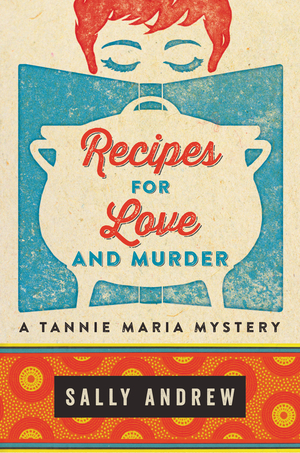 Paste: What sparked your imagination to write Recipes for Love and Murder?
Sally Andrew: Gosh, is it possible to identify what sparks things in our brains and hearts? I remember I was sitting under a camelthorn tree in the Namibian desert when I typed up the first ideas that led to these "Tannie Maria" books. I think I invented Tannie Maria to keep me grounded, laughing and to teach me how to love—and maybe to cook.
I love old fashioned, "cozy" mystery series (e.g. Poirot by Agatha Christie, and Perry Mason by Erle Stanley Gardner), so this definitely shaped the genre I chose. And I'm also influenced by slow-moving, feel-good books, like those by Alexander McCall Smith and Herman Charles Bosman.
Paste: Food plays a critical role in the plot, and you even add key recipes to the end of the book. How did you decide which recipes to include?
Andrew: I draw largely from traditional South African cookbooks and old family recipes. My initial selection is often based on humor or literary allusions. But then I test all the recipes and only include the moan-out-loud delicious ones at the back of the book.
Paste: Who is your favorite character in the novel?
Andrew: I love so many of the characters. Why Tannie Maria is so special to me is answered in [your first question]. Do I have to choose? There may be consequences! What if they sulk and don't want to cooperate for forthcoming novels? Jessie is fantastically feisty. Hattie is a top-of-the-pops delight. Anna is so funny. Henk is an adorable hunk. Candy is so cool and so hot. Sorry, I'm not gonna call favorites.
Paste: Domestic violence is a tragic reality for multiple women in the novel. Why was it important for you to include it in the story, especially in Tannie Maria's past?
Andrew: It would be dull if her past was all rosy, no? A peaceful life is great to live, but boring to read about. I also thought it would be good to link Maria's personal empowerment (overcoming of fears, self-doubt, etc.) with her quest for justice (tracking down a murderer). South Africa, sadly, has a very high level of domestic violence and murder of women by their husbands.
Paste: Can you divulge any details about the next book in the series?
Andrew: Indeed I can. It is called The Satanic Mechanic: A Tannie Maria Mystery. It continues with the themes of recipes, love and murder, but also has fun with sex, healing and forgiveness.