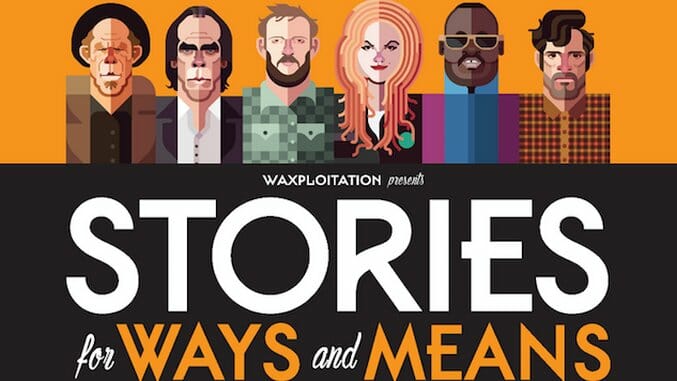 Jeff Antebi, founder of the record company Waxploitation, has spent the last 10 years collecting stories from musicians and artists for a "literary mixtape" of grown-up children's stories.
Stories for Ways and Means isn't a book for kids, though. The stories, written by the likes of Tom Waits, Nick Cave, Bon Iver, Laura Marling, Jim James and more, feature "outre art, weird images, graphic displays of nasty stuff and cuss words."
There will also be a series of short films to accompany the book, narrated by Danny Devito, Zach Galifianakis, Nick Offerman, Phil LaMarr, King Krule and Lauren Lapkus.
Proceeds from the book will go to Room to Read and Pencils for Promise, two charities that build schools in poor regions of the world and promote children's literacy.
Stories for Ways and Means is a limited-edition book, available on a first-come, first-served basis. The regular edition sells for $98 and 100 copies of "The Rare Rare Rare Exclusive Signed Edition," with autographs from Nick Cave, Bon Iver and more, go for $500.
Stories for Ways and Means is available for pre-order now. If you pre-order before the book's Dec. 12 release, you'll get a free gift card. You can watch a trailer for the book below. Find the full list of participating musician and illustrator pairings beneath that.
Tom Waits and Kathleen Brennan + Joe Coleman
Justin Vernon + Sage Vaughn
Nick Cave + Anthony Lister
Jim James + Jacob Escobedo
Frank Black + Kai & Sunny
Laura Marling + Maria Rivans
Amadou Bagayoko + Will Barras
Del the Funkee Homosapien + Ronzo
Spencer Krug + Sepe
John Vanderslice + James Jean
Gibby Haynes + Daniel Anum Jasper
Alec Empire + Lidia De Pedro
Kathleen Hanna + Clare Rojas
Devendra Banhart + Daniel Mun-Oz "San"
Eugene Hutz + Candice Tripp
Manuel "Guajira" Mirabal + Herakut
Elliphant + Calrin Diaz
Micachu + Kirsty Whiten
Song Yuzhe + Asha Zero
Alison Mosshart + Dan Baldwin
Satomi Matsuzaki of Deerhoof + Kyotaro
Jason Lytle + "Heisuke Kitazawa or PCP"
Orvar Smarason + Loa Hjalmrsdottir
Will Oldham + Swoon
Sera Cahoone + David Bray
Gary Numan + Cinta Vidal
Ernest Ranglin + Dave Kinsey
Matthew and Jennifer Dear + Josie Morway
Anna and Maria Von Hausswolff + Alessia Iannetti