The Chitlin' Circuit and the Road to Rock 'n' Roll by Preston Lauterbach
Your Chitlin' Heart
Books
Reviews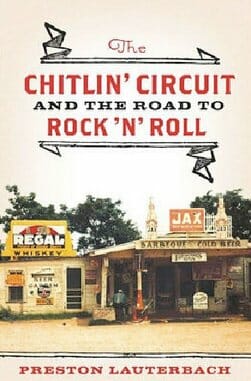 Elvis Presley, goes the myth, invented rock 'n' roll at Sun Studios, around the time he recorded Arthur "Big Boy" Crudup's "That's All Right" in 1954. Without dismissing Presley's considerable accomplishments—not to mention those of Sam Phillips, Bill Black, and Scotty Moore—the truth of R&R's origins is much more complicated … and thornier.
Rock 'n' roll, vital 'n' powerful, could not have been created out of thin air. Instead, generations of black (and later white) musicians who worked in traveling pop orchestras cultivated it, emphasizing melodic volatility and onstage excitability as they went. They blazed through the network of black-owned nightclubs and venues around the South and Midwest known as the Chitlin' Circuit, honing their chops, paring down their rosters, and upping the ante with each show. Presley's debut single itself developed on the Chitlin' Circuit nearly a decade before the man who would be the King released it.
If the music played in Chitlin' Circuit clubs, which ranged from fire-hazard structures outside small towns to opulent stages in larger cities, proved essential to the creation of rock 'n' roll, it stands the test of time in its own right. It's far from simply a waystation to a largely white idiom.
Even so, the Chitlin' Circuit remains largely unexamined and unheralded, its very definition somewhat vague—there's nothing resembling official membership and little documentation of goings-on in venues. All this makes The Chitlin' Circuit and the Road to Rock and Roll crucial to our understanding of late-20th-century pop music and all the more impressive for its exhaustive research. Preston Lauterbach's book—spirited, studious, surprising, occasionally hilarious—is absolutely persuasive on its subject.
Who got a start on the Chitlin' Circuit? It might be more expedient to ask who didn't. Lauterbach follows the travels and travails of Joe Turner, Louis Jordan, Clarence "Gatemouth" Brown, Wynonie Harris, Little Richard, and James Brown, among many. Some memorable personalities, however, have largely and perhaps unfairly been forgotten, even after exerting an indelible influence on subsequent generations. Jimmie Lunceford may not be a household name, but he routinely performed at Memphis high schools in the 1940s and 1950s. He helped establish an atmosphere, if not a curriculum, that inspired Isaac Hayes, Willie Mitchell, Booker T. Jones, and many other '60s musicians.
Perhaps the most colorful of Lauterbach's profiles, Denver Ferguson, wasn't even a musician. A mainstay in the Bronzeville section of Indianapolis, Ferguson ran a print shop that fronted a numbers racket. His major innovation? He printed betting forms as baseball scorecards, the better to fool police. A complicated and often ruthless man who deserves an HBO series, Ferguson opened high-profile nightclubs along Bronzeville's main street and brought in touring bands for local audiences. Perhaps more crucially, he learned that he could tour-manage some of those same bands as they traveled the South, thus creating a circuit of venues where African-American music could flourish outside big cities in the Northeast.
This circuit allowed diverse artists to hone and innovate across a range of genres. They needed not only good songs—like Roy Brown's "Good Rockin' Tonight," later recorded by Presley—but also intense magnetism. The best performers possessed an anything-can-happen spontaneity that made them larger than life. As Lauterbach writes of T-Bone Walker: "In Los Angeles in the early 1940s he'd sling the guitar behind his head and slow-split smooth as ice… T-Bone separated women from their undergarments using only his guitar."
The Chitlin' Circuit covers the business of music as much as the music, yet Lauterbach's writing is anything but business prose. He depicts the machinations of bookers and hype men with as much vigor as he describes the onstage antics of Amos Milburn and Gatemouth Brown. In fact, he finds a certain shrewdness and ingenuity in these businessmen. Many necessarily worked just outside the law and still created a large, lucrative industry.
"The chitlin' circuit was never about making big money," Lauterbach writes. "It was about making constant money." In time, the circuit grew to rival the mainstream circuits in larger cities like Chicago and New York. Towns like Houston, Memphis, New Orleans, and especially Macon, Georgia (central to both Little Richard and James Brown), came to exert as much influence over popular tastes as any other scene.
Ironically, the circuit's success also precipitated its downfall, as the acts playing these clubs eventually became too big for them. Some think of the Chitlin' Circuit as a farm system, fostering talent seeking success on a bigger stage for a bigger audience or else awaiting the endorsement of a white artist like Presley for validation. To his credit, Lauterbach avoids the condescension. Instead, he complicates and deepens our view, even describing the effects of urban renewal and new recording technologies on the circuit.
The Chitlin' Circuit survives today mostly as an underground network of nightclubs supporting nostalgia acts and fringe artists. But, as Lauterbach shows, it remains an end itself—a means even today for black performers and businessmen to "put the black audience first."
A longtime Paste contributor, Stephen M. Deusner is a Chicago-based freelancer who covers music for Salon, Pitchfork, and American Songwriter. He contributed an essay on Okkervil River to The Poetics of American Song Lyrics, forthcoming from University Press of Mississippi.