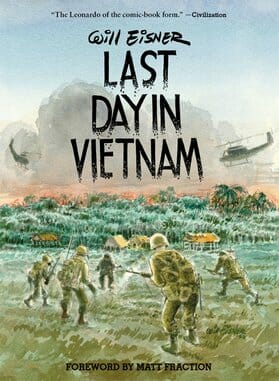 Writer & Artist: Will Eisner
Publisher: Dark Horse
Release Date: March 6, 2013 (Reprint); July 15, 2000 (Original publish date)
Reissued in a new, hardcover edition in honor of Will Eisner Week and what would have been the author's 95th birthday, Dark Horse's collection of war stories by one of the foundational heroes of the medium doesn't quite measure up to A Contract with God, but not much can. It does, however, serve as yet another illustration of Eisner's wide-ranging powers and creativity. In 2011, Abrams published a compilation of Eisner's work from PS Magazine, the military's preventive maintenance monthly, which frequently ran reminders for soldiers to clean their gear in informative panels. Although Eisner got his inspiration from the same trips for both PS and Last Day in Vietnam: A Memory, they're very different critters.
The stuff for PS is, by necessity, more functional and rarely sustains much of a narrative. The art is a joy, as ever, but the material works better as a bit of history than a good read. Last Day in Vietnam: A Memory, on the other hand, resembles A Contract with God closely in some aspects. A series of loosely connected short stories, the book focuses on events from the mundane to the dramatic. Eisner's gift for innovation is also on display, with the title story told entirely in first-person perspective, heightening the emotions it evokes. Ever the pioneer, Eisner pushes what comics can do into new territory. Especially war comics. Even with Harvey Kurtzman's emphasis on accuracy in other military titles like Two-Fisted Tales and Frontline Combat and Jack Davis' occasional contributions to those same serials, which couldn't help but express the artist's signature humor, the field was largely serious in its outlook, whether pro- or anti-war.
Eisner's ability to combine the comedic with the dramatic is a particular strength, and it's part of what makes these swift 80 pages so special. Stories turn on a dime from one to the other, and the body language of the characters conveys a certain amusement at humanity even in the midst of pathos. Eisner always dances right on the edge between the real and unreal, putting more character into his figures' gestures than any actual person other than a drama student would convey. The results are warm, rounded, smart, and still fresh, many decades and wars later.