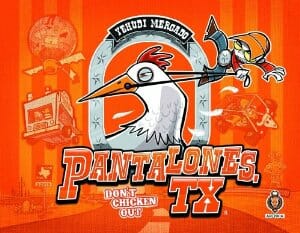 Writer & Artist: Yehudi Mercado
Publisher: Archaia
Release Date: March 12, 2013
It's not surprising to learn that Yehudi Mercado, the creator of Pantalones, TX: Don't Chicken Out, has an animation background. The book immediately recalls many of the original shows that Cartoon Network produced in the late 1990s and early 2000s, including Johnny Bravo, Powerpuff Girls, and Dexter's Laboratory to name a few. Bright with solid color fills rendered in a limited, unrealistic, and lovely palette, the narrative's sweet-natured irreverence and absurdist sense of humor pay tribute to the originator of the category, Chuck Jones.
The tale of Chico Bustamante, the baddest go-kart racer in a small town famous for inventing underwear, and his nemesis, Sheriff Cornwallis, who runs his office out of a mobile fried chicken stand, Pantalones roots its origins in the fables of the Road Runner and Wile E. Coyote, complete with mad dashes through the desert. The mix of lowbrow and highfalutin' humor (underpants jokes sit alongside a parody of how Texas constructed its identity as a state) is familiar, too. Even the restrictions of the comics format — individual panels that never quite blend together into the seamless action of animated sequences — recall Jones' famous freeze-frames suspended in the midst of chaos. It's difficult to be picturesque and appeal to the rambunctious K-5 crowd at the same time, but Mercado mostly manages the trick. He occasionally renders a background with a disappointing computer-aided blur, but those moments are rare. The character design is strong and distinctive, and the story comes through.
Pantalone could serve as the setup for a continuing series, but the book also stands on its own. Most pleasant of all is how the initial impression that Mercado is trying too hard, cramming his pages with too many asides and goofy jokes, shortly gives way to a joy for that same whimsical approach. Devout realists may have a problem with Pantalones, TX, but sometimes hyperkinetic, colorful too-muchness is just right.