How Luke's Lobster is Upending the World of Lobstering through a New Kind of Co-Op
Photo by Luke's Lobster
Business
Features
Lobster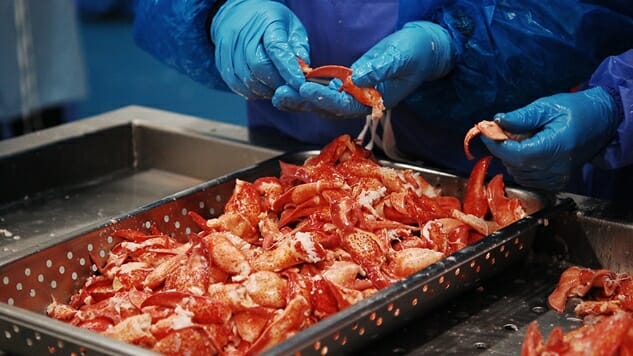 While many things can be said about the success of Luke Holden and his multi-million-dollar company, Luke's Lobster, two things, in particular, stand out. Going into finance post-graduation isn't the only key to making it big, and nothing is so good that it can't be made better.
As is the case for many in the industry, Holden comes from a long line of fisherman and began his foray into the lobstering world as a kid. Following in the footsteps of his father and grandfather, Holden spent his summers lobstering in the waters off Cape Elizabeth in Maine. During a stint as an investment banker in Manhattan in 2007, he realized that high-quality, affordable lobster rolls weren't a thing in the city.
From that moment on, he made it his mission to change the lobster roll scene, and in 2009, the first Luke's Lobster officially opened its doors in the East Village. With little-to-no business experience and a $15,000 loan from his father, Holden and his Craigslist-found business partner made Luke's profitable within three weeks of being in business.
Key to Lobster Population's Survival
According to the World Wildlife Organization, over 85 percent of the world's fisheries have been pushed to or surpassed their biological limits. Despite the numerous overfishing issues that have plagued many sought-after species such as Bluefin Tuna, lobster remains one of the most abundant and lucrative seafood populations.
A recent Associated Press article reported that 2016 was the seventh consecutive year that Maine lobstermen set a record for the value of their lobster catch. Last year, Maine fishermen caught nearly 131 million pounds of the crustacean worth over $533 million at the docks, exceeding 2015's record by over $30 million.
It's clear that U.S. lobster fishermen are consistently catching more lobsters, year after year. This begs the question—what is this industry doing so well that keeps the future of the lobster industry out of peril? For starters, the Department of Maine Resources strictly enforces rules that include the types of traps that can be used and the acceptable size limits of caught lobsters. Furthermore, females caught with eggs must be thrown back.
Luke's Trap-to-Table Commitment
From the humble start of Luke's Lobster to the present-day, one goal has remained: to connect its customers to the source. By taking his experiences growing up in the lobstering community and implementing the ethics of sustainable fishing learned from an early age, Holden has remained steadfast to his principles. Luke's Lobster is continuously implementing solutions to ensure that it upholds its commitment to serve only 100 percent traceable and certified sustainable seafood, while simultaneously keeping up with demand.
In 2012, Holden took the company's commitment to trap-to-table traceability to a whole new level by founding Cape Seafood, a sustainable seafood processing facility in Saco, Maine. This facility quickly became Luke's only supplier. "We are working directly with the harvesters to cut out the middleman to increase quality and offer the best price to our guests," said Holden.
This crucial progression in Holden's company growth has allowed the business to hand-pick lobsters directly from the dock, and also immediately clean, steam, package, and ship them to its shacks, thereby ensuring its freshness. Cape Seafood remains the only Marine Stewardship Council-certified sustainable and Safety Quality Food Level 3 certified seafood company in North America.
Though Holden can't speak to the level of commitment to sustainability and traceability of his competitors, he explained that Luke's Lobster "can support the fact that we only source from sustainable resources by proving that we can trace our seafood back to its source."
The First Fishermen Co-Op of Its Kind
Most recently Holden, along with a group of over 20 lobstermen, and the owners of a historic wharf in Tenants Harbor, Maine, opened the world's first-ever fishermen's co-op to be vertically integrated with a seafood processing company and restaurant group. The new, revitalized lobster shack, appropriately named "Luke's at Tenants Harbor," allows guests to dine at the source.
"While there are many fishermen co-ops throughout the world, this is the first co-op in Maine that works directly with a processor to cut out the middleman (the dealer) and has additional earning potential if the restaurant located at the co-op financially performs. I believe trust is the biggest impediment to these relationships occurring more frequently," said Holden in response to why a co-op quite like his has never been done before.
Furthermore, Holden has committed to putting 50 percent of this shack's profits back into the Tenants Harbor Fishermen's Co-op. This partnership promotes diversified revenue streams for the members of the co-op and sets a new standard to make the fishing industry fairer and more sustainable for all parties.
"Luke's Lobster and the Tenants Harbor Fisherman's Co-op have created a model that has enabled the co-op to earn income through at least four different channels versus just selling their catch each day and being done," explained Holden. "Diversification is thus an element of sustainability for the community. By proving that trust and cooperation can work like a rising tide and raise all boats, the Tenants Harbor Fisherman's Co-op will hopefully drive others in the industry to think outside of the box to find strategic initiatives."
"We plan to continue to build the brand as the best-in-class seafood company in the US. We will do this by continuing to share our sustainable, traceable food with guests at our shacks, and by developing related products as we uphold our commitment to sustainability, traceability, and quality," asserted Holden in response to what's next for his lobster empire.
In seven years, Holden and his business partner Ben Conniff have opened 21 locations operating in the United States, as well as a new Luke's Cart concept at Whole Foods in Brooklyn's trendy Williamsburg neighborhood. They also have five profitable locations in Tokyo. By sticking to what he loves and remaining true to his Maine heritage, Luke's Lobster has transformed into both a multi-million-dollar business that saw over $20 million in sales last year and a pioneering industry leader.