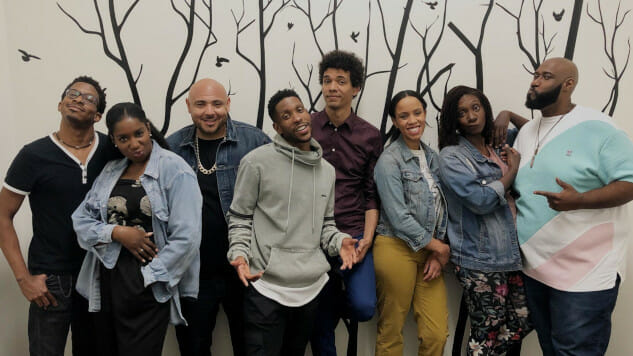 Netflix is no stranger to great sketch comedy series, and the streaming service announced on Tuesday afternoon a new one to join its roster. Astronomy Club, the new half-hour series from Kenya Barris' Khalabo Ink Society, has been given a six-episode order.
Per a press release, Astronomy Club "will use comedy to discuss complex and nuanced real-world topics. Combining honesty with levity, sketches will explore an array of topics ranging from pop culture and social issues to the Black experience."
The show shares the name with the sketch group that'll make up the show's cast, whose members are Shawtane Bowen, Jonathan Braylock, Ray Cordova, James III, Caroline Martin, Jerah Milligan, Monique Moses and Keisha Zollar. Executive producer Barris is best known for black-ish and Girls Trip, and this is the first project in his nine-figure deal with Netflix that we reported on late last year.
Here's a description of the group's history and accolades:
Astronomy Club is a veteran NYC-based improv and sketch comedy group that was formed in 2013 and soon became the first all-black house team at the Upright Citizens Brigade Theatre. The team was named NYCF/Comedy Central Sketch Comics to Watch 2016, and on Vulture's "Comedians You Should and Will Know" 2018.
At Paste, we're already fans of Astronomy Club. We wrote that their work recalls "the best of The State and The Kids in the Hall … but filtered through a more overtly satirical lens," when we caught up with the group last October.
No word on a release date for Astronomy Club yet, but you can get a taste of their comedic stylings via the sketch below.