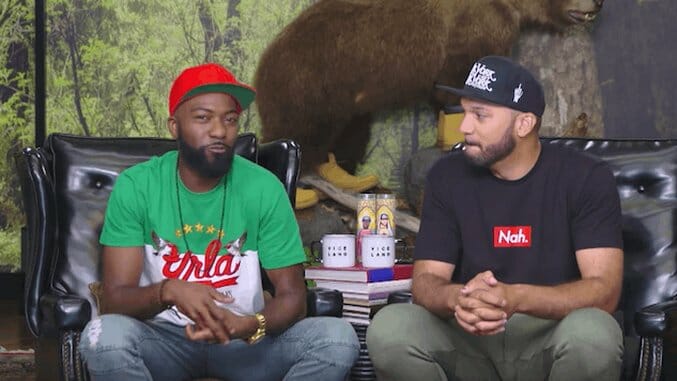 The NRA exists primarily to garner donations. Technically, they're supposed to be advocating for the second amendment, but the main goal is really just to make money. As such, they now constantly release ridiculous, overblown ads suggesting that tightly clenched fists (and presumably, sphincters) wrapped around handguns of truth are the only thing standing between gun owners and a thieving Obama sneaking into their homes to steal all their guns, like in an old Burger King ad.
The comedy duo Desus Nice and The Kid Mero decided to film themselves watching the NRA's most recent attempt to scare people into giving them donations. Afterwards, they decide Dana Loesch must be behind on her car payments, and offer to become the new faces of the NRA. Their advertisement wisely covers how in American you can buy "four, five, six guns. Buy all the guns." Naturally, their ad features copious amounts of gunshots and explosions, because America.
All in all, their ad is just about as effective as the NRA's.
Watch the full clip above, and be sure to check out our thoughts on the original NRA ad here.