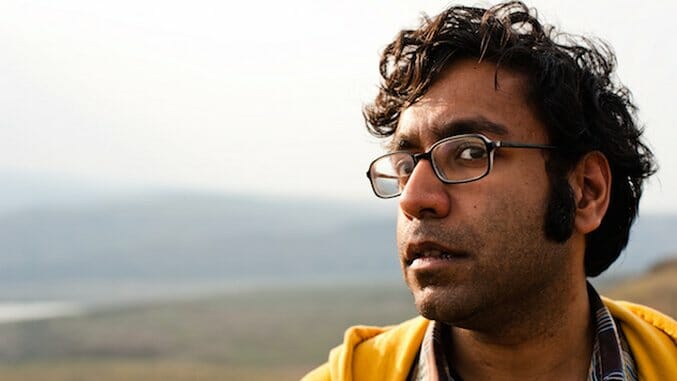 South Asian-American comedian Hari Kondabolu has a bone to pick with a certain stereotypical cartoon character. Although Kondabolu has loved The Simpsons all his life, the Indian convenience store owner named "Apu Nahasapeemapetilon" has served as something of a "nemesis" to the comedian. This documentary, titled The Problem with Apu, will explore minority representation in the mainstream media, and will air on truTV in November.
Kondabolu will explore the origins of this character, his legacy and longevity during the past three decades. Apu is an Indian character with a heavy accent—voiced by a white man, and with the memorable recurring phrase, "Thank you, come again!" With this character casting a shadow over Kondabolu's relatively successful career, the comedian will exchange thoughts on feelings on Apu with other actors and comedians, including Aziz Ansari, Kal Penn, Aasif Mandvi, Hasan Minjaj, Utkarsh Ambudkar, Aparna Nancherla, Russell Peters, Sakina Jaffrey and Maulik Pancholy.
Kondabolu says in a press release:
"I was obsessed with The Simpsons growing up and it has greatly influenced my comedy. However, as my mother proves, you can criticize something you love because you expect more from it. For the longest time, Apu was the most prominent representation of South Asian Americans—and despite how much our society has changed in the last three decades, the character persists today. I made this film to not only talk about the origin of the character and highlight the impact of such images in media, but also to celebrate the diversity and complexity of my community."
At the end of the trailer for this comedic doc (embedded below), Kondabolu is unafraid to take on any criticisms, practically challenging the alt-right to come at him for being a "PC social justice warrior," saying at this point, enough is enough with the casual racism in our media. And because people are crappy, you can see that the trailer has a heavy number of thumbs down ratings.
The Problem with Apu will air on Nov. 19. Additionally, the press release announced newly added stand-up tour dates for Kondabolu—find those beneath the trailer below.
Hari Kondabolu Tour Dates:
September
25-27 – Toronto, Ontario @ Just For Laughs
October
19 – St Louis, Mo. @ Helium
20 – Iowa City, Iowa @ Witching Hour Festival
27 – Wilmington, N.C. @ Dead Crow Comedy Room
November
03 – Boston, Mass. @ The Wilbur
04 – Northampton, Mass. @ Iron Horse Music Hall
08 – Philadelphia, Pa. @ Punch Line Comedy Club
16 – Eugene, Ore. @ Hult Center's Soreng Hall
18 – Tacoma, Wash. @Theater on the Square, Broadway PAC
30 – Santa Cruz, Calif. @ The Catalyst
December
01 – Oakland, Calif. @ Fox Theater
07 – Dallas, Texas @ Texas Theatre
08 – Austin, Texas @ Stateside at Paramount
09 – Houston, Texas @ The Secret Group
10 – New Orleans, La. @ The Joy Theatre
13 – Portland, Ore. @ Aladdin Theater
15 – Seattle, Wash. @ Neptune Theatre