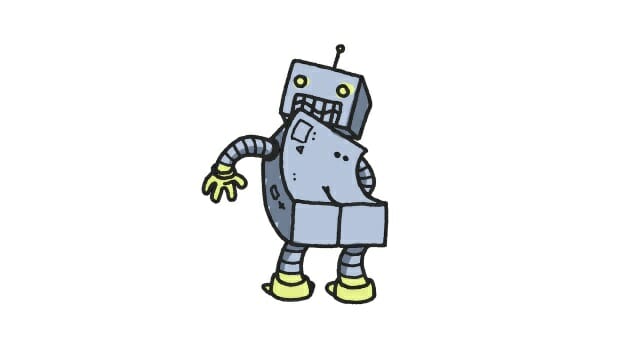 Back in March, we featured several humor sites we felt were worth your attention, and all of them have been chugging along nicely since then. However, after that piece was published, we were lucky enough to get our eyes on even more humor sites, popping up around different forms and themes, pushing internet humor forward, twisting it around and taking it in exciting new directions. If you liked the last batch, here are some more!
Following the adventures of Taupal, an ex-ballerina and mother of five, these entries from Kady Ruth Ashcraft, Kaeleigh Forsyth and Jenny Nelson are equally adept at skewering the lifestyle advice ("When Should You Let Your Children Start Drinking Perrier?") and the vague yearnings that make up a mommy blog. Olive & Lark seals the deal by approaching the topic with a real sense of pathos. "I hate to admit there is a single thing I don't love about my life, but at times I wish I had an excuse to ride the train more," Taupal writes in an entry simply entitled "Trains."
---
The Offing has been publishing great work thanks to Wit Tea and its editor Jonterri Gadson. Published sporadically, pieces featured by Wit Tea often bend towards the giddily erudite (take "The Great Man's Stripes," from Stephen Baily). It can also weaponize that voice, punching up in pieces like Homa Mojtabi's "I Cannot Run This College on Less Than A Billion Dollars," a letter to alumni soliciting donations, while fully admitting "We cannot offer anything in return accept nostalgia."
---
Take a moment on your groggy morning commute to read some of the disarmingly strange satirical options over at Robot Butt. It'll wake you up. I'm thinking of recent pieces like Holly Amos's "If Clint Eastwood Made a Movie About Riding the Subway, You-the Man Blocking the Door-Would Be the Antihero," or Chris Brotzman's "Don't Talk About Your Mental Health. Buy Our Disgusting Hamburgers Instead!", or really anything from the site's archives—the Butt has been going strong for years, allowing writers to branch out and try things other publications might not take a risk on. As you'll see, the risk generally pays off.
---
The personal newsletter is another form that has been put to inventive use as a humor outlet recently, and none more inventive than Good Information, a weekly mailer in which Ryland Duncan provides primers on various reader-submitted topics: cereal, good-hearted robots, DVDs, etc. The entries are punishingly funny and bizarrely logical, from the first line of the first entry on snakes ("snakes are very crazy guys who don't have legs and wouldn't even want them") to an extra long opus on birthdays that must be read to be believed. You might learn something like this: "The rodeo is a big terrible horse party where you try to do stuff to animals that they don't like. Much like the existence of clowns, it is something that if you erased from human memory now, it just would not get invented."
---
This satirical online women's magazine, spearheaded by U.K.-based writers Sara Gibbs and Kat Sadler, has been accruing a great list of talented contributors since 2017, churning out pieces like Catherine Brinkworth's "Six Cute Airbnbs to Overhear Your Friends Poop In" and Hannah Rose's "Guy Who Feels Like He Isn't Allowed to Say Anything to Women Anymore Spotted, Still Trying." The co-editors also use the site as a platform for their own staffing boost campaign #WriteWithHer, aiming to upset the imbalance in TV writer's rooms in the U.K.—where only 11% of TV comedy is written by women—by promoting and connecting female-identifying writers in the U.K. and abroad.
---
With Omnarchy we have conquered the final frontier of internet satire: a news and lifestyle blog from a nightmare 22nd century where people are corporations, you have a password to your mind and humans seem to either be huddled in bunkers for survival or pets to a ruling class of artificial intelligence. Some pieces give us another peek into day-to-day life in 2169, like "What Are Pillows and Should We Allow Humans to Use Them?", while others are broader sci-fi takes like "Halley's Comet Comes Crawling Back Again." Either way, reading Omnarchy will give you a leg up when the future finally comes.
---
Run by Tim Colwill and James O'Connor, Point and Clickbait is billed as a source for "reliable, ethical, and above all extremely true and definitely real gaming news," on which it absolutely delivers (see: "The Top Five Overwatch Characters Who Think Activision-Blizzard Should Pay A Fair Share Of Tax") But Point and Clickbait will also cross over gaming content with unexpected sources for satire, as with "ICYMI: The Loaded Rifle In The Background Of Chekhov's Gun Was A Massive Spoiler,", or take on larger trends in online writing, as with "Will This Long-Winded Opinion Piece With An Open-Ended Question Title Actually Contribute Anything Meaningful?"
---
isn't just a recently-founded satire site that's already made an extremely confident splash, it's the first one dedicated to satire that's true to the LGBTQ+ experience. Executive editors Griffin Leeds and Ryan Leach have assembled a great team (which you yourself can apply to be a part of!) that has come roaring out of the gate with pieces like "All Pigeons are Queer, Unionized, And Ready to Vote" and "Quiz: Are You A Carrie, Miranda Or One Of The 14 Million Americans Each Year Who Contracts HPV?" Awf Magazine is writing humor that's razor sharp one moment, self-deprecating the next, and extremely timely the moment after that. Quite often, it's all three at once.
---
Graham Techler's writing has been featured by McSweeney's and The New Yorker, and he performs at the Upright Citizens Brigade Theatre in New York. You'd be doing him a real solid by following him on Twitter @gr8h8m_t3chl3r.