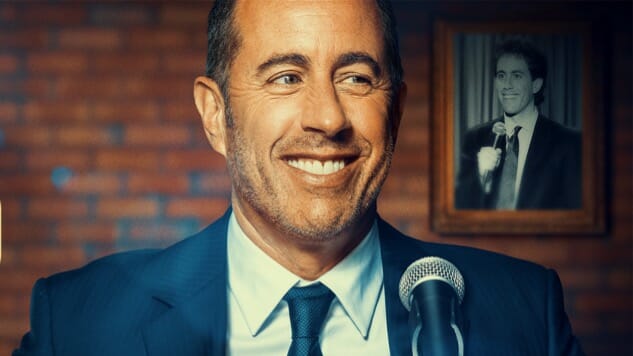 Jerry Seinfeld is still out there cracking jokes. Rather than gather dust as a relic of the '90s, Seinfeld has kept himself in the public eye through successful projects like his online show Comedians in Cars Getting Coffee and less successful projects like reality show The Marriage Ref. We'll soon be able to see Jerry back in his comfort zone of stand-up very soon, with his forthcoming first Netflix special Jerry Before Seinfeld.
Rather than asking any inane observational questions like "what's the deal with fidget spinners?" Seinfeld instead looks back at his life before his famous sitcom. The trailer for this special includes footage of Seinfeld visiting his old Long Island home and bits of childhood home videos intercut with his stand-up performance. Additionally, he sits down with fellow comedians from his earlier days in a similar casual interview style as Comedians in Cars Getting Coffee.
Jerry Before Seinfeld was shot at the Comic Strip in New York City, and will stream on Netflix on Sep. 19. Watch the trailer above, and check out a detailed breakdown courtesy of Paste's Seth Simons here.