Jimmy Kimmel Gets Emotional Talking About His Newborn Son, Healthcare Funding
Images via ABC/YouTube
Comedy
Video
JImmy Kimmel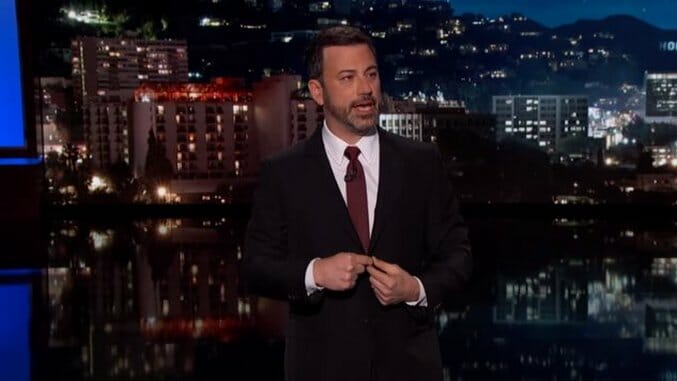 Jimmy Kimmel was noticeably absent from his late-night show in recent weeks, which was expected, because his wife Molly McNearney gave birth to their second child, Billy, on April 21.
What wasn't expected, however, is that Kimmel's son would need life-saving surgery after being born with a hole in the wall between the two sides of his heart and a heart condition that causes blockage in a pulmonary valve.
During the opening 13-minute monologue to mark his return last night, Kimmel talked openly about this intensely personal issue and got emotional several times throughout his retelling of the story. Three hours after his son was born, a nurse at Cedars-Sinai Hospital noticed the child had a murmur. Three days later, Kimmel's infant child had open-heart surgery at Children's Hospital Los Angeles, which he called "the longest three hours of my life."
The late-night host joked that he felt sorry for Billy, not simply because he was born with a heart defect, but because he was born with Kimmel's face.
Then, in what's a rarity for his show, Kimmel got serious again and made his politics personal by expressing support for the Affordable Care Act and mentioning that President Trump's proposed budget called for a $6 billion cut to the National Institutes of Health.
Kimmel also pointed out that children, such as his son, could have been denied health insurance coverage in the past because they had a pre-existing condition. Recent revisions of the American Healthcare Act proposed by House Republicans could charge higher premiums to individuals with pre-existing conditions who let their coverage lapse.
"If your baby is going to die and it doesn't have to, it shouldn't matter how much money you make," Kimmel said in his monologue. "I think that's something that whether you're a Republican or a Democrat or something else, we all agree on that, right?"
Watch the powerful clip above.