John Oliver Takes on Pyramid Schemes with Some Help from Jaime Camil
Images via HBO/YouTube
Comedy
Video
john oliver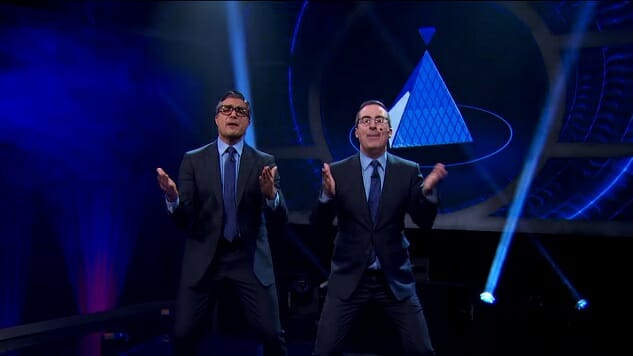 John Oliver needed some help to tackle multi-level marketing companies (or MLMs) that are really just pyramid schemes, and so he decided to enlist Jane the Virgin's Jaime Camil. Oliver tackled the marketing companies during his main segment on Sunday's Last Week Tonight, revealing exactly how they use showmanship to sell bad products to customers who are left with mountains of debt.
After presenting his well-researched case, Oliver felt like taking action. "What can we do? Because good, hard-working people are going to keep getting caught up in these companies. There has to be a way to tell the world about the dangers about MLMs," Oliver said. "And I think I know the perfect distribution network. And that is why tonight we are starting our own pyramid scheme, #thisisapyramidscheme. Because if someone you know is thinking about joining an MLM, this is a huge opportunity, and let me show you how it works."
This is when the lasers and fireworks begin going off, just as they would during a multi-level marketing conference. "I want to tell you about a fantastic product for you to share with friends and family," said Oliver. "The product is this entire video about why MLMs are f—-ing awful. Let me break it down for you. By sharing this, you can be an independent distributor for a leading web video about the dangers of MLMs. You can do this full-time or part-time and give your family the lifestyle they deserve, which is frankly not getting caught up in this bulls—-."
Oliver went on to explain that if everyone shared the video with just five friends, everyone on Earth would have seen it after 14 cycles, and Oliver has a very special message for one of those viewers. "Hello, Beyoncé," he said, breaking from his bombastic speech for a moment. "I'm a really big fan."
So many Latinos are affected by pyramid schemes, and it's for that reason that Oliver and his team decided to upload the video in two languages. "We will be uploading two versions of this video to YouTube, with one in Spanish," Oliver explained. "But because I do not speak Spanish, it will be subtitled and this portion will be performed by Jaime Camil from Jane the Virgin."
As Camil walked out onstage, Oliver asked him the only question that mattered. "You are clearly a more attractive version of me in every way, aren't you, Jaime?" he said. "Yes," Camil answered. "Yes, I am."
Check out the full video above in English, or below in Spanish.