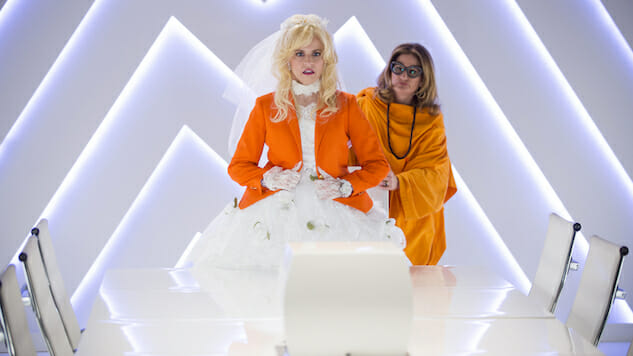 Lady Dynamite has always been a very easy show to recommend to some and a very difficult show to recommend to others. This is in part because of how successfully it melds the strongest attributes of its creators (South Park's Pam Brady, Arrested Development's Mitch Hurwitz, and Maria Bamford) into one singular voice. If that voice speaks to you, its specificity often feels like a one-to-one connection. The show's second season, returning after an 18-month hiatus, doubles down on these qualities while also cohering faster than the first.
Season one's jumpy timeline—which followed a fictionalized version of Bamford before a stress-induced mental breakdown, then in psychiatric recovery back home in Duluth, then after returning to Hollywood to make amends—could be summarized by this bit of narration: "it's funny how life puts the same problem in front of you again and again to see if you've learned." Season two, which picks up on last season's present-day timeline while flashing back to Maria's childhood and forward to the fuuuture, has a real streak of optimism to it. Even with conflicts and mania looming on the horizon, it makes season one's peppy steps forward look almost fatalistic by comparison.
First and foremost, Maria is handling domestic conflicts with her new boyfriend Scott (the lovable Ólafur Darri Ólafsson) with a newfound flair for healthy communication. Scott may have that weird turkey leg song he sings a lot, and Maria may try to avoid the pixelation while drip-drying herself after a shower, but both are able to recognize each other's flaws and differences, and use that to further complement the other's strengths. It's not just simple sitcom feel-goodery. Maria is now in a place where she can open up to the idea that everyone heals differently, and that there are multiple paths forward beyond the groups and workbooks she held onto in outpatient. "I love growth in all of its many forms," she says, "and I always will." She'll need to keep that in mind, thanks for the return of power agent Karen Grisham (Ana Gasteyer), who, in the future, is trying to rope Maria into an incredibly comedically ambitious (and possibly pornographic?) streaming project called Maria Bamford is Nuts! that will "destigmatize mental illness forever." Sound familiar?
The Duluth flashbacks are the still Lady Dynamite's slowest element, and you occasionally stick around in the '80s so long that it's jarring to remember the show you're actually watching. But these segments on their own are pretty delightful (especially the introduction of Kurt Braunohler as a younger version of Ed Begley Jr.'s Joel Bamford), and in allowing the show to hop around Maria's youth (the highlight of which is her high school's production of a musical that seems to be an incomprehensible combination of Joseph…, Godspell and Jesus Christ Superstar), Lady Dynamite takes itself to newly unhinged narrative and stylistic places. It remains a refreshing and unmistakable sitcom that's trying to give us a better idea of the origins of Maria's dysfunctions, without ever assuming something is as easy or simple as it looks.
---
Lady Dynamite is streaming on Netflix.
Graham Techler is a New York-based writer and actor. Follow him at @grahamtechler.