Maria Bamford Stands Anywhere in the Trailer for Her Netflix Special Old Baby
Image via Netflix/YouTube
Comedy
Video
Maria Bamford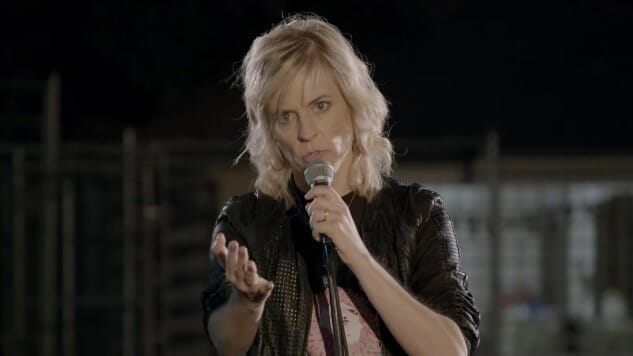 Maria Bamford, the woman of 1,000 voices, is embracing the "standing" aspect of stand-up in the trailer for her Netflix-exclusive comedy special, Old Baby. Taking to the stage, streets, alleyways, lemonade stands and living rooms, Bamford seems to be raising the bar for what a comedy special can be.
Fresh (it's been a little while, but still) off the success of her Netflix show Lady Dynamite, everyone's favorite nervous comic is back and better than before. As the trailer aptly puts it, "There's no place she won't stand up." It's very exciting, and the shot of her sneaking up on an unsuspecting audience of one at a lemonade stand is fantastic. Also, she's taking a giant pug (sadly, not a real one) wherever she goes. How perfect is that?
Old Baby will be available to stream on Netflix on May 2. Check out the trailer embedded above, and the special's full synopsis below.
In her first special since her hit show Lady Dynamite, Maria Bamford is back and ready to make things awkward with Maria Bamford: Old Baby. Expect the unconventional with a special that moves through a series of odd L.A. performance venues, exploring the relationship between Maria and her various audiences. Maria takes on dog park philosophers, mismatched in-laws, hard-to-move merchandise, therapy songs, audience abandonment issues, and the true story of peek-a-boo.