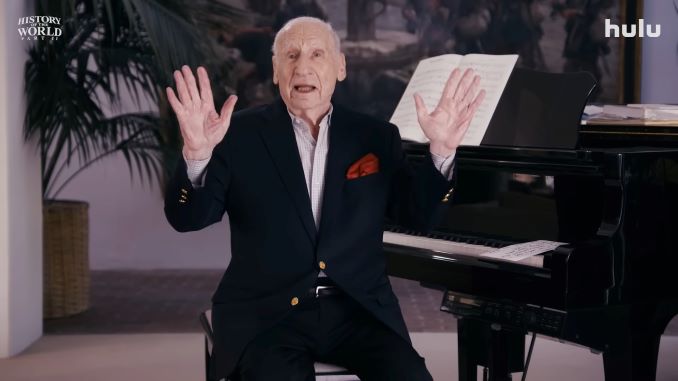 History of the World, Part I was never supposed to have a sequel. That was part of the joke. Mel Brooks' satire of historical epics, Bible pics and period dramas, which remains one of his better-loved comedies, has been around for 42 years without a follow-up, and I don't think anybody was really clamoring for one. But the streaming sites need a constant churn of content, the more recognizable the better, and so the once unlikely became inevitable. Mel Brooks' History of the World, Part II comes to Hulu on March 6, 2023, and today the first teaser was released.
Based on this two-minute, rapid-fire series of clips, we can expect to see segments about Noah's Ark, the Civil War, Alexander Graham Bell inventing the telephone, a Black Jesus (played by Jay Ellis), Amelia Earhart, Marco Polo and Kublai Khan, and a whole lot else—including some kind of hockey sketch, maybe? Almost every shot in this teaser introduces another famous comedian, with Brooks, Wanda Sykes, Ike Barinholtz, and Nick Kroll getting top billing. Also appearing are Ellis, Quinta Brunson, Jillian Bell, Joe Lo Truglio, Ken Marino, Jake Johnson, Andrew Rannells, Danny DeVito, Richard Kind, JB Smoove, Sam Richardson, Zazie Beetz, Pamela Adlon, Johnny Knoxville, Seth Rogen, Taika Waititi, Sarah Silverman, and so many others I'd have to pause on every shot to list 'em out. Tim Baltz is in there! And Emily Ratajkowski! Hell, I think that's Ken Marino. If you've been in a movie before you're probably in this one too.
Although it's not even really a movie: it's a four-night event, according to Hulu, which underscores the already-announced fact that it's actually an eight-episode miniseries. I guess we're getting two episodes a night across four nights, starting in March. Brooks gets a writing credit and serves as executive producer, but the 96-year-old presumably did not direct these eight hours of TV. Based on the quick clips in this teaser, it'll definitely reflect his voice and sense of humor.
Take a look for yourself, though. Here's the first teaser for Mel Brooks' History of the World, Part 2, which premieres on Hulu on March 6, 2023.