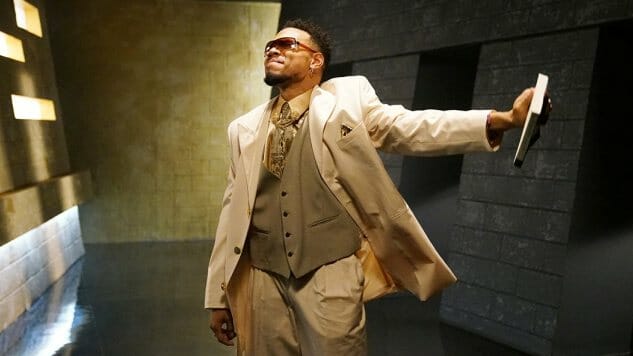 Chance the Rapper's charisma was infectious last night. The first-time host elevated every sketch in last night's Saturday Night Live, making it the best episode of this season so far. Chance delivered the kind of charming, enthusiastic and assured performance that should get him invited back to host the show again and again. The guy might be the new Timberlake, at least when it comes to goofing around on ancient network sketch comedy shows.
We have to give credit where it's due, though. It wasn't just Chance's charm that made last night's episode so good. The writing, which has struggled so far during the show's 43rd season, was significantly sharper and more consistent than it's been of late. Even Weekend Update, which we tend to go pretty hard on around here, was smarter, sharper and funnier than it's been in a long time. Clearly something clicked with the SNL cast and crew this week, driving the kind of inspiration they've been short on all season. Maybe it was the excitement of getting a few weeks off. Maybe it was Chance. Either way, it could be seen on screen for most of this episode.
It actually started a little slow. The cold open was the only Trump-related sketch of the night, and thankfully it was free of Alec Baldwin's petrified Trump impersonation. That doesn't mean it was good, though. Alex Moffat and Mikey Day's Eric and Donald Trump Jr. might not be as comically desiccated as Baldwin's exhausted Trump, but it's still another example of this show reducing all politics to a repetitive caricature instead of engaging in legitimately insightful or incisive satire. Framed as a secretive meeting during last year's campaign, with the Trump sons picking up the hacked DNC emails from Kate McKinnon's Julian Assange, the sketch wound up being just a series of man-child jokes. We have no doubt that the real Trump sons are incredibly dumb, but we don't need a new sketch every week about how Eric Trump is basically a grown-up toddler in a suit. If anything, it gives too much credit to Don Jr. We'll say it again: if you don't think you have anything legitimately funny to say about politics, SNL, don't feel like you have to say anything at all. The union will still stand if you go a week without a cold open about the Trump Administration's buffoonish venality.
Chance's monologue was also a little weak. He was great—immediately comfortable on that stage, immediately charismatic to an extent rarely seen from first-time SNL hosts—but this was some of the weakest writing on the show. He basically sang about a series of stereotypical awkward family encounters you might have during Thanksgiving. Pretty much the entire cast got involved, but between bad sound mixing and mostly uninspired jokes it just fell flat. Chance almost made it work.
After these opening moments the episode was pretty consistently good. A sketch about Bruce Wayne throwing a charity food drive for Gotham's poor was one of the best, building on a sociopolitical argument against Batman that has gained increasing attention over the last several years (I made a similar argument for Paste a few years ago). Chance, Leslie Jones, Chris Redd and Kenan Thompson played Gotham citizens invited to Wayne Manor to pick up food for Thanksgiving, where they all share stories about how Batman brutalized them or their friends for petty crimes like littering and stealing TVs, to the increasing discomfort of Beck Bennett's Bruce Wayne. It hinges on the violence not just of Batman's vigilantism but the constant specter of police brutality over black communities, giving voice to the arguments against Batman's proto-Death Wish origins and single-minded commitment to violent retribution. If Batman somehow existed in the real world he wouldn't be a hero to the downtrodden: he'd be another rich asshole protecting rich assholes, but this time with fists and gadgets instead of exploitable legal codes and inexcusable tax cuts.
Next up we had perhaps the best SNL pretape this year, the Boyz II Men-aping slow jam "Come Back, Barack." It perfectly captures the details of '90s R&B videos, while voicing something millions of Americans are thinking every day. It also escalates nicely, as a piece of comedy writing: the initial joke is just the parody of this kind of video, followed by the twist that it's about Obama, followed by the twist that it's actually just desperation for almost anybody other than the guy we currently have. It's just good comedy writing.
Other sketch highlights include Chance mirroring Thompson's always delightful Steve Harvey impersonation as the game show host's illegitimate son in a funny Celebrity Family Feud sketch, Chance as an out-of-his-element Knicks sideline reporter pressed into service on Rangers hockey games, and Chance, Thompson and Redd as early rap pioneers the Soul Crush Crew. The Family Feud sketch proved Chance could go toe-for-toe with Kenan, who is still one of the show's greatest assets 15 years into his run. The hockey sketch had a weak premise—"black men don't care about hockey"—but Chance's performance, again, made the tired material work. And the Soul Crush Crew video was a loving homage to the early days of rap. SNL sometimes has a problem of not seeming to understand the subculture it's parodying, but that wasn't an issue here. (Too bad their original song wasn't better.)
Surprisingly even Weekend Update was good last night. It started with some sharp commentary on the ongoing sexual abuse scandals impacting basically every industry; the show didn't really pull its punches with Senator Al Franken, who worked for SNL off and on for decades. It also dug into that unconscionable GOP tax plan, laying out in brief why it's bad before making jokes about it, so viewers who aren't familiar with the tax bill at least began to understand some of what's so horrible about it. It really helped that Update leaned heavily into Colin Jost's unlikability last night—he was repeatedly the butt of the joke, both from Michael Che and from his own lines. And Pete Davidson delivered perhaps his best Update commentary yet, pointing out the differences in how Staten Island treats him and Jost, who are both from that borough. Staten Island jokes might be easy, but Davidson really made it work last night, in part because Jost and his well-heeled, stultifying whiteness were as much the joke as Staten Island itself. You should go watch it. The only weak point on Update was the weekly appearance from McKinnon's Jeff Sessions. McKinnon is incredibly talented, of course, but her Sessions is the most egregious example of how SNL's political comedy too often isn't built on any semblance of reality but instead cartoonish caricatures that the show has created. The other returning character on Update, Kyle Mooney's desperate, incompetent, brick wall-era stand-up comedian Bruce Chandling, was as sad and funny as ever, delivering slow-burn pathos on the eve of Thanksgiving.
Chance wasn't the only rapper on SNL last night. Eminem performed two songs back to back during what is traditionally the first slot for the musical guest. His dull set reminded us of how ridiculous it was in 2001 or so when critics and Eminem fans acted like he was somehow one of the greatest rappers of all time. The show clearly would've been even better if Chance pulled double duty and served as both host and musical guest.
We don't want to oversell it too hard, but Chance the Rapper established himself as one of the best first-time SNL hosts in ages last night. If you read Paste regularly you know how hard we are on this show. That's partially because this show is full of fantastic comedic talent both on and behind the camera, and it's regularly disappointing to see how anemic the finished product winds up being most weeks. This episode proves how capable these writers and performers can be when everything's running smoothly, and when they have a host whose enthusiasm and sheer likability inspire them to do their best.
---
Garrett Martin edits Paste's games and comedy sections. He's on Twitter @grmartin.