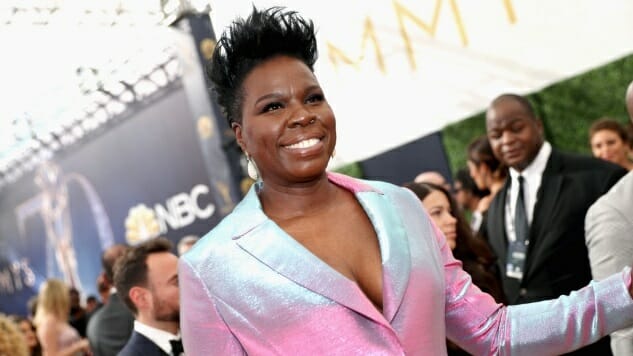 Welp, this is a bummer: Leslie Jones is officially leaving Saturday Night Live, according to the Hollywood Reporter. She won't be rejoining the show when its 45th season launches in September, ending her run after five seasons. She'll be focusing on her movie and stand-up careers, which will include a role in Eddie Murphy's Coming to America 2 and an upcoming Netflix special.
Jones was a fan favorite on SNL who excelled in Weekend Update segments and pretaped videos. She was nominated for two Emmys for her work on the show in 2017 and 2018, losing to her castmate Kate McKinnon in 2017. Her hiring as a writer in early 2014 came in the wake of widespread criticism over the show's historic lack of black women cast members; after appearing as herself on Weekend Update that season, she was eventually hired as a performer starting in October 2014. In addition to her regular appearances on Update, she also starred in a series of SNL videos documenting her fictional relationship with fellow cast member Kyle Mooney, and performed regularly in live sketches and as a variety of characters over the years.
This is the only change to SNL's cast that's been announced for season 45 so far. That same Reporter article reveals that McKinnon will be returning to the show this season. There's a solid chance the cast will see more turnover before the season starts late next month; expect any news about that to come out in the next two weeks. Meanwhile, check out some of our favorite Leslie Jones moments from her SNL tenure.