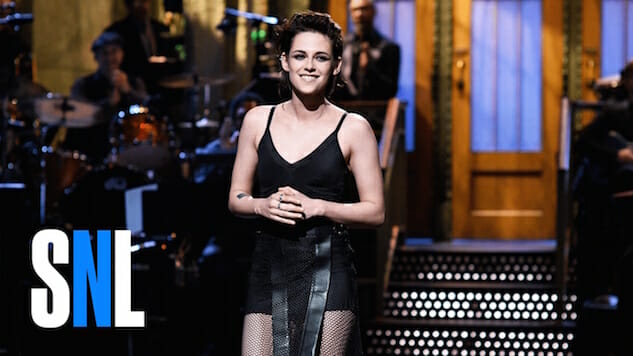 Kristen Stewart's Saturday Night Live guest hosting performance epitomizes the episode itself: a hit-and-mixed bag—a couple of season highs, a couple of season lows—that ultimately feels like a win.
This week, SNL writers came up with two excellent cold opens: "Oval Office Open" starring Alec Baldwin as President Trump and "Sean Spicer Press Conference" starring Melissa McCarthy in a season's best cameo.
It's brilliant to make Trump's right-hand man a Halloween store reaper (equally brilliant: giving Baldwin's Trump a Russian lapel pin… did you notice that?). In just over a year, the controversial Breitbart News chair quit his day job to run Trump's upstart presidential campaign, only to glide into the position of Advisor to the President and chief political strategist… one of Trump's closest and most influential advisors (re: #PresidentBannon). It is a stunning rise for the former Hollywood producer (Sean Penn's The Indian Runner, Julie Taymor's Titus) turned alt-right provocateur,who also happens to have a parody-ready visage ripe for comedic exploitation—cokehead movie producer with a heart of coal. Easy right? Ah, but SNL surprises and delights by pushing past low-hanging parody into full-on theatre of the absurd. It's an inspired choice.
Still, it is Melissa McCarthy's fantastical Sean Spicer send-up that steals the episode. Few comedians play ham-fisted bully with as much sweet catharsis as she. Her hair and makeup job is a marvel, but it's her balls-out performance—matched with hilarious writing—that lands this sketch in best-of-season territory. Spicer's mad-capped spin is deliriously logic-bending in its own right, but here it becomes a veritable roller coaster of push-back… looping, twisting, corkscrewing us to our seats. At one point McCarthy spritzes a reporter with soapy water from a Super Soaker to wash out his "filthy, lyin' mouth." This really should have been the show's cold open, with "Oval Office Open" following. (At one point McCarthy actually says, "Live from New York it's Saturday Night!" Only to be corrected by Mikey Day: "Yeah, that already happened.")
"Meet Cute," is a pretty good pre-tape that explores the age-old question: When two cutes meet in a rom-com and agree to go on a date together without making any detailed plans, how do they ever actually meet up? It's an observational comedy joke turned into a mildly amusing short film. Fine, nothing special. But with pre-tapes "Welcome Video" and "Totinos With Kristen Stewart," SNL's amazing location production team delivers far better work this week.
"Welcome Video" gives us a hastily re-edited TSA customs video reflecting the Trump Administration's travel ban. What was once a friendly and welcoming introduction to America becomes a foreboding scare video, complete with hack editing and ominous Beck Bennett overdubs. "Totinos With Kristen Stewart" turns a cheery, Super Bowl Sunday pizza rolls commercial into steamy French love story starring Kristen Stewart and Vanessa Bayer. The concept is funny, of course, but it is the perfect casting of Stewart as sexy provocateur, and Bayer as her duty-bound housewife paramour, that elevates the piece.
Typically, SNL's mishaps and laugh breaks make the show feel, well, live. But the technical errors in this week's Weekend Update seemed way off to the point of joke-killing. No way to know what's going on here, but with a team of writers and producers focused solely on the segment, and Colin Jost and Michael Che finally finding a workable rhythm, it is inexcusable for the segment to be torpedoed by missed cues and technical glitches. Isn't this is what dress rehearsals are for—anticipating and correcting logistical errors? Bringing back Keenan Thompson's tired Big Papi was a stretch to begin with, but completely botching his exit killed and buried the bit.
"Dry Fridays" was a funny, mid-range SNL pleaser, while "Celebrity Family Feud" was a bit of a dud—all set up, no payoff. Likewise, 10-to-1 "Golden Ticket" was a slight, probably-should-have-been-cut-for-time throwaway, while "Sean Spicer Press Conference" was one of the best political sketches of the past five years. Perhaps this is what great Saturday Night Live looks like: hits that count, and misses that are easily forgotten.
I really do try to cheer on Saturday Night Live musical guests that I don't track with (I tend to go much harder on musical guests of which I am a fan), but the doggedly banal, sings-real-good-and-that's-about-it Alessia Cara leaves me exhausted, out of words, my generosity strained. Cara is fine. Pretty voice—like everyone who sings on TV. Her performance of "Scars To Your Beautiful" was fine, as was "River Of Tears." Just fine—if you like that sort of thing. I worry that what is most compelling about Cara is that she's new… A little bit of this pop princess that came before, a little of this one. The newly arrived every-girl we should all get on board with for the moment… because? Because we need a pop phenom this year, and someone has decided that it needs to be her. Well, okay then. Fine.
Next week's show promises the 17th guest hosting appearance of SNL's resident Trump impersonator, Alec Baldwin. This marks a record number of host appearances by one actor, a milestone for both Baldwin and Saturday Night Live. With Baldwin serving as an ad-hoc cast member this year, the episode has all the makings of a SNL we'll all be talking about for some time. Hopefully, Weekend Update will get their act together and musical guest Ed Sheeran will find a way to deliver live performances greater than the sum of the predictably pleasing pop songs he's known for.
---
NEXT WEEK: Alec Baldwin and Ed Sheeran
Chris White writes and directs independent feature films. His latest is Unbecoming, an award-winning, southern gothic comedy starring Patti D'Arbanville and Michael Forest. Follow Chris on Twitter.