Watch Stephen Colbert Taste the "Sugary Affront to God" That is Starbucks' Unicorn Frappucino
Image via CBS/YouTube
Comedy
Video
Stephen Colbert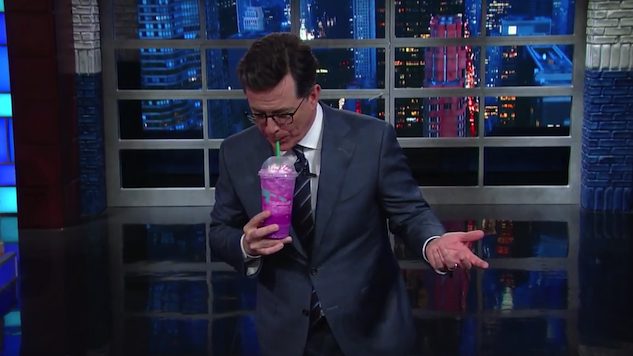 As you're probably well-aware, Starbucks released a new, very Instagrammable drink yesterday: the Unicorn Frappuccino.
As expected, Starbucks fans (and the internet in general) went a little nuts. All social media outlets were suddenly flooded in syrupy pink-and-blue unicorn goop reminiscent of a 4/20-inspired Lisa Frank nightmare. Baristas around the country tore their hair out as their hands turned red with unicorn blood. (Well, technically it was pink powder, but still.) We even sampled and reviewed the drink here at Paste, in which our own Annie Black observed that the drink "vaguely resembles a strawberry shortcake ice cream bar for a couple of sips and the sour blue raspberry powder in a Fun Dip for the rest."
Last night on The Late Show, Stephen Colbert decided to join the zeitgeist. The host taste-tested a Unicorn Frappuccino on air, "because the name sugary affront to God was taken." Colbert described the color as "tumor," and after taking a sip, observed it "tastes like I french-kissed Tinkerbell." Watch above to see Colbert try the trendy drink and immediately regret it.
If you're interested in experiencing the #unicornmagic for yourself, the drink is available at participating Starbucks locations until April 23. We dare you.