Riverdale Is Jumping Back in Time with Forthcoming Archie 1955 Comic
Images via Greg Smallwood
Comics
News
Archie Comics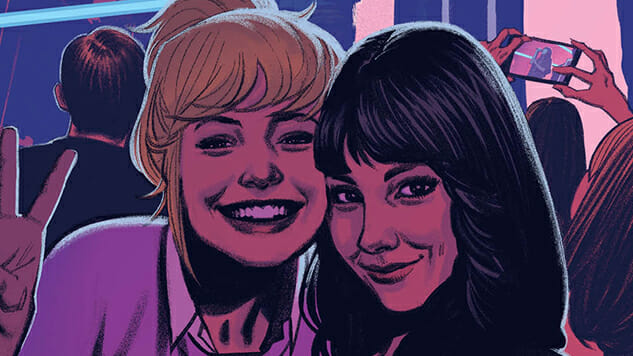 Following up last year's Archie 1941 comic series, Archie Comics is jumping forward a decade to the 1950s with Archie 1955, according to THR.
The comic will see Archie, Veronica, Betty and the gang take on the early days of rock 'n roll as a sequel to Archie 1941. With a total of five issues, Archie 1955 will make it's rocking way to the shelves Sept. 18 with its first issue.
"For as long as I can remember, rock and roll music has been the soundtrack of my life — almost as big to me as were comic books — and I have long been very interested in the 'overnight sensations' such as Elvis, Buddy Holly, and other legends," co-writer Brian Augustyn tells THR. "So, Archie 1955 comes from a sweet spot of my lifelong fascinations."
Augustyn will work with Flash co-writer Mark Waid, who also co-wrote Archie 1941. Assisting the writers, artist Tom Grummett will tackle the art and Bob Smith will act as inker for the story.
"As a teen in high school, I had two ambitions: comic book artist and rock star," Grummett recalls via THR. "My guitar skills being what they were, rock star was pretty much off the table. It's going to be a kick to explore what might have been through Archie and his friends, at the very birth of rock 'n roll."