Preview: Chronicle Screenwriter Max Landis Partners with Giuseppe Camuncoli for Head-Trip Fantasy Comic, Green Valley
Comics
News
Screenwriter, comic scribe and proto-Superman commentator Max Landis rarely sticks to one genre, let alone medium, for long. The manic creator got his first big exposure scripting the teen superhero dissection Chronicle before writing the post-goth adventure Victor Frankenstein, stoner spy ode American Ultra and hit-man romance Mr. Right. That cinematic library parallels a line of burgeoning comic projects, including the sporadically great Superman: American Alien. The man also has a pretty cool idea for a Zodiac Killer project.
Landis recently had the epiphany that a surrealist fantasy mashup still remained on his bottomless bucket list, and hence is releasing Green Valley, a 9-issue miniseries illustrated by Amazing Spider-Man veteran Giuseppe Camuncoli, inked by Cliff Rathburn, colored by Jean-Francois Beaulieu and lettered by Pat Brosseau. Here's the synopsis from the publisher, Image Comics imprint Skybound Entertainment.
"A disgraced group of four knights, once close friends, are given one last shot at redemption: kill a wizard, and slay his dragons. But there's no such thing as wizards, dragons don't exist, and nothing is as it seems in the town of Green Valley."
Three of those knights—Bertwald, Ralphus and Gulliver—appear in the preview below, ostensibly getting ready to do battle with a throng of shirtless barbarians, or discover they're a bunch of kids who accidentally took hallucinogens and passed out during a game of D&D. One way or the other, expect lots of banter.
"Green Valley was an idea I had when I was a very little kid," Landis explains in a statement. "As I got older, most of my ideas from when I was small sounded stupider and stupider. But Green Valley persisted in my mind, and grew. I'm glad to see it finally come to life so beautifully."
We'll unfortunately have to wait till Fall to discover what Landis and Camuncoli have in store; Green Valley #1 debuts on October 5 at $2.99 for a generous 40 pages.

Green Valley #1 Cover Art by Giuseppe Camuncoli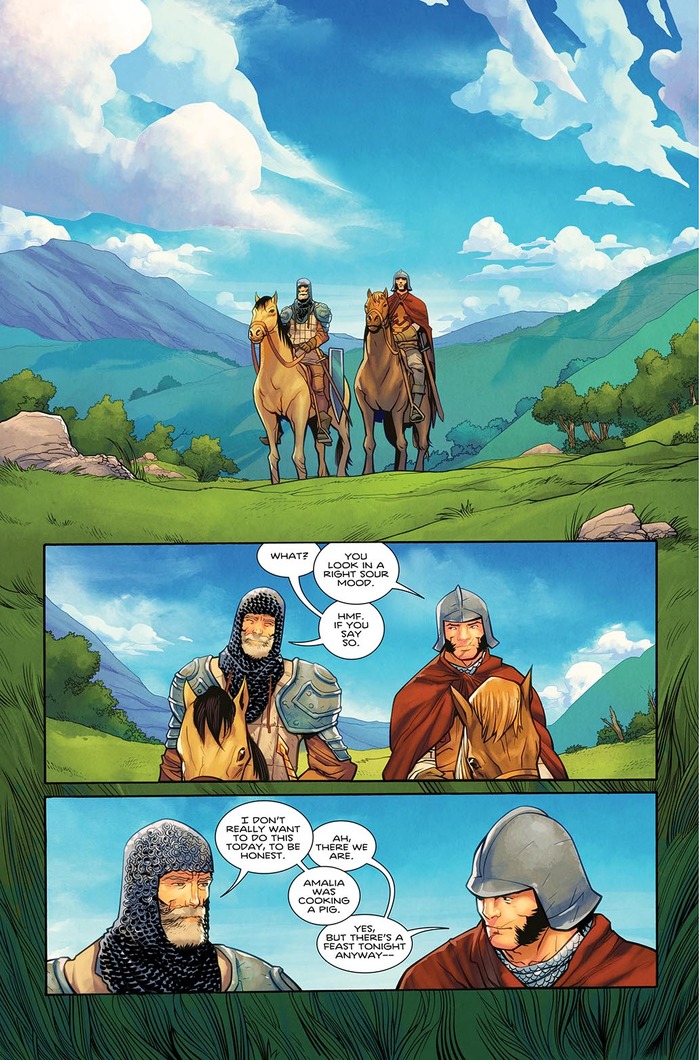 Green Valley #1 Interior Art by Giuseppe Camuncoli

Green Valley #1 Interior Art by Giuseppe Camuncoli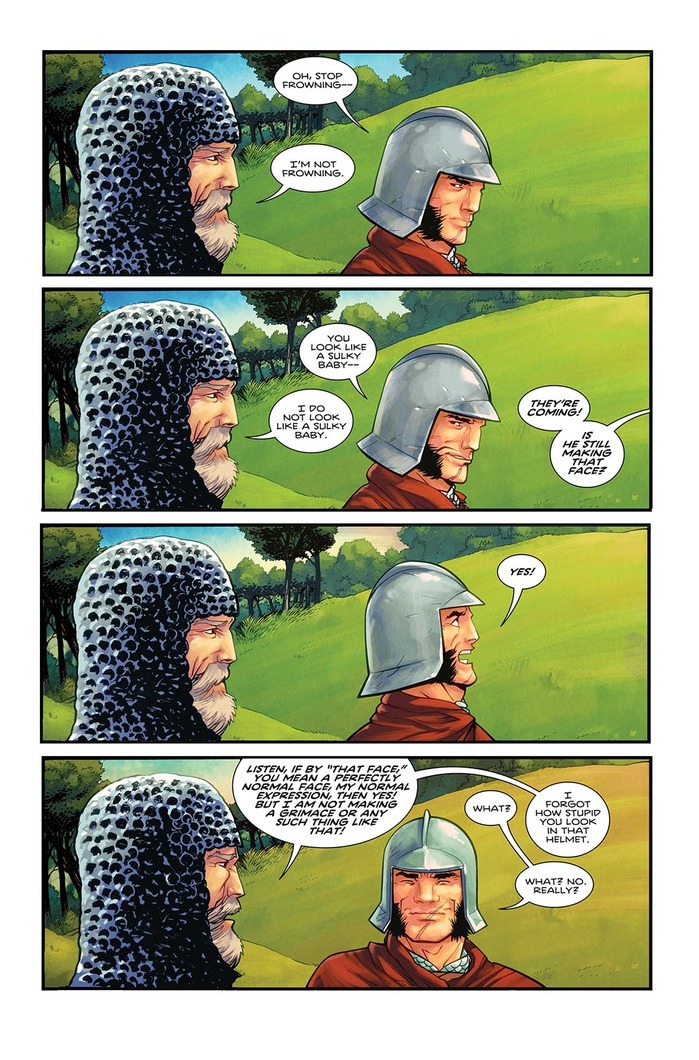 Green Valley #1 Interior Art by Giuseppe Camuncoli