Updated: Every Modern Marvel Star Wars Comic, Ranked
In Honor of Solo: a Star Wars Story, Our Jedi Historians Provide the (Updated) Definitive Countdown
Main Art by Lee Bermejo
Comics
Lists
Star Wars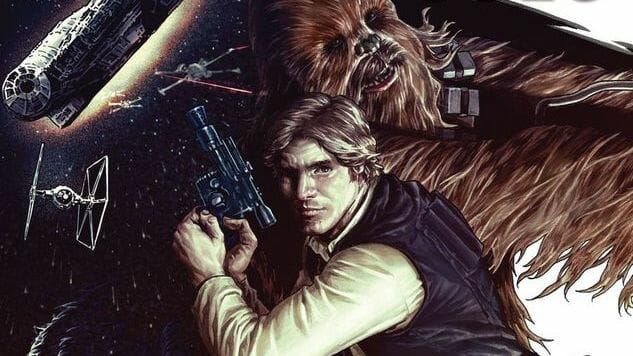 George Lucas' galaxy far, far away has been Marvel's premiere cash-bantha since Disney synergy brought the Star Wars license under the purview of the comic publisher in 2015. The core Star Wars title has clung to a top-20 sales spot without fail, and even books like Doctor Aphra, a Darth Vader spin-off featuring a character who has never appeared on film or television, outsells most monthly Marvel superhero series. With the release of Solo: a Star Wars Story in theaters this week, the resident Paste Comics Jedi historians read and re-read every single Star Wars comic released by Marvel Comics in the modern era to compile an updated definitive ranking. For the purpose of this list, we counted annuals and crossovers Vader Down (excellent) and Screaming Citadel (not so excellent) as parts of their components series, and one-shots as their own entries. Spoiler alert: the House of Ideas is still doing pretty damn well by this side of the Disney empire.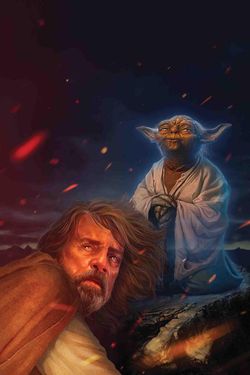 24/23/22. Star Wars: The Force Awakens Adaptation, Star Wars: Rogue One Adaptation & Star Wars: The Last Jedi Adaptation
Writers: Chuck Wendig, Jody Hauser, Gary Whitta
Artists: Luke Ross, Oscar Bazaldua, Emilio Laiso, Michael Walsh
With Star Wars: The Last Jedi Adaptation just two issues into its six-issue run, we considered separating these entries, but our criticisms are the same: none of Marvel's direct film adaptations build on their source material, and in the absence of any truly bad Star Wars comics, that drops them all into a tie for last place. Writers Chuck Wendig (The Force Awakens), Jody Hauser (Rogue One) and Gary Whitta (The Last Jedi) maintain their respective films' big beats, but The Force Awakens and Rogue One fail to match the compulsive pacing of their respective movies, and The Last Jedi so far does nothing to smooth over its film's rough parts. The transcribed dialogue also falls flat without the charisma of actors like Oscar Isaac, Donnie Yen and Kelly Marie Tran. Rogue One Adaptation's Oscar Bazaldua and Emilio Laiso turn in visually appealing work, but neither they nor The Force Awakens Adaptation's Luke Ross come close to matching the visual splendor of the newest films. The Last Jedi's Michael Walsh was an inspired choice, but his distinctive skills are poorly utilized trying to capture actor likenesses and fit too much plot into too little space. Dark Horse's adaptations of Attack of the Clones and Revenge of the Sith offered fans a chance to see frequent Star Wars artists Jan Duursema and Doug Wheatley adapt the films—and offered a welcome respite from some truly awful line delivery—but Marvel's first three film adaptations do little to justify their existence. Steve Foxe
---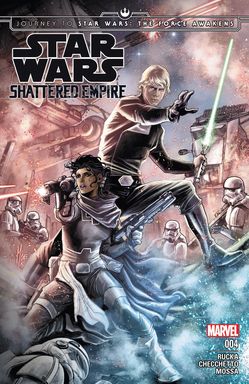 21. Journey to Star Wars: The Force Awakens: Shattered Empire
Writer: Greg Rucka
Artist: Marco Checchetto
They can't all be home runs, right? Shattered Empire promised to "bridge the gap" between Return of the Jedi and The Force Awakens, creating high, high expectations. It's not a bad book—but not a lot happens. Still, like many TFA theater-goers, I fell in love with the fleeting, if dashing, charisma of Poe Dameron, and this series will forever serve as an introduction to his parents (who play a role in several tie-in novels, too). As far as providing any further strata beyond minor looks at Luke, Leia, Lando and Han right after the Battle of Endor, this title serves as a completionist's footnote more than an integral building block, and is far from essential reading to understand The Force Awakens. Tini Howard
---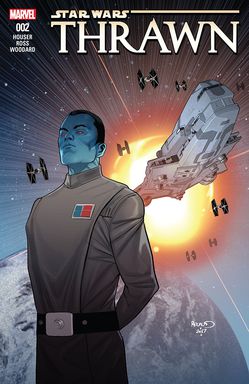 20. Star Wars: Thrawn
Writer: Jody Hauser
Artist: Luke Ross
As we made clear above, we've yet to be too impressed by Marvel's direct adaptations of Star Wars films, but bringing a novel into sequential-art format is a different Gundark entirely. Jody Hauser, who wrote the Rogue One adaptation, joins Darth Maul artist Luke Ross for this comic retelling of Timothy Zahn's latest take on the fan-favorite blue-skinned tactical genius. Thrawn is one of the most fascinating Star Wars characters in and out of canon: first introduced in Zahn's beloved Heir to the Empire novel, Thrawn served as a chief antagonist for a trilogy of novels that were, until the Disney acquisition, unofficially considered Episodes VII through IX by many fans. Unlike peer Mara Jade, Disney just couldn't quit Thrawn, and introduced the Chiss Imperial to official canon in Rebels and recruited Zahn for a brand-new trilogy of novels that don't contradict Disney's plans for Rey, Finn and the rest of the gang. Unfortunately, Hauser and Ross' take on the source material reads more like a series of vignettes than an actual story, leading to a stilted adaptation that often lacks the connective tissue of the novel's through-line. Fans of Thrawn are better off sticking with Zahn's novels. Steve Foxe
---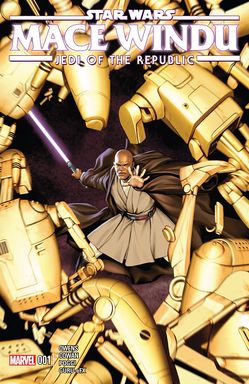 19. Star Wars: Jedi of the Republic: Mace Windu
Writer: Matt Owens
Artists: Denys Cowan, Edgar Salazar
Mace Windu, which carries a Jedi of the Republic banner that hopefully portends additional series focused on the warrior-monks of the Prequel Trilogy, catches up with the character portrayed by Samuel L. Jackson as he reckons with his sudden role as a general in the Clone Wars. Writer Matt Owens is a bit of a comics rookie compared to other Marvel Star Wars scribes, with an Elektra mini-series and credits on the Luke Cage television show under his belt, and his newness to the medium occasionally shows in unusually quippy dialogue given the book's serious subject matter. Artist Denys Cowan, on the other hand, is a veteran with a distinctly sketchy, blocky style that doesn't quite do justice to the precise designs of Battle Droids and Jedi robes. Compounding the slightly off feeling of the book is that Owens and Cowan's Windu lacks the confident air of Jackson's fan-favorite portrayal. While Mace Windu is far from awful, it joins Obi-Wan & Anakin in not quite meeting the Prequel-era standards set by the Dark Horse comics that came before. Steve Foxe
---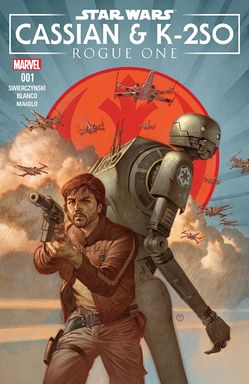 18. Rogue One: Cassian & K-2SO Special
Writer: Duane Swierczynski
Artist: Fernando Blanco
Rogue One, by nature of how its protagonists end up, practically begs for prequel material, but fans of Jyn Erso's ragtag band don't yet have much going for them in the comic world. This one-shot reveals how Rebel agent Cassian Andor buddied up with reprogrammed Imperial droid K-2SO, but spends too much of its page count focusing on an unusual pair of aliens working with Cassian for the Rebellion. Readers learn almost nothing at all about Diego Luna's ill-fated hero, and even K-2SO's lethal humor is barely on display. Fernando Blanco's clean-lined style is a good fit for Rogue One's world, but the typically reliable Duane Swierczynski doesn't dig up enough story to justify this outing. Were this a one-off issue of a Rogue One series, that'd be forgivable. As the only sequential-art use of these characters beyond the Rogue One adaptation, Cassian & K-2SO Special falls flat. Steve Foxe
---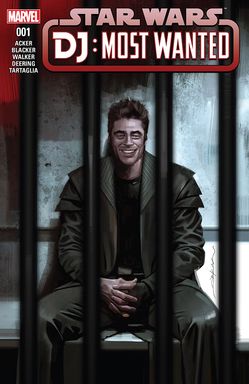 17. Star Wars: The Last Jedi—DJ: Most Wanted
Writers: Ben Blacker & Ben Acker
Artist: Kev Walker
The Last Jedi was—understatement incoming—a divisive film for Star Wars fans, but even the staunchest defenders of Rian Johnson's take on the franchise (myself included) have to admit that Benecio Del Toro's space libertarian was infuriating. Never named on screen, "DJ" seemed designed to progress a B-plot and teach Rose and Finn that some people are just assholes, no matter their ideologies (or lack thereof). Improbably named writing duo Ben Blacker and Ben Acker had the unenviable task of fleshing out this codebreaker with an odd vocal tic, with Doctor Aphra artist Kev Walker joining the duo to make sure that the result looks great, if nothing else. Unfortunately, as evidenced by the disappointing Cassian & K-2SO one-shot above, Disney doesn't seem to be allowing the comics to introduce many new canonical elements related to their era of films, and The Last Jedi: DJ: Most Wanted illuminates little about Del Toro's character beyond repeating what we already know: he's kind of a jerk and will screw over everyone to get what he wants. SW: TLJ—DJ: MW earns a higher placement than the similarly shallow Cassian & K-2SO for at least staying focused on its titular character, even if Blacker, Acker and Walker seem unable to tell us anything about him. Steve Foxe
---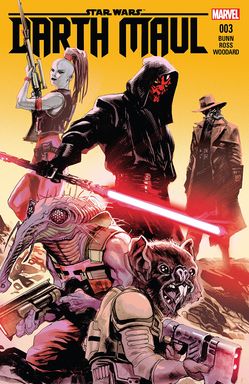 16. Darth Maul
Writer: Cullen Bunn
Artist: Luke Ross
As we mentioned in the Mace Windu entry, Dark Horse, the previous publisher of Star Wars comics, did right by the Prequel Trilogy, honing George Lucas' clumsy political and moral dramas into a sprawling tapestry of Jedi philosophy at war with itself. While DH's post-RotJ content is much iffier, it's difficult to read Marvel's Prequel-era series without comparing them to what came before. Darth Maul is a particular victim of that contrast, as the tattooed Zabrak received a number of excellent mini-series before the Disney acquisition. In Cullen Bunn and Luke Ross' take, fans get some entertaining moments with fan-favorite bounty hunters Cad Bane and Aurra Sing, meet a resilient new Jedi Padawan, but learn little of what makes Maul himself tick. As The Phantom Menace makes clear, Maul is a singularly focused instrument of anti-Jedi rage. Bunn has a handle on that, and Ross' art is capable (if less exciting than Rafael Albuquerque's evocative covers), but Darth Maul ultimately fades into the background among stronger offerings. Steve Foxe
---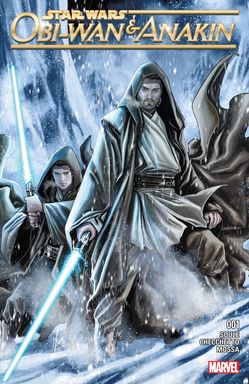 15. Obi-Wan & Anakin
Writer: Charles Soule
Artist: Marco Checchetto
Yes, we're harping on this, but while even the most stalwart Star Wars fan would be hard-pressed to defend the quality of the Prequel Trilogy films, the corresponding comic era was among Dark Horse's finest times with the license, producing now-canon characters like Aayla Secura and Quinlan Vos. Given Lucasfilm's seeming desire to distance itself from the PT, this mini-series came as a pleasant surprise. Marvel heavyweight Charles Soule and Shattered Empire artist Marco Checchetto portray the fateful pairing of Obi-Wan Kenobi and Anakin Skywalker early on in their time as Master and Padawan, on a dangerous mission far afield from the Jedi Temple. The banter between the two simmers with fun and foreshadowing as perfected in the Clone Wars animated series, even if the steampunk aesthetic of the mini-series' setting feels at odds with most of the universe we know and love. Checchetto, the only Marvel artist to depict the Prequel era, Original Trilogy era and post-RotJ era, proves himself yet again to be a perfect fit for the flowing robes and sweeping lightsabers of Jedi combat. Soule gets slightly too creepy with Palpatine's grooming of young Anakin, but franchise fans will appreciate more insight into the future Darth Vader's Dark Side journey. Steve Foxe
---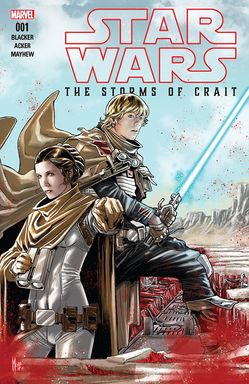 14. Star Wars: The Last Jedi—The Storms of Crait
Writers: Ben Blacker & Ben Acker
Artist: Mike Mayhew
Ben Blacker and Ben Acker are active parts of Disney's prose publishing plan for Star Wars, which may help explain why they were tapped for both The Last Jedi one-shot tie-ins. While DJ: Most Wanted arrived after the film's release, The Last Jedi—The Storms of Crait preceded it by a few months, and thus unsurprisingly offered few insights into Rian Johnson's controversial film. Luke, Han, Chewie and Leia do visit the sandy titular planet in this issue, which helps explain the Resistance's presence on Crait in Episode VIII, but this adventure otherwise serves as a footnote in the Alliance's struggle. A recurring group of comic antagonists pop up here, and the result is that The Storms of Crait feels like a Star Wars annual that was broken off into its own title for movie synergy. Mike Mayhew contributed a few issues to the core Star Wars series, and his heavily photo-referenced digital painting remains as love-it-or-hate-it as ever; you likely already know if you find it "realistic" or overly static. Star Wars: The Last Jedi—The Storms of Crait is an ably executed story, but it could have used some vulptices to make it more memorable. Steve Foxe
---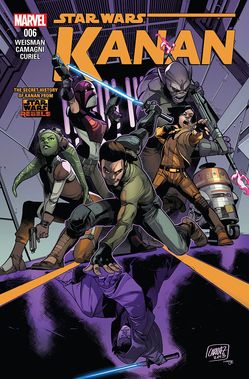 13. Kanan: The Last Padawan
Writer: Greg Weisman
Artists: Pepe Larraz, Jacobi Camagni
As with a few Dark Horse mini-series from the end of their licensing deal, Kanan: The Last Padawan serves as a sort of unproduced episode of a Star Wars cartoon series, in this case Rebels. Written by series Executive Producer Greg Weisman and drawn in a comfortable approximation of the animated style by Pepe Larraz and Jacobi Camagni, Kanan: The Last Padawan reveals how the titular character survived the purge of Order 66 and married his (incomplete) Jedi training to his roguish know-how. Weisman employs an unnecessary framing device and the series felt like it had another arc of story to tell, but The Last Padawan matches the tone of the animated series well enough to appease fans curious about Kanan's origins. Steve Foxe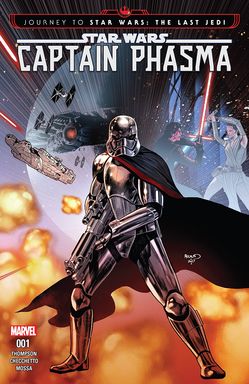 12. Journey to Star Wars: The Last Jedi: Captain Phasma
Writer: Kelly Thompson
Artist: Marco Checchetto
Call her the Boba Fett of the new trilogy all you'd like: Captain Phasma is cool. She may have spent The Force Awakens looking shiny, providing exposition and getting dispatched with ease, but the Stormtrooper officer played by Game of Thrones star Gwendoline Christie cut an intimidating, chrome-finished profile and emerged as one of Episode VII's most memorable visuals. This mini-series, which Marvel double-shipped and rush-collected in time for The Last Jedi promotional season, returns to the final moments of the Starkiller Base and explains how Phasma escaped the planet-sized explosion to menace Finn, Rey and the rest of the Resistance in the sequel film. Hawkeye scribe Kelly Thompson joins Marvel's Star Wars family alongside franchise mainstay Marco Checchetto for a brisk plot that may not be essential reading for a galaxy far, far away, but does help flesh out Phasma's character while ably answering the nagging question of her escape. Steve Foxe
---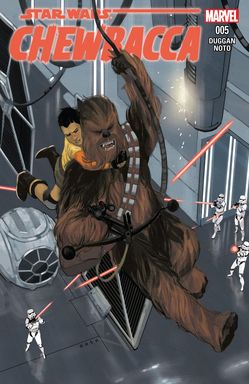 11. Chewbacca
Writer: Gerry Duggan
Artist: Phil Noto
Pity the writer charged with scripting five issues of everyone's favorite, unintelligible Wookie wingman. Gerry Duggan strategically uses the support character in much the same way the Original Trilogy did—sparingly. This miniseries is primarily the story of a young, spunky girl, Zarro, as she repels a ruthless profiteer exploiting her town for the Empire. Besides fulfilling the reluctant hero role (or Leon the Professional metaphor), Chewie also experiences flashbacks to his own enslavement on Kashyyyk that offer a startling degree of insight and empathy. Phil Noto's lush drawings channel the character with lovely nuance—the widened eyes, clasped forehead and bowcaster brandishing convey a personality that trilled grunts might not. And for fans of The Star Wars Holiday Special, behold potentially the first (and thankfully brief) cameo from extended family Itchy, Malla and Lumpy. It may be far from essential, but Chewbacca accomplishes much with surprisingly little. Sean Edgar
---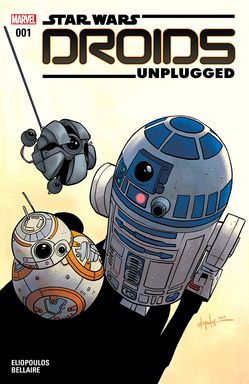 10. Star Wars: Droids Unplugged
Writer/Artist: Chris Eliopoulos
Cartoonist Chris Eliopoulos' humorous Droid shorts are delightful. First published as back-up tales in other series and then collected as a one-shot, these mini-comics, told mostly through the chirps, buzzes and squeals of Star Wars' robotic inhabitants, offer comedic, ambiguously canonical looks at the foibles of being a Droid in a galaxy far, far away. From Sith droids finding unexpected companionship to Resistance droids playing matchmaker, the inner lives of Star Wars' robotic little rabble-rousers have seldom been as cute as this (seriously—the old Droids cartoon has nothing on this). Eliopoulos has a long, accomplished career as a cartoonist, but never has his work looked as good as it does when paired with colorist Jordie Bellaire for these short, sweet stories. If Marvel's smart, they'll keep tapping him for these kid-appropriate mechanical musings as a sly way to compete with IDW's all-ages Star Wars offerings. Steve Foxe
---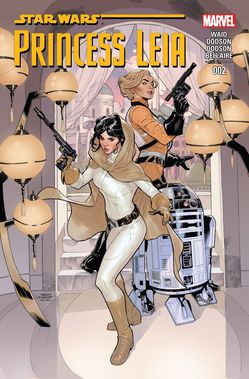 9. Princess Leia
Writer: Mark Waid
Artist: Terry Dodson
Admittedly, Marvel could have printed sequential pictures of Princess Leia on bubble-gum wrappers and I would have bought them up. But with legends Mark Waid and Terry Dodson on writing and art duties, the end product was nothing short of a love letter to the bravest woman in the galaxy. This mini delves into so many things we never see—Leia's relationship with other Alderaanian refugees (in the form of a tall drink of babely water named Evaan), her expression of grief following her planet's destruction and even an especially poignant moment between Leia and her mother (thanks to the power of the Force.) Ultimately, this title provided a three-dimensional exploration of character depth only alluded to in the original trilogy, showing vulnerability, strength and purpose invigorated by Dodson's lush, emotive illustrations. Tini Howard
---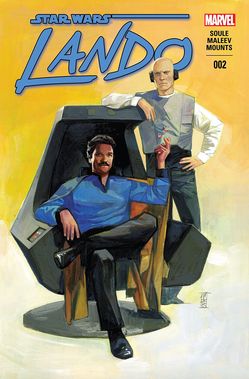 8. Lando
Writer: Charles Soule
Artist: Alex Maleev
Billy Dee Williams' caped scoundrel has long been a favorite among SW fans despite a lack of actual screen time (to be fair, any Cantina creature with two seconds of footage probably has a host of dedicated admirers among SW fandom). Thanks to Charles Soule and Alex Maleev, Lando diehards now have a bit more to cite when singing his praises. Set before Lando takes control of Cloud City, this mini-series sees the smooth criminal and his cyborg buddy, Lobot, taking on a ship heist that might be above their pay grade. With Maleev's photo-realistic art and Soule's comfortable command of roguish intrigue, Lando is a solid solo outing for Han Solo's triple-crossing pal that adds emotional weight to Lobot's minimal ESB presence and displays Williams' character at his scoundrel best. Hopefully Rodney Barnes and Paolo Villanelli's Lando: Double or Nothing, which launches next week, can do the same for Donald Glover's version of the character.Steve Foxe
---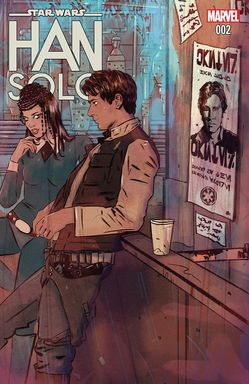 7. Han Solo
Writer: Marjorie Liu
Artist: Mark Brooks
Han Solo's semi-reluctant commitment to the Rebellion (and to wooing Leia) is a key appeal of the main Star Wars series, but Marjorie Liu and Mark Brooks' space-race mini-series gives readers their best insight yet into what makes this smuggler tick. Han enters a dangerous and historic space race as cover for an important Rebellion mission involving embedded spies, but (as Leia half-guesses), Han can't resist actually attempting to win the race, especially once Imperials take an active hand in thinning the ranks. Liu captures Harrison Ford's rough charm perfectly, and Brooks, whose style typically shows more of a manga influence, finds a perfect harmony between his work and the photo-realistic style favored by fellow Marvel Star Wars contributors. We've heard a lot about the Kessel Run—Han Solo gives fans a chance to see Solo in the midst of another character-defining thrill ride, and is a perfect next step for viewers of Solo: a Star Wars Story. Steve Foxe
---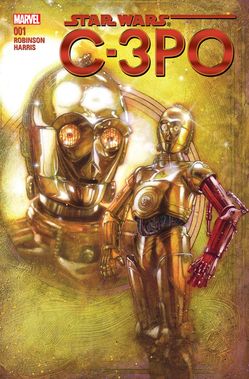 6. Star Wars Special: C-3PO: The Phantom Limb
Writer: James Robinson
Artist: Tony Harris
Call us cheeky if you'd like, but this one-shot from James Robinson and Tony Harris more than earns its high spot on our countdown. The announcement of Star Wars Special: C-3PO: The Phantom Limb seemed like the height of licensing excess, a story focused on The Force Awakens' odd callout to C-3PO's red replacement arm. In execution, Robinson and Harris break hearts left and right by prodding at the nature of artificial personhood, the arbitrary boundaries we draw in times of war, the fleetingness of memory and the nobility of sacrifice. It's some heavy shit. No one needs to know why the uptight protocol droid has a red limb, but Star Wars fans who choose to discover the back-story should equip a box of tissues first. Steve Foxe
---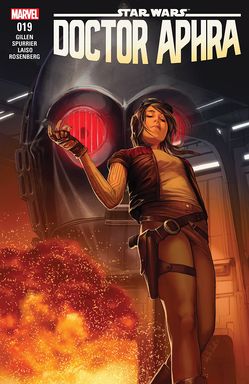 5. Doctor Aphra
Writers: Kieron Gillen, Simon Spurrier
Artists: Kev Walker, Andrea Broccardo, Emilio Laiso, Marc Laming
If you excuse the surprisingly lackluster Screaming Citadel crossover with the main Star Wars series, Doctor Aphra is quite the triumph: a successful ongoing series featuring Star Wars characters introduced into canon by the Marvel comics themselves. The titular rogue archeologist first appeared in Kieron Gillen and Salvador Larroca's Darth Vader series, where she played the SW version of Russian roulette by allying herself with Darth Vader. One trip out of an airlock later and Aphra moved into her own series (hilariously murderous droids and angry Wookie in tow), which has expanded on her past while keeping her in the orbit of franchise characters like Luke Skywalker and fellow comics addition Sana Starros. Doctor Aphra is further notable as the franchise's most visible queer character, and a woman of color at that. Doctor Aphra is a stellar sign that Marvel's handling of the franchise can extend far past filling in gaps in the lore into truly uncharted space. It drops one spot since our last countdown not through any fault of its own, but because this next entry keeps getting better. Steve Foxe
---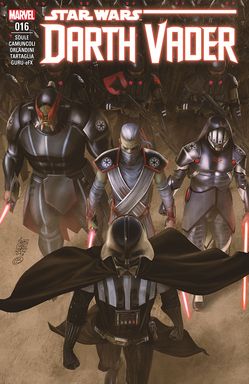 4. Star Wars: Darth Vader
Writer: Charles Soule
Artist: Giuseppe Camuncoli
Charles Soule had a steep task ahead of him in following Kieron Gillen's expert handling of the cybernetic Sith Lord in Darth Vader, but Star Wars: Darth Vader (what else were they supposed to call it?) is a fitting look at the former Anakin Skywalker's first days as the Emperor's red right hand—literally, the first arc of the book is about Vader acquiring his signature red lightsaber. The gap between the somewhat immature portrayal of Anakin in Episode III and the intimidating profile of Darth Vader in Episode IV is wide, and Soule and artist Giuseppe Camuncoli put in good work elucidating how Vader became the man/machine viewers first met in 1977. The book also fleshes out the Inquisitorius, the Force-wielding baddies from the Rebels TV show. Camuncoli, recently off of a long run on Amazing Spider-Man, is one of the more traditionally super-heroic artists to contribute to Marvel's Star Wars comics, and he proves to be a perfect fit for Soule's more action-packed take on Vader. While Star Wars: Darth Vader may not be as "deep" as the preceding Vader run, it's a rock-solid look at an under-explored period of the chosen one's life, and perfectly captures the best parts of the Prequel Era's lightsaber-heavy action. Steve Foxe
---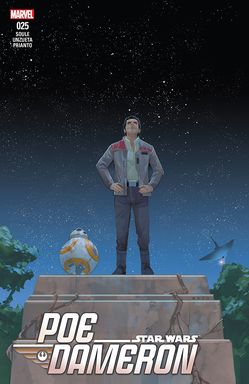 3. Poe Dameron
Writer: Charles Soule
Artists: Phil Noto, Angel Unzueta
Poe Dameron hyperspace-jumps to the top of the list by showcasing the potential in Marvel's Star Wars comics to tell us much more about characters we've only recently met. Oscar Isaac's handsome hotshot Resistance pilot takes center stage in the series, set mostly during the run-up to The Force Awakens, and writer Charles Soule more than justifies audiences' instant love affair with the character. Soule also seizes the opportunity to highlight the late, great Carrie Fisher's General Leia, further establish the (admittedly vague) status quo of the Resistence and the First Order and connect Poe Dameron to Marvel's other offerings through characters like Grakkus the Hutt. The book's biggest asset is Phil Noto's drop-dead-gorgeous cartooning, which captures actors' likenesses without losing any sense of motion or style. Angel Unzueta's more photo-realistic style doesn't fit Poe's Resistance adventures quite as perfectly, but doesn't impede the X-Wing pilot's flight to the top of the list. Soul and Unzueta's most recent arc technically takes place after The Last Jedi…but is told mostly through flashback. Still, keep an eye on this one for a crucial new era of storytelling. Steve Foxe
---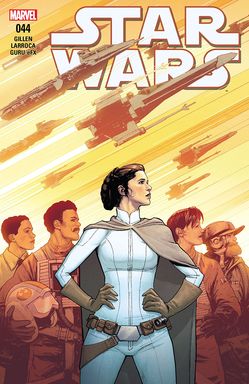 2. Star Wars
Writers: Jason Aaron & Kieron Gillen
Artists: John Cassaday, Stuart Immonen, Salvador Larroca, others
The tricky thing about the flagship SW title is that writer Jason Aaron and a stunning Jedi Council of artists can't actually do anything to the cast that alters them past their cinematic versions. Given that the book focuses on Luke, Leia, Han, Chewie, C-3P0 and R2-D2 between the events of A New Hope and The Empire Strikes Back, we know that no one will be dramatically killed, find lasting love or lose a limb (yet). Previous Expanded Universe tales set between Original Trilogy installments have often fallen flat due to the same deflated tension.
Aaron took this challenge in stride, painting the connective tissue between the rough-and-tumble crew we see come together in Episode IV and the tightly knit freedom fighters of Episode V in a way that enhances our understanding of the franchise. New addition Sana Starros seamlessly melds with the cast, offering a much-needed second female character and playing off of each rebel in a compelling manner. Of special note are the Ben Kenobi flashback issues, which offer a peek into a better world where Ewan McGregor was given material fitting for an actor of his caliber. And with artists like John Cassaday, Stuart Immonen and Leinil Francis Yu on hand to expertly capture actor likenesses and the lived-in aesthetic of a galaxy far, far away, the "Episode IV.5" era finally had an ongoing comic worthy of its place in the mythos under Aaron and company's guidance.
Now that we're several arcs into the post-Aaron era, we can confidently say that the Darth Vader team of Kieron Gillen and Salvador Larroca have taken to the title seamlessly. Larroca's occasional disturbingly photo-referenced panels aside, the duo remains in perfect sync, and Gillen's knack for tight plotting serves Star Wars better than the meandering final arcs of Aaron's run. If solicits for future issues pretend what they seem to, Gillen and Larroca may soon break uncharted ground for Marvel and push the series into the post-Empire Strikes Back period. Whether that comes to pass or not, Star Wars is in good hands. Steve Foxe
---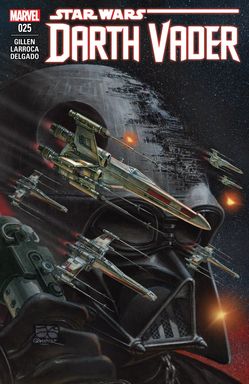 1. Darth Vader
Writer: Kieron Gillen
Artist: Salvador Larroca
In Darth Vader, Kieron Gillen offers a simple yet clever logic culled from the original film trilogy: if a weaponized, artificial planet was destroyed on your watch, you'd land directly on your boss's shit list. This series explores the fallout of Episode IV, in which Vader has to appease a very unhappy Emperor Palpatine by strong-arming new planets and hunting down rebels. No longer an emotionless machine programmed for cosmic nihilism, that iconic black helmet hides a new secret: vulnerability. Gillen offers new imagination in this relatively narrow swim lane—the metal-mining ecosystem of the Shu-Torun, waltzing aristocrats and all, stands as a high point, even when Vader sends it to a lava-drenched hell.
Although Salvador Larroca's heavily photo-referenced art is divisive, he and Gillen mine ample emotional resonance out of dialogue-free panels of Vader's helmeted visage. Darth Vader walks a tightrope act between expanding on a character who is infinitely cooler as a mystery and maintaining that mystery. We also have this run to thank for Doctor Aphra's seamless addition to the mythos. As stellar as the core Star Wars title has been, Darth Vader earns the top spot for pulling off a complete—and completed—story of the Sith lord. Sean Edgar & Steve Foxe