As any snow sport enthusiast knows, the right and proper end to a day on the slopes is best spent sipping a few drinks, boasting about the day that passed, and finding a bit of liquid courage to head out the next day. In the past, this après pastime was typically isolated to imbibing whatever was served at the nearest mountain base bar. But with the surging popularity of microbreweries and craft distilleries in the States, the options for a post-ski beverage at the place where the beer and spirits are made has never been more plentiful. We found nine you should try to hit this season, from ski-in whiskey distilleries to coveted beer producers located at the epicenter of some of the East Coast's best ski resorts.
Crux Fermentation Project, Bend, Ore.
You may ski all day at Bachelor Resort, but chances are you'll bed down in Bend, Oregon, a sleepy postcard-perfect town a short drive from the resort. And with more than a dozen high-quality microbreweries throughout the city, this is a decidedly good thing. Crux is one of the more recent players to enter the crowded beer scene here, but it's the one you shouldn't miss. Brewmaster Larry Sidor came from Deschutes (also located in Bend), so you know the brews (like the barrel-aged Freakcake Oud Bruin and the imperial Half Hitch IPA) are top-quality. It's all housed in an open-environment brewery with spectacular sunset views of the surrounding peaks, inventive cuisine, and a convivial atmosphere.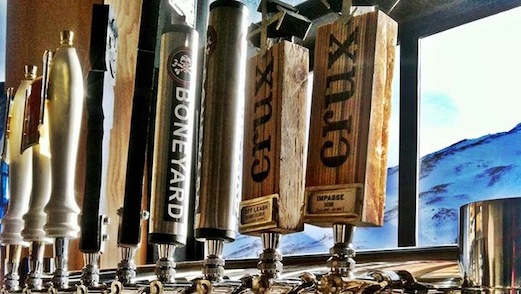 Breckenridge Distillery, Breckenridge, Colo.
This house of micro-spirits fully embraces its mountainous locale by using Colorado snowmelt for the proofing of its award-winning bourbon whiskey and vodka. You can tour the 4,000-square-foot distillery should you want to forego a day on the slopes (tours end at 6 p.m.), or just hit their tasting room in downtown Breckenridge, just under two miles from the resort of the same name. And the house-made bitters assure that any cocktail you order will have a perfectly flavorful, alchemical twist.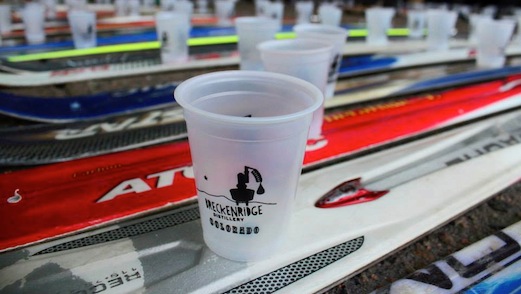 Avery Brewing, Boulder, Colo.
The mountain town of Boulder isn't anchored to a particular resort, but it makes a killer base camp to hit a handful of the Colorado Front Range ski spots like Arapahoe Basin, Keystone, and Loveland. Better still, Boulder has some of the best beer and spirit options in the state. Of them all, Avery may reign supreme. They've been producing beer since 1993, boasting both barrel-aged beers and other eccentric ales as well as lagers and a host of more mainstream styles. Expect to find 20 beers on offer at their tap room, and the kitchen stays open till 10 p.m., so you can get some grub to soak up all that hoppy goodness.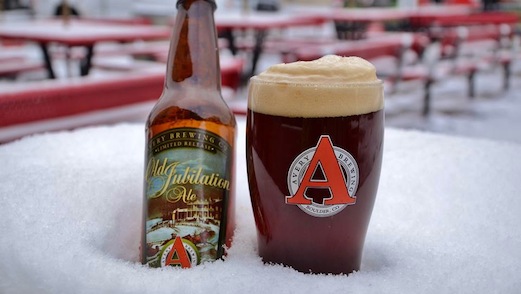 High West Distillery, Park City, Utah
Considering Park City's High West is the only whiskey ski-in distillery in the country, it has to be included on this round-up. But location—sitting at the base of the aptly-named Quittin' Time lift—is only part of the draw. The distillery offers a wide variety of high-quality spirits, from the smooth and spicy character of Rendezvous Rye to a peach-infused vodka to Campfire, a heady mixture of bourbon accented with smoky, peated scotch. The saloon typically hosts live music, and the "western-inspired" menu is just as accomplished as their list of cocktails and spirits, particularly the house-made charcuterie.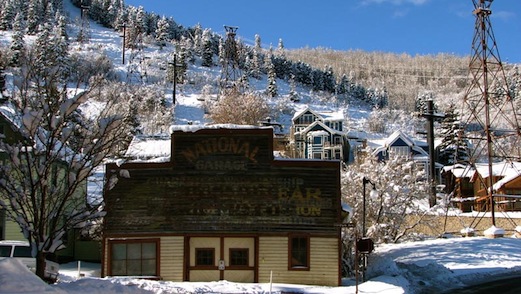 Montanya Distillery, Crested Butte, Colo.
Within the annals of U.S. craft spirits, rum typically gets overlooked in the mad whiskey and vodka rush, but if you go skiing in Crested Butte, you can help remedy that fact. Montanya Distillery moved to this sleepy mountain town from Silverton in 2011 to accommodate the company's rapid growth, where they continue to produce hand-made, award-winning rum for the discerning masses. Their tasting room is open until at 9 p.m., meaning you can top off a day spent skiing some of the country's most extreme slopes by sipping their Platino Light or Oro Dark rums or one of their inventive cocktails, and still get to bed at a respectable hour.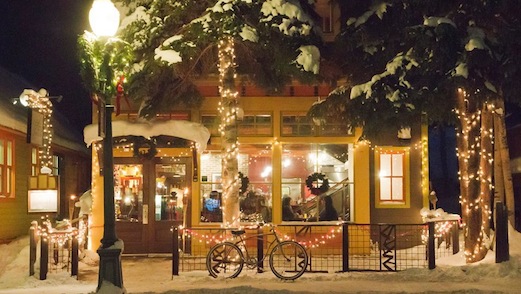 Lone Peak Brewery, Big Sky, Mont.
With beers named Steep'n'Deep and Headplant Pale Ale, Lone Peak wears its affection for snow sports right on their beer labels, which is fitting since they sit a mere 15 minutes from massive Big Sky Mountain Resort. The dizzying 6,395-foot elevation may make your head spin before you have your first sip of the seasonal and regular releases, but you can always grab a growler and recline in the relative comfort of your hotel bed if it all becomes too much.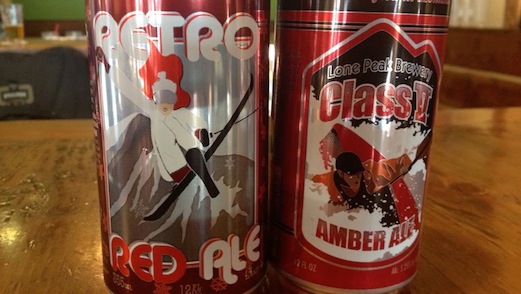 Aspen Brewing Company, Colo.
The fact that this brewery in downtown Aspen—one of the most haute ski towns in the country—sells their pints for $5 or less would already qualify that we give them some love. But their beer is the real story, with styles that cover a wide range of discerning appetites, from barrel-aged limited releases like a brett saison to a classic English-style pale to the heady 10th Mountain Imperial Stout, which pays homage to the army division that trained in the snow-covered mountains of the Rocky Mountain State before fighting in Italy during WWII.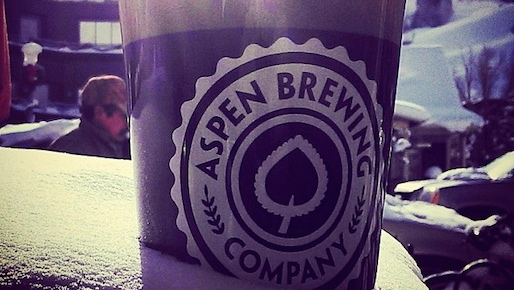 Snake River Brewery, Jackson, Wyo.
With 2,500 acres of in-bound terrain, including some of the most stomach-dropping chutes in the country, Jackson Hole Mountain Resort goes BIG. So it's refreshing that Snake River, located a short drive from the mountain base in the town of Jackson Hole, doesn't try to match the resort's big-mountain ambitions. They only make a modest 8,000 barrels a year, and they're always experimenting. If you're lucky, they'll have the 8.3% ABV Tripel Black Diamond on tap to help numb those savaged leg muscles. But whatever they have—saisons, Flanders-style sours, stouts, porters—will soothe the soul and tempt thoughts of extending your stay.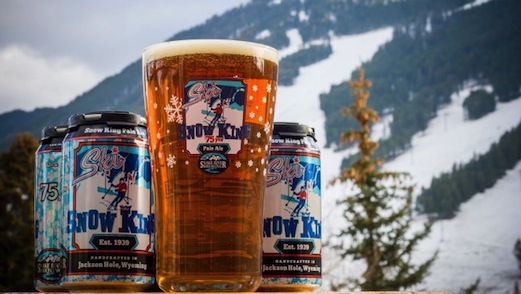 Alchemist, Waterbury, Vt.
This Vermont brewery is an exercise in numbers: it sits pretty equidistant from Stowe, Sugarbush, Bolton Valley, Smuggler's Notch, and Mad River Glen, so it pulls legions of leg-weary riders and skiers. But they only make one beer. Thankfully, that singular beer is Heady Topper, a dense double IPA brewed from a blend of six different hops, a brew that has garnished so much attention that they had to relocate their tasting room due to neighbor complaints about the crowds. And if you're unfortunate enough to schedule your ski trip during their brief moving period before they re-open in "early 2014," you can still scour the shelves throughout the state for one of their coveted cans.