Nothing rings in the New Year quite like popping a bottle of bubbly. Champagne grew as a celebratory drink in France during the revolution of 1789, and extended the world over shortly thereafter. Today, it is not merely Champagne whose bold entrance and effervescent bubbles light up the night, but also sparkling wines from other regions. Spanish Cava, Italian Prosecco and California Brut grow increasingly popular. Those bubbles that tickle the nose mix divinely with a well-composed glass of spirits. Here are five cocktails with a splash of sparkle to delight the senses.
Sparkling Apple Cider Sangria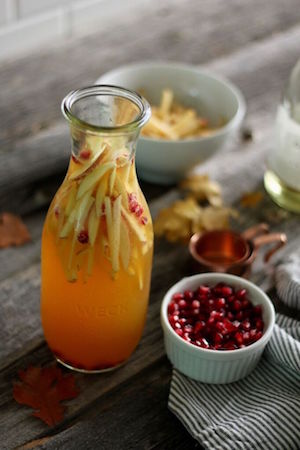 Courtesy of ONEHOPE Wine
Ingredients
2 Fuji apples, cut into matchsticks
1/2 cup cognac
2 cups Fresh Apple Cider
750ml bottle ONEHOPE Sparkling Brut
Arils from two pomegranates
Directions: Add the apples to a large pitcher (reserve some for garnish). Add cognac, fresh apple cider and refrigerate for one to two hours. Fill pitcher with Sparkling Brut just before serving and garnish with pomegranates and additional apple slices. Fill the pitcher with ice. Pour the sangria into glasses filled with ice and top with sliced apple and pomegranate seeds. Makes eight cocktails.
---
Holiday Sparkler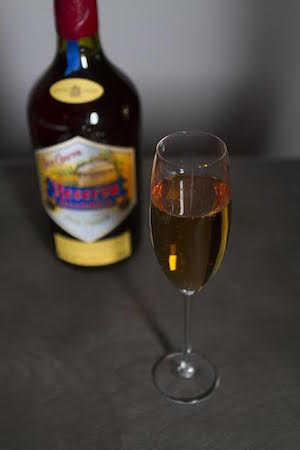 Courtesy of Reserva de la Familia
Ingredients
1 oz. Reserva de la Familia
1/4 oz. Simple Syrup
Champagne floater
Directions: Build in a champagne flute and top with Champagne. Garnish with dark chocolate on the side.
---
Golden Girl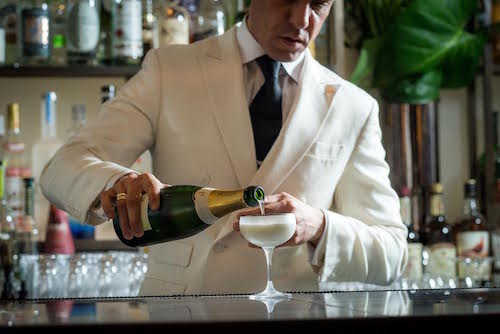 Recipe courtesy of Fabio Rafaelli, DANIEL; photo credit Noah Fecks
Ingredients
1 oz. Avua Cachaça
1 oz. Coconut Cordial (you can use Coco Lopez with a bit of milk added)
1/2 oz. fresh lime juice
3/4 oz. egg white
1 oz. Champagne
Directions: Combine Cachaça, coconut, lime juice and egg white in a shaker and dry shake. Add ice and shake again. Double strain into a coup glass and top with Champagne.
---
Sparkling Margarita

Courtesy of Rosa Mexicano
Ingredients
2 oz. El Jimador Blanco Tequila
1 oz. fresh squeezed lime Juice
3/4 oz. Agave syrup (equal parts agave nectar and water)
Cava, to top off drink
Lime-flor de sal, for rim (recipe below)
Lime-flor de sal ingredients
Lime Salt
Zest of one Lime
Maldon Sea Salt, to taste
Directions: Make the Lime Salt: Grind sea salt with mortar and pestle. Add lime zest and stir to combine. Rim the glass: Dip half the rim of a martini glass or coupe in water and roll in Lime Salt mixture to coat. For the Margarita: Combine tequila, lime juice and agave into a cocktail shaker. Add ice and shake vigorously. Strain into a lime-salt half rimmed martini or coup glass. Top with cava. Garnish with a lime wheel float.
---
It's a Classic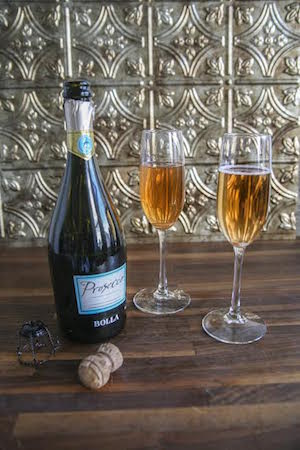 Courtesy of Bolla Prosecco
Ingredients
4 oz. chilled Bolla Prosecco
3 drops of Bitters
1 sugar Cube
1 oz. Cognac
Directions: Pour bitters onto sugar cube and let soak in, place sugar cube in a Champagne flute. Add Cognac, and top with Bolla Prosecco.
---
Madina Papadopoulos is a New York-based freelance writer, author and regular contributor to Paste. You can follow her on Instagram and Twitter.