The Craft Beer Guide to New York City: 13 Places To Get a Beer in The Big Apple
Photo via Brooklyn Brewery
Drink
Lists
craft beer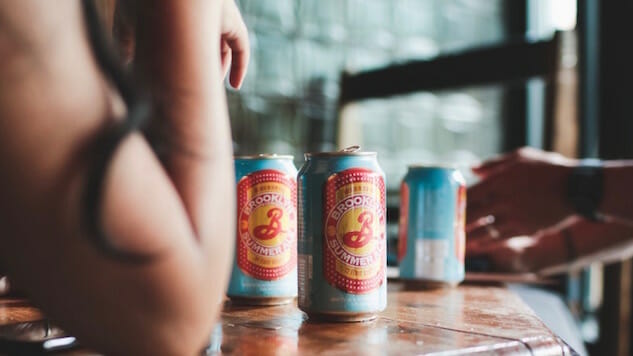 New York City might be the center of the universe, but it's not exactly the center of craft beer. With limited open space, and the costs to run a business at a premium, the city that never sleeps spent the early stages of the craft beer boom in the shallow end of the pool. But like all things in NYC, when something is done, it's taken to the next level, and that's no different with craft beer. Over the last few years, there has been an influx of craft beer through distribution as well as breweries opening throughout the five boroughs. Today you can stop in at just about any local bar and find some of the country's best brews. While the options are endless, there are some spots you should have on your radar while drinking your way through the Big Apple.
The Breweries
Other Half Brewing Company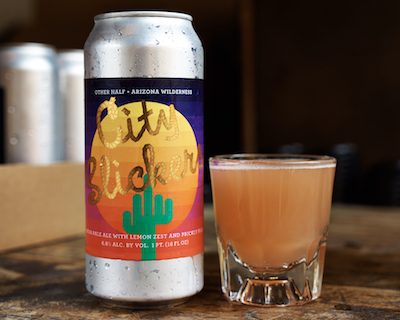 Started by Andrew Burman, Matt Monahan, and Sam Richardson, Other Half been bursting onto the beer scene with their hoppy offerings over the last few years. After time in Portland, Oregon, brewmaster Sam Richardson has been providing locals with styles that represent the best from both coasts.
While Other Half has become known for beers like Green Diamonds and All Green Everything, the trio doesn't want to be pigeonholed by their flagship beer. Instead they want locals to look forward to new offerings, many of which are collaborations with other breweries. If you're here on a weekend, make sure to check out their Facebook page as every other Saturday are can-release days.
---
Threes Brewing
While in Brooklyn, stop at Threes Brewing, blocks away from the Barclays Center. Threes possesses the ultimate triple play of brewery, restaurant, and espresso bar all within one incredible space. Whether you're a beer nerd looking to sip on a cold beverage while watching the maestro Greg Doroski at work, or you're craving a tasty cocktail, or you're looking for a bite to eat at their current partner restaurant Meat Hook, Threes is the place for you.
"In both lines of our business, manufacturing and hospitality, we take our craft very seriously. Ourselves, not so much," says co-owner Josh Stylman. "We think it's important to remember that beer is something that should be a fun thing you consume while you're enjoying your life. Nothing more, nothing less."
---
Brooklyn Brewery
Since being founded in 1988, Brooklyn Brewery, led by celebrity brewmaster Garrett Oliver, has ushered in the craft beer era to locals of NYC. While visiting Brooklyn Brewery, patrons can sit back and chat with the staff while putting-back a few of their flagship Brooklyn Lagers. For those looking to learn more about the history of the brewery, small batch tours are available during the week. Make sure to book your tour in advance, as they do require a month's notice.
---
Singlecut Beersmiths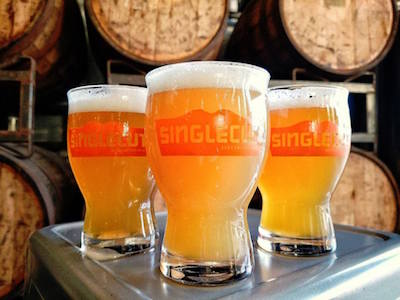 If you're a beer nerd with a passion for music, look into Singlecut in Astoria. Of the brewery focused on music, general manager Dan Bronson says, "punk rock didn't reinvent rock and roll, and we aren't reinventing the wheel (or the IPA) here, but we feel confident we have our distinct tone that you don't hear at other places." Singlecut is certainly living up to that tone with hoppy favorites such as Softly Spoken Magic Spells and Mo' Shuggie Soulbender. With a massive taproom, Singlecut allows you to flip through vinyl while sipping on their regular offerings and if you're lucky, a few taproom-only surprises.
---
Transmitter Brewing
What started in 2005 as a beer between two strangers has quickly blossomed into one of the most unique brewery experiences you can find in NYC. Transmitter, which focuses on developing Belgian and French Country ales, naturally carbonates all of their beers, which take anywhere from six to 10 weeks to develop.
Located under the Pulaski Bridge, a short walk from Astoria and Greenpoint, Transmitter transmits a sense of community. Founders Anthony Accardi and Rob Kolb invite visitors to sample some of their mixed fermentation offerings and purchase a number of corked and caged bottles to enjoy at one of their picnic tables or at home with friends.
---
LIC Beer Project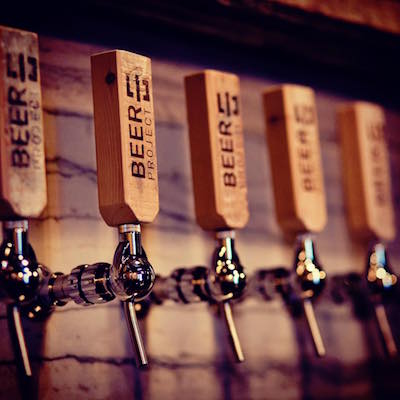 One of the newer breweries making a big splash is the LIC Beer Project. Fresh off their first can release, Daniel Acosta and Damon Oscarson are looking to bring beer lovers to their beautiful facility in Long Island City with an interesting lineup of Belgian inspired ales and sour beers. LIC aims to push creativity and techniques to make exceedingly aromatic and flavorful hoppy beer. On top of that, LIC is NYC's first brewery with a coolship to allow for spontaneously fermented sour ales which they age in oak barrels.
---
Keep reading for the city's best beer bars and bottle shops.
The Bars
Torst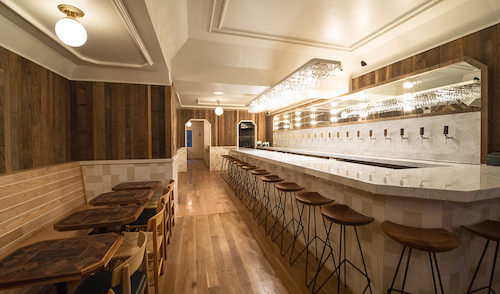 If this is your first time in NYC, make a trip to Torst. On approach, pay attention because Torst sports one of the most unassuming entrances—a single white door with its name written in white marble. However, behind this door lies the mecca for all things beer and food. Started by Jeppe Jarnit-Bjergsø of Evil Twin and Daniel Burns from Noma, Momofuku, and Fat Duck, Torst's attention to detail is why it's earned the title as one of the best beer bars in the world.
Covered in reclaimed wood and marble, Torst provides beer drinkers the ultimate experience thanks to not only their knowledgeable staff, but their Gycol System which allows beers to be set to the perfect carbonation and temperature. While there, make sure to try some of the bar food provided by in-house Michelin Star restaurant Luskus, or call ahead to make a reservation for a beer and dining tasting you won't regret.
---
Blind Tiger
While in the West Village, dip into Blind Tiger, one of NYC's original craft beer bars. When Blind Tiger first opened, the owners were actually worried about opening since there were already two craft beer bars in the city, a thought that seems crazy now. To prevent what they thought would be a saturation of the market, the owners decided to instead focus on the neighborhood, the community, and most importantly their customers.
With its longevity, Blind Tiger has seen bubbles pop and popular beer styles come and go, but sticking to their founding principles of good beer and good people has allowed Blind Tiger to remain a favorite among beer lovers.
---
Alewife / The Jeffrey / Fools Gold
This trifecta of craft beer bars owned by the Beerly Legal Group includes some of the best in the city. While each provides a unique take on the beer scene, visitors can pick their poison depending on location.
If you have to choose, make the trip to Fool's Gold, in Manhattan's Lower East Side. Home of this year's Cantillon Zwanze Day, Fool's Gold has the same look and feel as the Jeffrey but with a larger space, perfect for group outings and their many tap takeovers.
---
Proletariat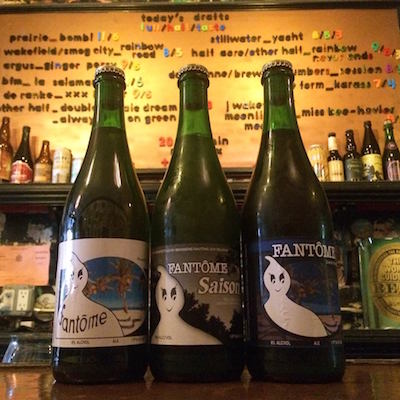 Located on the ever eclectic St. Marks Street in the East Village, Proletariat offers a speakeasy vibe thanks to dimmed lights, except for two spotlights shining on the most important thing in the bar: the draft menu.
As you get closer to the bar, you are not only greeted by an excellent beer list, but a knowledgeable bartender who will serve as your guide. Many of the bartenders here have started up or are in the process of starting their own breweries. You don't have to be a beer nerd to fit in here; all you need is an open mind.
---
One Mile House
Named after a pre-prohibition bar around the corner that was one mile from City Hall, One Mile House has served as a haven for beer enthusiasts since it opened four years ago. Located next to the iconic music venue The Bowery Ballroom, One Mile House boasts 30 rotating taps with the best the city has to offer and monthly events such as their annual pig roast or barrel aged beer night. With a knowledgeable staff dedicated to the craft beer world, One Mile House is able to be an elite beer bar without the pretentiousness that might scare away novice beer drinkers.
---
Bottle Shops
Top Hops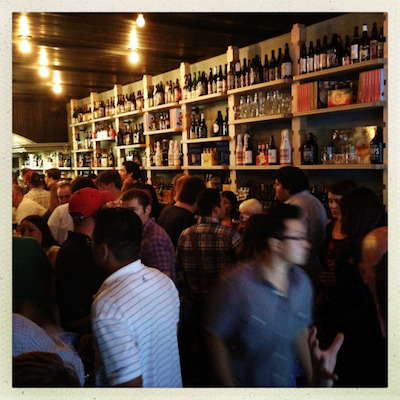 As one of Manhattan's first bottle shops, Top Hops has taken on the novel concept of bottle shop meets bar meets classroom. Patrons have the option to take a seat at the bar for a cold one and chat with their knowledgeable bartenders, or peruse the fridges to view the hundreds of options of beers you can take home with you.
If you're interested in learning more about beer, check out their website for upcoming classes. Of course, if you find yourself in New York in November, Top Hops hosts the annual Goose Island Black Friday Bourbon County release. It's a pretty popular event.
---
Beer Culture
This past year, Beer Culture opened up their second location on the Upper West Side. For those familiar with the location in Hell's Kitchen, the new spot has nothing in common with its predecessor other than name, thanks to more levels and tons of seating.
If you're looking for a night out, the new location has added a full kitchen to serve what they call "elevated pub food." If you're looking for takeout, Beer Culture's fridges are stocked with bottles and cans to take home, just like the original spot (OK, so they have two things in common).
---
Jason Stein is a New York-based beer nerd. You can find more of his writing on NYC Beer Society.