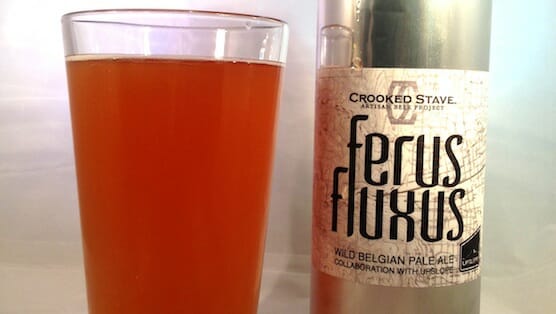 The tiny, well-respected Crooked Stave Artisanal Beer Project has partnered with the popular (and well-respected) Upslope Brewing to produce the Ferus Fluxus Wild Belgian Pale Ale. I know what you're thinking, "what the hell does Ferus Fluxus mean?" It means "wild flow," and the Wild Belgian Pale Ale is the first in a series of Ferus Fluxus collaborations between Crooked Stave and larger breweries. For the Wild Belgian, Crooked Stave took Upslope's Belgian Pale Ale and inoculated it with Brettanomyces and Lactobacillus in new red wine barrels.
Crooked Stave is known for small batch, experimental brews heavy on barrel aging and brett. To put it bluntly, sours are Crooked Stave's jam. The whole idea of the Ferus Fluxux series is to convince America that sours are everyone's jam. The artisanal beer makers are partnering with bigger breweries in an attempt to highlight the power of Brettanomyces, and introduce sours to a broader market. This first edition, with Upslope, could be considered the ideal gateway beer to sours.
The Wild Belgian Pale pours a cloudy, bubbly orange, and has some funk to the nose, along with a bit of light, summery citrus. The nose is a good indicator of the what's to come, as the beer has an astonishingly light and crisp mouthfeel—almost like drinking champagne. The dominating characteristic here is tart lemons, like when you buy lemonade from the neighborhood kids and they skimp on the sugar. Or like biting into the rind of a lemon. Let it warm and a bit of underscoring sweetness comes through, but the lemons get more intense as well.
Even with all of the citrusy elements dominating the beer, Wild Belgian Pale Ale has only subtle sour notes—surprising when you consider Crooked Stave's reputation. But then, this is a beer meant to be a crowd pleaser, a welcoming introduction to the otherwise intimidating world of sours. Many sour aficionados might be disappointed, but I say enjoy the first Ferus Fluxus for what it is—a bright, summery brew. This beer is how you ease into the sour game, people. But act fast, they're only brewing it once. So once it's gone…
Brewery: Crooked Stave with Upslope Brewing
City: Denver, Colo.
Style: Wild Belgian Pale
ABV: 8%