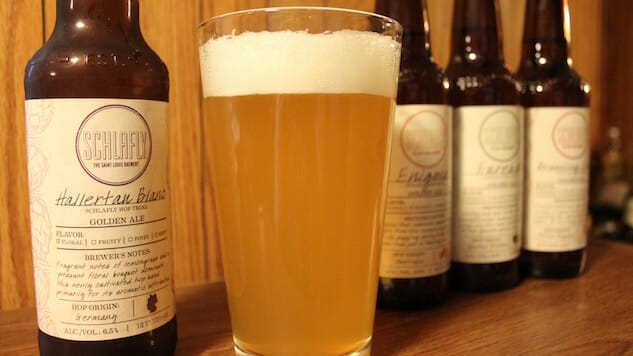 Smash beers (single malt/single hop) have taken over many a taproom, with St. Louis's Schlafly brewpub being no exception. The concept is to highlight flavors with the core ingredients, helping raise hop awareness through the vehicle of a clean and crisp pale ale. While malt gets a shout out in the acronym, it's generally the hop varietal that gets the discussion.
After running through a Smash series in the brewpub, Schlafly decided to take Smash to the streets in the form of the Hop Trial Variety Pack, a 12-pack with four different golden ales, all 6.5% ABV, all with 2-row malted barley, but each showcasing different hops in color-coded packages.
Hop: Bramling Cross
Hop Origin: United Kingdom
Label: Red, spicy
Bramling Cross features a red logo, the differing point as each of the four bottles share the same label sticker but with different "Brewer's Notes" filled in regarding flavor profile. Here, Schlafly has checked the "spicy" box due to a peppery finish on the beer that's clean and spicy minus the pepper flavor. This beer is fizzy, dry, and earthy, starting light and easy and growing progressively more bitter toward the finish. While the majority of this sampler features straightforward light bodied beers, Bramling Cross is more textural, using the effervescence to pop between fruity, floral, and spicy notes.
---
Hop: Enigma
Hop Origin: Australia
Label: Orange, fruity
Pouring golden with a rocky white head, Enigma has a sweet citrus aroma that's balanced with a bitter orange peel earthiness. It lets the malt lead the beer while tropical mango and pineapple tones shine above that sweeter malt base. It's super clean and crisp, a classic balanced beer recipe that's perfect for a hot summer day. The body to carbonation level really highlights some underpinning floral notes and gives a nice added complexity.
---
Hop: Eureka!
Hop Origin: United States
Label: Green, piney
This one is a hazy gold with a billowy head of white foam. It's pine, honey, and a little green in the aroma and that transfers into taste with an herbal profile that finishes with a sticky pine. The mouthfeel is especially soft with a lighter carbonation level, which really characterizes the resinous finish. It uses the increasing-in-popularity juicy/oily hop body but favors bitter and lingering instead of citrus fresh.
---
Hop: Hallertau Blanc
Hop Origin: Germany
Label: Purple, floral
Hallertau Blanc is earth and lemongrass, with a hint of bitter citrus in the finish, but more floral and wafting on the aromatics. It's another crisp and easy-going beer that starts with a big fizziness, which notes the floral character, followed by a hair of malt sweetness before the bitter end. It's refreshing but slightly heavy for a lighter style with a good dimension that transitions well between the different flavors within. The mouthfeel is soft that floral and slightly citrusy tinge dissolve into the dry finish that's more crisp and refreshing than resinous.
---
Reviewer order of preference: Hallertau Blanc, Enigma!, Eureka, Bramling Cross
Schlafly is continuing the SMaSH Series in the brewpub with plans for different varietals next year.