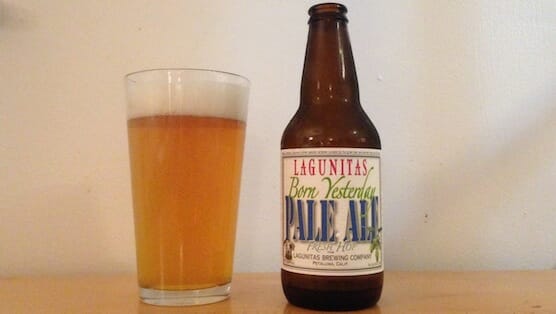 How fresh can a bottled beer get? Lagunitas is testing the limits of freshness with Born Yesterday, a wet-hopped pale ale that was delivered to my door within 24 hours of being bottled. All the way from the other side of the country. Impressive.
The point to shipping a beer so quickly, and trying to get people to drink it immediately, is to give beer lovers the ultimate hop experience. Fresher is better. That's why Stone Brewing Co. puts so much energy into their Enjoy By series of IPAs. Born Yesterday is next level freshness. It's Fresh Prince of Bel Aire, fresh. It's Irish Spring, circa 1980, fresh.
Here's a video that explains a little about the hop harvest that went into Born Yesterday. Lagunitas used Equinox, Mosaic and Amarillo hop varieties, arguably the three sexiest hops you'll find in a beer today.
And here's one that shows you what it's like to be a beer going through a bottling line.
Anyway, is the beer fresh? Hell yes, it's fresh. I popped the top and was hit with a zesty nose, like something you'd get out of an over-hopped IPA. It was heavy on pine with just a bit of citrus, and the taste followed suit: "zesty" is the word I kept writing down. Squeeze a grapefruit over a pine tree, sprinkle a little pepper on it, then eat it. That's what this beer tastes like. It was crisp, with a slightly oily mouthfeel and a dry finish. A bit more bitter than most pales, but overall, damn refreshing.
If you live in California, Oregon or Washington, you can pick up a sixer of Born Yesterday this week. The rest of us will have to catch a plane to California, Oregon or Washington to pick up a sixer of Born Yesterday.
Brewery: Lagunitas Brewing Company
Location: Petaluma, Calif.
Style: Pale Ale
ABV: 7.5%
Availability: Limited. Really limited.