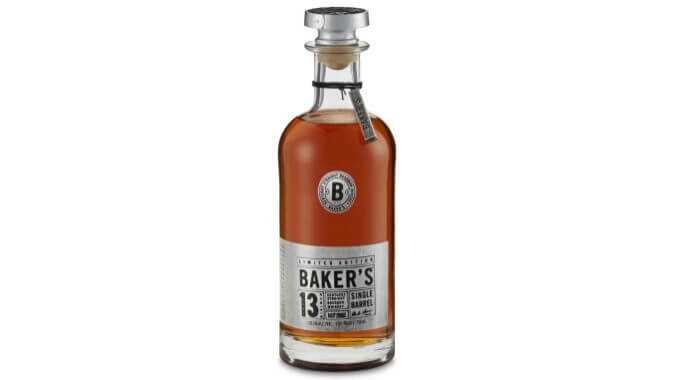 For as long as Baker's Bourbon has existed, it's always been the most nebulously defined and marketed of the major bourbon whiskey brands in the Jim Beam Small Batch Collection. This is largely due to the area it inhabits on the shelf, as a mid-cost bottle existing between the high value proposition of Knob Creek (9 years, 100 proof) and Booker's (5-7 years, but cask strength). The MSRP on Baker's ($60-70) finds itself falling smack dab between those two, but with an age statement (7 years) and alcoholic strength (107 proof) that also gave it a narrow niche to inhabit. This arguably always made it difficult for Baker's to truly develop an identity for itself, so Beam wisely redesigned it in 2019, turning the Baker's brand into a single barrel expression, something that would at least help a bottle of Baker's offer more of a distinct experience. At the same time, they also celebrated the brand with the initial 2019 release of Baker's 13 Year Old, a limited edition version designed to highlight the peak of their single barrel program. And now, after about four years, that release has finally come around again for an encore.
Like the flagship bottle, Baker's 13 Year is bottled at a respectable 53.5% ABV (107 proof), but is substantially more mature than its predecessor, carrying an MSRP of $130. Particularly curious whiskey geeks can even look up the full history of their bottle via the official site, by entering the serial number from the back label. This will display all the pertinent information on precise age, warehouse details, and even the weather history of that aging location. You can't fault them for skimping on the details.
So with that said, let's get into this limited edition Beam bourbon, and see how the Baker's brand has been holding up.
On the nose, Baker's 13 Year is classic extra-aged Beam in most respects, though it isn't actually the most assertive in its delivery for the 107 proof. I'm getting some lovely glazed, roasted nuts, dusted in cinnamon brown sugar. There's also some modest old oak, slightly musty in tone (hayloft), along with clove spice and fresh caramel corn. It's a nice nose, though I'm not getting a lot of the fruitier impressions one often gets in these extra-matured Beam single barrels, but it's perhaps held back a bit by the fact that the nose just isn't as bold as you might expect. At the same time, however, the ethanol presence is appreciably mild.
On the palate, this whiskey comes alive in a much more engaging and lively way, with luscious caramel sauce and lots of sweet vanilla frosting leading the way. It then segues into some stewed dark fruit impressions, with more of the glazed pralines from the nose brightened by slightly tart blackberry jam. Things then turn toward the roasty, with a kiss of espresso flanked by moderate rye spice and white pepper earthiness. All in all, it's a very tasty and approachable dram, with ethanol that is effortlessly integrated.
At the end of the day, this is plenty enjoyable, though it doesn't necessarily stand out in ways that are especially distinct. It might score a little bit higher if the nose more fully reflected the level of assertiveness found in the palate, but it's still a very well-rounded, extra-aged Beam bourbon that is exceptionally easy to enjoy. Be aware, of course, that as a single barrel bourbon, every bottle has a chance to be unique when comparing it to any online tasting.
Distillery: Jim Beam
City: Clermont, KY
Style: Kentucky straight bourbon whiskey
ABV: 53.5% (107 proof)
Availability: Limited, 750 ml bottles, $130 MSRP
---
Jim Vorel is a Paste staff writer and resident beer and liquor geek. You can follow him on Twitter for more drink writing.