Remus Highest Rye Bourbon Whiskey Review
Photos via Ross & Squibb Distillery, Luxco
Drink
Reviews
whiskey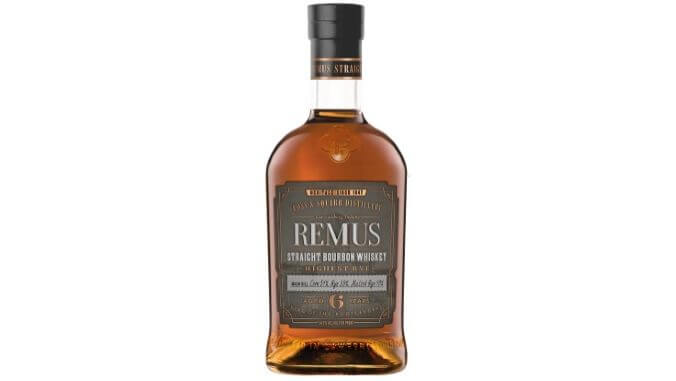 American whiskey geeks know MGP of Indiana–now known as the Ross & Squibb Distillery–for a lot of things. They know them perhaps first and foremost as the prolific suppliers of sourced whiskey for so many brands over the years, especially the highly visible rye whiskey brands such as Bulleit Rye or Templeton Rye that make use of the famous "95/5" MGP rye recipe. In recent years, they've also come to know MGP as a bourbon and rye powerhouse through their own brands, which include the George Remus line of bourbons, and Rossville Union Rye Whiskey. There have been some real standouts among these brands, particularly the excellent Remus Repeal Reserve bourbon series, but there are aspects of what MGP does that still get overlooked by even the whiskey geeks in the audience. In particular? Their fascinating use of an extremely wide array of mash bills.
MGP doesn't just make one or two styles of bourbon or rye–they make numerous whiskeys, so many that I can't even really keep track of how many there truly are. Although something like the 95/5 rye is undoubtedly very well known, it's not the only rye whiskey mash bill that MGP utilizes. And on the bourbon side? That's a true menagerie of mash bills, going all the way from 99%, "high corn" whiskey, to light whiskey, to a wide array of different high-rye bourbons. These high-rye mash bills are often seen as the company's signature within the bourbon world, but even within this subcategory there's still a big range of variation. That's the theme of the newest addition to the Remus year-round lineup: Remus Highest Rye Straight Bourbon Whiskey.
As the name would imply, this one features MGP's highest rye bourbon mash bill of all, which is one I honestly can't remember ever having seen before in any previous release. This is 51% corn, 39% rye and 10% malted barley, with a six year age statement, and a rather sturdy and surprising 54.5% ABV (109 proof). The company somewhat confusingly refers to the concept as being "a mash bill that features the most rye a bourbon can offer," which I don't really understand if taken literally–a theoretical mash bill could contain just a bit less malted barley, or even zero barley, and still qualify as bourbon at 51% corn, 49% rye. Right? It's an odd turn of phrase, but it doesn't really matter: The point is that this is a very high-rye bourbon, with a respectable age statement and elevated proof. Its MSRP is a pretty reasonable seeming $55, which is pretty solid given the proof point in particular, at least in comparison with the rest of the whiskey mid-shelf.
So with that said, let's dive into tasting this rye-heavy MGP bourbon.
On the nose, Remus Highest Rye has a lot of rye character, if you can believe that! What I'm getting here splits the difference between fresher, grassy rye and more intense, peppery rye spice, paired with cherry fruit and slightly youthful oakiness, a tad "green" in character. I'm also getting more sweet impressions of caramel vanilla wafers, and a little bit of char. Surprisingly, the ethanol on the nose is quite suppressed for the 109 proof, making it read as significantly lower.
On the palate, this leads off sweet and fruity-spicy, but then transitions into a drier dimension on the back end. Up front, I'm getting cherry and raspberry fruitiness, pretty bright in character, with French roast coffee char and lots and lots of rye spice. There are some grassy notes, and heavy peppercorn, and a long-developing spiciness that touches on hot cinnamon and ginger. There's also something slightly green or resinous here as well, possibly from the rye itself. It starts out notably sweet overall for something with this much rye flavor, but dries out considerably by the time the spices are lingering on into the finish. One thing that does show up considerably more prominently here than the nose is the ethanol, which prickles on the palate in a way evoking hints of chile or spicy ginger.
This one proves to be considerably more brash on the palate than the fairly gentle nose led me to expect, but that should probably be expected at the strength where this bottle lands. It has a bit of a rough-and-ready feel to it, without the polish of some of the premium Remus brands, but it has obvious applications for classic cocktails in particular. For that purpose, I still think this is a pretty strong value.
Distillery: MGP of Indiana (Luxco, Ross & Squib Distillery)
City: Lawrenceburg, IN
Style: Straight bourbon whiskey
ABV: 54.5% (109 proof)
Availability: 750 ml bottles, $55 MSRP
---
Jim Vorel is a Paste staff writer and resident beer and liquor geek. You can follow him on Twitter for more drink writing.