Zinfandel 2.0: California's Heritage Grape Gets a Makeover
Photo by Kathleen Willcox/Paste Magazine
Drink
Features
wine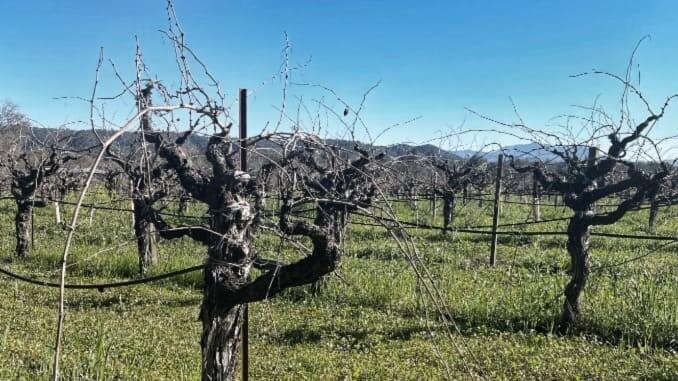 Zinfandel is the girl who got a bad haircut in the fourth grade. We're in high school now; she's smart, she's creative and she's hot—but she's still getting bullied about her feathered bangs.
From a purely economic standpoint, it's a puzzler. Zinfandel, the first grape that put California wineries on the world map and the most widely planted variety in California until 1998, is relatively cheap—the 25 most popular California Zins on Vivino range from $16 to $55 compared with the 25 most popular Cabs, which range from $62 to $1,552, and the 25 most popular Pinots, which range from $32 to $700.
But Zin, it seems, was a victim of its own success—and everyone still thinks its feathered bangs define it.
Like those cursed bangs—or other ill-fated, über-popular trends, like pastel athleisure or peekaboo thong underwear—the historic grape's rep got sullied by the mediocrity it served up during its era of ubiquity. Yes, we're talking the White Zin craze, which delivered sugar-bomb iterations of the noble grape in jug form for less than $10.
As terroir-driven as Capri Sun, it's a wonder the "cougar juice" didn't jettison Zinfandel from the cellars of serious collectors for all of eternity. But in the past decade or so, serious winemakers have been reshaping their approach to Zinfandel, focusing on sourcing old vine, dry farmed grapes from key areas of the Golden State—especially Sonoma—and creating lighter, more nuanced versions of the effusive grape in the process. Some of the country's most influential sommeliers have noted their efforts and have joined their mission of resuscitating and elevating this grand grape to its rightful position on the world wine stage.
Read on for insight into Zinfandel's new 'do.
---
Bottled Terroir
Cabernet Sauvignon and Pinot Noir are the most planted, priciest red grapes in California. They're great, but they lack, some would argue, Zinfandel's je ne sais quoi.
"Zinfandel is the ultimate expression of place," says Ian Blackburn, wine educator extraordinaire and founder of Learn About Wine. "There's a lot of sameness with Cabernet and Pinot. But with Zinfandel, there's so much more nuance from place to place."
The grape can also—unlike its colleagues—be picked early or late in the season, with the goal of underlining drastically different characteristics. Earlier picks will lead to lighter Zinfandels, while longer hang-times will create opulent, higher-alcohol expressions—but both can be excellent.
"We spend a lot of time looking at sugar levels before making picking decisions," says Andy Robinson, winemaker at Seghesio Family Vineyards in Sonoma. "We don't just look at the numbers though. I'll see how easily it can be removed from the stem. I'll look at the seeds to see if they're green or brown."
Hugh Chappelle, winemaker at Sonoma's certified organic Quivira Vineyards, says he avoids making "big Zinfandels," starting in the vineyard. To achieve the consistency he wants, he says his vineyard team will often pick one nine-acre parcel five times by hand.
"We want to make sure we get grapes at the optimal time, and Zinfandel ripens unevenly," Chappelle explains, adding that the industrialized approach to harvest—which was widely applied by winemakers in the 20th century—will inevitably mean that "shriveled grape-raisins and underripe ones will end up in the tank and lower the quality."
---
Age Matters
Unusually, for bottles that can be widely found for well under the $60 mark, Zinfandel improves considerably with serious age.
"One of the hallmarks of Zinfandel is its acid," says Trester Goetting, the Monte Bello winemaker at Ridge Vineyards. "When I drink a Zinfandel from the 1970s, it's still delicious, but the fruit has moved into another arena. They're finely grained and supple, and instead of being zingy and racy as they are in their youth, they're more elegant and refined."
Zinfandel, especially from vines planted in well-draining soil in Sonoma's cool climates, can "age for decades," agrees Sarah Trubnick, founder of Northeast Wine Company and owner and wine director at San Francisco's The Barrel Room.
Doug Nalle, winemaker at Sonoma's Nalle Winery, says that a well-farmed "young Zinfandel can resemble a Pinot Noir, while an older one is more like a Southern Rhône."
---
No Better Grape for Food
"Zinfandel is a wine can that can be enjoyed on its own or paired with a roaring fire and books," says Tonya Pitts, sommelier and wine director at San Francisco's One Market Restaurant. "But it comes into its own with food, especially old vine Zinfandel."
For decades, given the lusher versions of Zinfandel commonly found on the market, the obvious pairing choices were BBQ, steak or pizza. But now, advocates argue, with lighter and brighter iterations and an emphasis on offering aged versions at restaurants, winemakers and pros gravitate toward global, arguably more sophisticated pairing partners.
---
Zinfandel Pairings From the Experts
Tonya Pitts' Ideal Pairing: A 2019 Nalle Estate Old Vine Dry Creek Valley Zinfandel with duck confit. "Those plum, leathery notes with rich duck, white beans and blood sausage are perfect together."
Hugh Chappelle's Ideal Pairing: A 2014 Quivira Vineyards Elusive Dry Creek Valley Zinfandel with grilled octopus. "The age is moving the Zinfandel toward umami flavors. It would be great with any oily fish and goes well with grilled octopus."
Sarah Trubnick's Ideal Pairing: A 2015 Ridge Geyserville Alexander Valley Zinfandel with anything involving mushroom and/or bacon. "There are massive amounts of tertiary flavors here. It still has time to age, but right now, it would pair with bacon and mushrooms beautifully."
Rombauer Vineyard's winemaker Luke Clayton's Ideal Pairing: A 2020 El Dorado Twin Rivers Zinfandel with pad Thai. "Our founder Koerner's great aunt Joan Rombauer is the author of Joy of Cooking, so food pairing is something we spend a lot of time thinking about. I'd pair this with meatballs or pizza with sausage and peppers, but I really love it with pad Thai."
Ridge Vineyard's head winemaker John Olney's Ideal Pairing: A 2020 Lytton Springs Zinfandel with saffron risotto. "We have been making lighter Zinfandels from the get-go, well before it was possible, and pairing our wines with food has always been fun. Lighter Zinfandels pair well with tomato-based dishes, but this one goes well with savory saffron risotto."
Truett Hurst's director of winemaking Ross Reedy's Ideal Pairing: A 2019 Dry Creek Vineyard Heritage Vines Zinfandel with strawberry pie. "I make what I want to drink at home, with what I want to eat at home," he says. "This one is fruit-forward, and it's a big wine, but it's balanced, with floral notes. It would pair beautifully with a salty sheep's milk cheese or smoked meat. And strawberry pie."
From duck confit to pad Thai to strawberry pie, there's a light-on-the-wallet-but-premium Zinfandel that will make it sing. How many California grapes can you say that about?