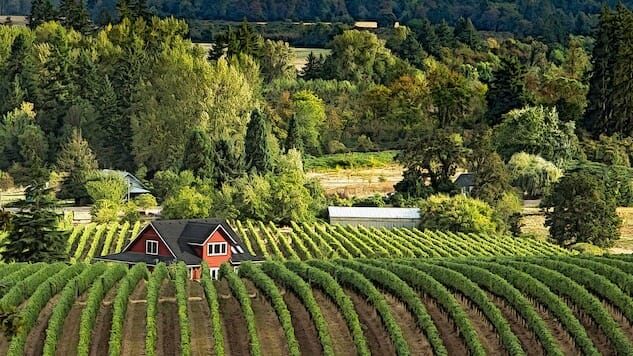 There are some 500 wineries in the Willamette Valley, many of them relatively young (the first Pinot Noir vines were planted there in 1965). Pinot Noir rules the scene there, accounting for about two thirds of planted acres. They're deservedly well-known for it and the comparisons to Burgundy are not without merit.
Fashion feedback loops can be a drag when your product is a living thing; ask a Washington winegrower about this; they all grow Cabernet even though Syrah expresses itself more brilliantly in many cases. Ask a Merlot grower who had to deal with the ripple effect of Paul Giamatti's performance in Sideways. Hey, ask a Labradoodle breeder for that matter. "Trending" can be a confining thing.
Enter the magic that is Oregon's flat-out refusal to do what everyone else does. Yes, Pinot and Chardonnay express themselves very well there. But there is also the Oregon Maverick Factor in play, and varietals being experimented with range from river-lovers like Albarino, Gruner Veltliner and Lemberger to flexible shapeshifters like Riesling, Syrah and Gewurtztraminer-not to mention some decidedly quirky grapes like Teroldego, Melon de Bourgogne and Picpoul Noir. While the common comparison with Willamette is Burgundy, there's a strong affinity for wines of northeastern Italy (besides Teroldego you'll find Lagrein, Kerner, Sylvaner and Friulano). There are several sub-regions within the Willamette AVA, each with its own range of expressions, and pretty much all featuring great Pinot Noir. There's something for basically every palate, budget, and occasion.
This list is not exhaustive, nor is it exclusive: It's aimed at playing up the region's diversity and suggesting things to try at a range of price points and for people with different palates and interests. In some cases, these wines are readily available everywhere. In others, if you get intrigued you'll be doing some shopping online.
Willamette Valley wines are not usually bargain-basement bottles. They tend to command high prices. But you get terrific quality along with a statistical likelihood that the environment didn't take one for the team¬-something like half of Oregon vineyards are certified sustainable, and the state claims 35% of the US's biodynamic certified acres. So, if you care about the sustainability piece, and I would posit that you should, it's a good place to focus your dollars.
Alloro Vineyard, Chehalem Mountains AVA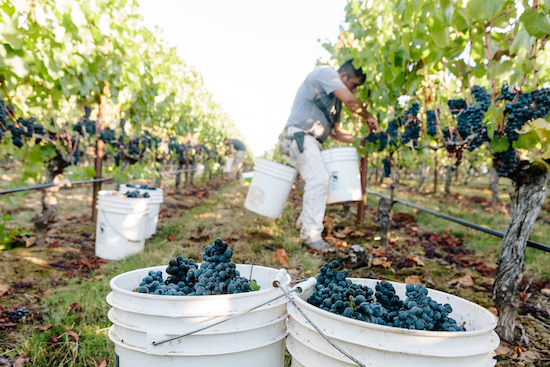 If you're actually going to the Willamette Valley I need to note that this place is really picturesque, a working farm complete with cows, sheep, orchards, and onsite farm-to-table dining. If you're just going there in a glass, meanwhile, try the pinot! They have several, some of which climb toward $100 but some of which do not. Their 2014 PN is luscious, with lavish texture and voluptuous flavors, largely cherry, chocolate, strawberry and caramel. It's a romantic-evening kind of wine and at $35 it tastes more expensive than it is. They have a nice Chardonnay too.
---
Argyle Winery (Dundee Hills AVA)
Argyle makes some killer sparkling wines (quite a number of them, in fact) as well as a handful of still wines. Some of them are pricey. All of them are delicious. If you want a special occasion wine you can't go far wrong with their Extended Tirage Brut. It's just really, really good. Briochey yeast notes and roasted hazelnut and almond underpin layers of honey, Morello cherry, Japanese plum and candied citrus peel. Brisk acidity, definite creaminess in the mouth. Luxuriant and festive.
---
Brooks Winery (Eola-Amity Hills AVA)
Brooks is a winery that knows what it does well and focuses in on it. They make Riesling and Pinot Noir and a small array of aromatic whites. Within the Pinot Noir category there's a highly diverse range of single-site bottlings ranging from around $25 to around $60. You could play with these, tasting them side by side and marveling at this grape's insane site sensitivity for a long time. Or you could just drink it. The 2016 Sunny Mountain Pinot is a bit of an herb-bomb up front: fennel pollen and rosemary jump out of the glass followed by something darker that isn't violet leaf but reminds me of it, and an almost bitter note that recalls walnut husks. What unfurls after that is confit cherries, cedar, tea and tobacco. Tannin structure is excellent. It's a solid, sure-footed wine and will likely please both Pinot geeks and people who just want something in their glass.
---
Bryn Mawr Vineyards, Willamette Valley
"Petillant" refers to wine that's lightly sparkling. In this case, Pinot noir, Pinot gris and Marechal Foch are harvested early for high acidity, fermented in oak, and then infused with carbonation after bottling at subzero temperatures. The result is bright pink, with a restrained character, understated but persistent bubbles, and a lovely savoriness. Strawberry and orange rind are prominent. The wine's around $25. They also produce Pinot Noir and Chardonnay, as well as a Dolcetto that's a very fun "need something different" wine, very light-bodied, very elegant, and full of cedar and stone notes (it'll make you think of rain falling in the woods). Woman-helmed, if that drives your wine-spending, and delicious, which should drive everyone's.
---
Dobbes Family Estates, Dundee Hills AVA
Dobbes has a portfolio of estate-grown wines and a handful of wines with fruit sourced from other growers. Both are well-crafted and rock-solid. While they share the general Willamette romance with the Pinot, I'm going to call out two whites you might want to peel an eyeball for. Their 2016 Chardonnay is a very balanced one and an example of why Willamette Valley is seen by many as the "bridge" between California's exuberant (or in your face) style and the austerity of the French style. Part oak barrel fermented, part steel tank/ Bright acidity, somewhat chalky finish. Soft but not squishy; honey and orange blossoms with pear and vanilla and traces of pastry. People who are tired of Chardonnay would do well to cultivate an interest in wines like Grenache Blanc, with its luxuriant flavors and easygoing body. This one is an apple and melon kind of thing with lots of herb and flower notes and aromas of apricot, white peach and orange zest. Dobbes wines range from around $15 to around $65.
---
Hazelfern Cellars (Chehalem Mountains AVA)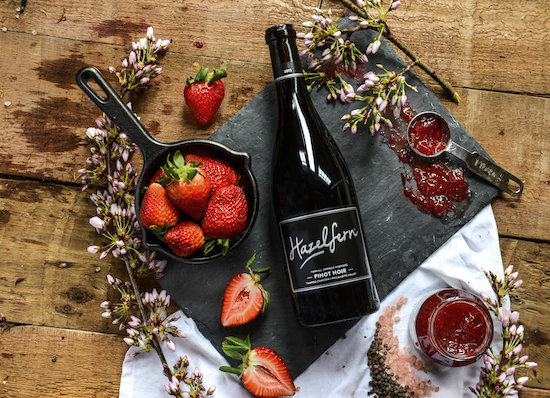 Hazelfern's Chardonnay is a triumph of minimalism, one of the lightest-bodies Chards I've had in recent memory. It's lean, and it's bright but in a gentle way with a quiet acidity. Peach blossom and fig notes are prominent. It has a quartz-y minerality that I love, and a hit of grapefruit on the delicate finish. It's clean-tasting, lean and fresh. It'd make a great seafood wine, though I confess the last time I opened a bottle I didn't bother with food.
---
Iris Vineyards, Willamette Valley AVA
Iris has good Pinot Noirs, and they also produce Viognier, Syrah, Tempranillo and Pinot gris. Their wines have an approachable vibe and a reasonable price point (there are a couple of Pinots that'll set you back a bit but most of their portfolio is $15-30). They are friendly, and complex without hitting you over the head. The 2016 Pinot noir is plummy, with hints of blackberry and strawberry, and it has depth and vigor without heaviness. Food friendly wine all around.
---
Kramer Vineyards
First of all, Kramer's a great producer to keep in mind if you love light bodied whites; they make Muller-Thurgau and Gruner Veltliner in both still and sparkling iterations and all are extremely tasty. They're also a worthy friend if you just like variety, with strong Pinots, Chardonnays, and an oddball called Carmine, which is a cross between Cabernet and Carignan with massive color saturation and a heady mix of fruit and spice notes. Their "Celebrate" sparkling Muller-Thurgau is a standout for me. Muller-Thurgau is a very light-bodied grape, delicate and a little ephemeral. This one has tropical notes of pineapple and guava and lychee, along with neroli and peaches. It's smoothly effervescent and just plain fun to drink. Craft without pretention.
---
Le Cadeau Vineyard, Chehalem Mountains AVA
Excellent estate-grown Pinot Noir-Burgundian sensibility meets Willamette terroir. They have several distinct bottlings at a given time (including a sparkling rosé, which I have not tasted, but mean to). The 2017 "Rocheux" Pinot is a dense affair with a hallmark Pinot mosaic of flavors and aromatics: blood orange zest and leaf litter, smoke and raspberries, kirsch and nutmeg, oolong tea and strawberry jam. Elegant as all getout and totally focused. This bottle (and most of Le Cadeau's offerings) runs you about $50 but there are Pinots that cost twice that and aren't all that special. Le Cadeau, like my CA favorite Gary Farrell, is a Pinot geek's winery, one that'll give you a sense of how much microscopic changes in a site's exposure or soil specifics will change this sensitive, expressive grape.
---
Montinore Estate, Yamhill-Carlton AVA
Biodynamic certified, for those following that kind of thing. An eclectic sensibility, for those who like that (I like both of those things.) Their Red Cap Pinot Noir is affordable, at about $24, and very tasty. Some Pinots are almost dizzyingly layered; this one is straightforward and that's not a drawback at all. It's pretty much chocolate covered cherries with a grownup edge. Traces of plum and baking spice emerge on the finish. It's balanced and delicious and easygoing, with great substance and richness.
---
Ponzi Vineyards, Chehalem Mountains AVA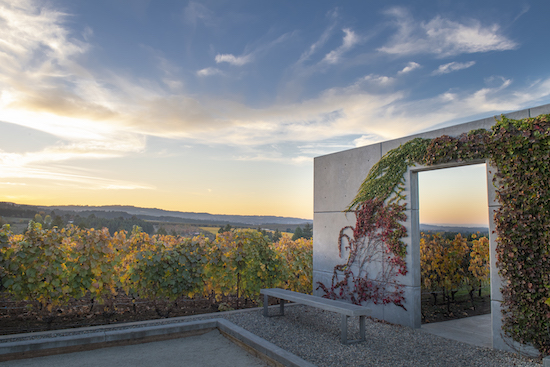 I recently tried Ponzi's Madrona Pinot Noir and really liked it. I'll note that you need to like it because it will set you back a hundred bucks, so this is not, for many of us, a wine to grab on a whim. But the 2016 vintage was a felicitous one and this expression of Pinot is a spice-fest, with cardamom pods and cloves leading, as well as hints of anise, balsam fir, cinnamon, vanilla and cumin. It's spicy on the palate too, though more in the ginger and nutmeg range. The finish is chalky and lingering, and despite all that spice dominance the overall impression is one of juiciness. Really sophisticated stuff and a pleasure to drink.
---
Stoller Family Estate, Dundee Hills AVA
Stoller wines have gravitas. They aren't goofballs. Their 2017 Pinot Noir is strikingly meaty (both texturally and in terms of palate; there is a distinct cured-meat note) with significant heft on the palate and dark, dusky notes of plum and marionberry and tea. Their rosé of pinot noir is fresh and appetizing with bright strawberry notes and an eccentric little hit of kiwifruit on the nose, and a cherry-nectarine core.
---