It's a modern reality: a lot of us are living in incredibly small spaces long after our dorm years are done.
Storage can be at a premium in tiny kitchens, but a little creativity can maximize your space. All it takes—no pun intended—is thinking outside the box. We asked experts for their tips to thrive, not just survive, in a compact kitchen.
Go for slim furniture.
Look for open table legs, translucent materials, and armless chairs. Think upwards. "Vertical space is your secret weapon. Get things off the floors and counters with high shelving, a magnetic knife strip instead of a block on the counter, and pegboards for pots and pans," says Erin Davis of Mosaik Design & Remodeling Portland. Oregon.
Downsize your appliances.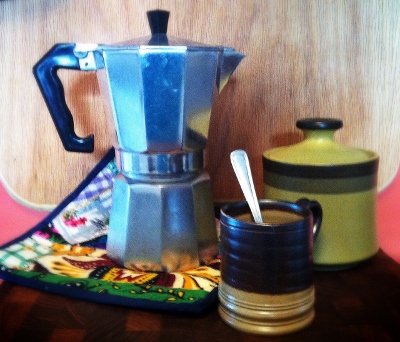 Swapping a family-size coffeemaker for a modest French press is one way to save big on space. "If your appliances are old and bulky, take the opportunity to upgrade to a sleek, small, European model instead," suggests Davis. Or embrace the liberating feeling that comes with de-cluttering and get rid of an unused kitchen gadget altogether. Another option is to go single-cup. Many of these brewers come compact now—the Keurig Mini Plus Brewer is an example—and it's a way to make hot or cold coffee, tea, and other beverages all in one gadget.
Get tools that match your cooking style.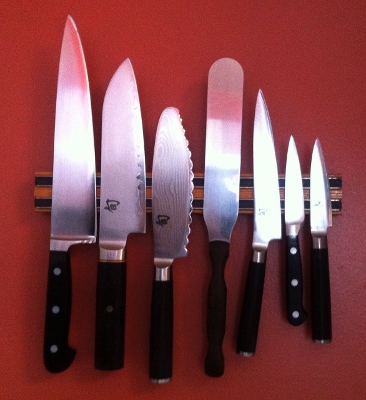 "Don't get trapped into buying something that doesn't fit your needs, such as a big block knife set," says Sara Leibowitz, owner of Kitchen Couture. Leibowitz recommends the Bodum Universal Knife Block as the best for kitchens with minimal space because the block is narrow with a small footprint and can fit all of her favorite knives, individually purchased, within reach.
Make it movable.
Get a cutting board you can place over your sink during meal prep, or create a pullout cutting board. Consider a rolling cart for your mixing bowls and cookie sheets that can be whisked out of the way, Davis says. Or store your sundries on a thin rolling shelf that hides between your fridge and sink.
Buy multi-use items.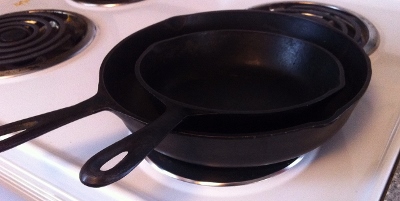 "I no longer need to take out a mini chopper or a large food processor when I cook with a multi-use item," says Leibowitz. Multi-use items come in all forms, from getting a chopper that mixes and blends to buying one good pan that fits all your cooking needs.
"Cast iron pans or cast iron skillets should be the only pan in your tiny kitchen—or any kitchen, for that matter," says Chef Chris Kydes, host of The Flaming Greek with Kami show. "This cookware is like working with five chefs at once, all from different cooking backgrounds. It can cook steak, chicken, Asian, curry, French fare, you name it," says Kydes. "Like clay and coffee, the more you use [cast iron], the more porous it becomes and the seasonings, herbs, and spices all erupt when you heat the pan back up." Another great thing about cast iron is that you can always put it in the oven, which eliminates cooking sheets and other pots in your pantry.
Corral.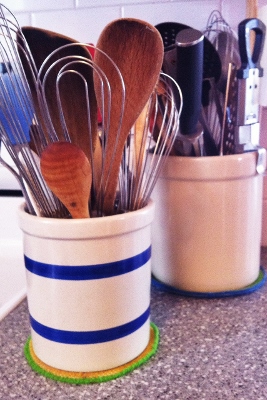 We all have a lot of kitchen gadgets and accessories. Instead of having the tools like the kitchen shears scattered around, find something you like to contain them—a water pitcher which you can't otherwise use because it has a crack, a flowerpot, a decorative tin or cookie jar, whatever feels right for you. Organize them on the counter if you have the space, or get a drawer insert. "Drawer inserts are great—you can usually stack them in deep drawers if you get stuck for space. I use a freestanding rack to hold mugs. There are even racks designed just for ripening bananas and keeping them from bruising," says Lauren A. Williams of CasualUncluttering.com.
If possible, reformatting your cabinetry presents another way to maximize gadget storage. "Changing cabinet doors to pullout drawers can give you access to
dramatically more space and help you tuck more Tupperware out of the way," says Davis.
Use wall space.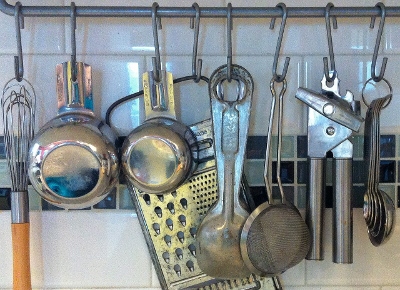 Attach hooks to your walls and hang the equipment you use the most often, keeping it within easy reach. "This frees up cupboard and drawer space, and makes it easier to find your go-to items at a moment's notice," says Rob Rebholz, co-founder and Managing Director of SpaceWays. And magnetized spice holders can get your spices off the counter and onto the fridge, clearing up room for cooking.
Store seasonal equipment.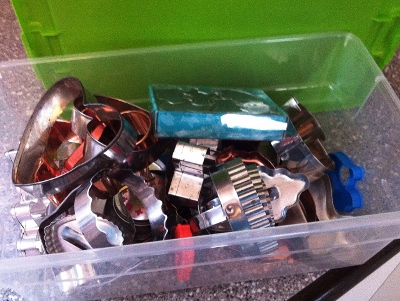 "You don't need your huge Thanksgiving turkey pan in August, or your Santa-shaped cookies cutters in March!" says Rebholz. Don't let this equipment take up precious space—store it out of the kitchen until next year.
Look up.
Again, thinking upwards is key. Use the height of the kitchen. Is there unused space on top of the cabinets? It's often perfect for the stuff you only use once a year, or which is oddly shaped and doesn't fit anywhere else, says Williams.
Simplify.
Instead of owning eight skillets of different sizes and finishes, take note of which you use the most, suggests certified professional organizer Amy Trager. Consider donating the ones rarely used. Instead of keeping a month's worth of food in the pantry, consider keeping essentials on hand only. This may free up a cabinet or shelf that you need for storing plates or appliances.
Aly Walansky is a lifestyles writer based in New York City. Her greatest loves include her shih tsu, soap operas, and extra dirty martinis. Follow her on twitter at @AlyWalansky.