Cartagena, Colombia is a seductive city that puts your senses into overdrive. The stunning colonial city is a Caribbean fantasy come to fruition. The brightly painted Spanish architecture encompasses color from all over the spectrum. Salsa music spills out of local hole-in-the-wall joints and hangs in the hot and humid air, embracing and enticing you. The luscious smell of food comes in intoxicating waves as you walk the streets of Old Town.
A friend recommended that we do a street food tour as a way to get to know this enchanted land. It wound up being the most informative and tastiest tour I've ever experienced. We met at a square in the center of town, once frequented by author Gabriel García Márquez to people-watch, ponder, and write love letters.
Tour guide Kristy Ellis greeted us with a cheery smile and endearing Australian accent. We were joined by one more gal, making the tour-goers an intimate group of three. It felt like we were friends hanging out and talking about Cartagena. When Ellis first came to Cartagena a handful of years ago, she discovered that there weren't any food-based tours. She started working as guide for a walking historical tour, and began researching for her food tour by trying everything the streets had to offer.
Ellis said that she likes to show everyday life of Cartagena on her tour. "The way I love to connect to a place and to the people is through food. I love to go to the markets, I love to ask the taxi driver where they last ate and go there."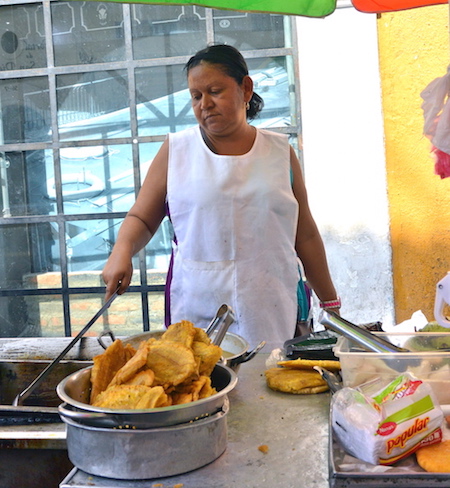 We departed the square to our first tasting, a stand selling patacones con queso costeño—smashed and fried plantains paired with soft and salty costeño cheese. The crunch of the plantains against the delicate cheese was the perfect opener for the traditional Colombian Caribbean cuisine extravaganza we were embarking upon.
A cart serendipitously wheeled past, making mango biche was our next stop. Ellis, a connoisseur of going with the flow, was elated to introduce us to this dish of unripe mango sliced like French fries and marinated in fresh lime juice and seasonings. Embodying sweet, tart and savory, mango biche serenades the mouth with bright and fresh flavor. The simple preparation was served in a small plastic bag.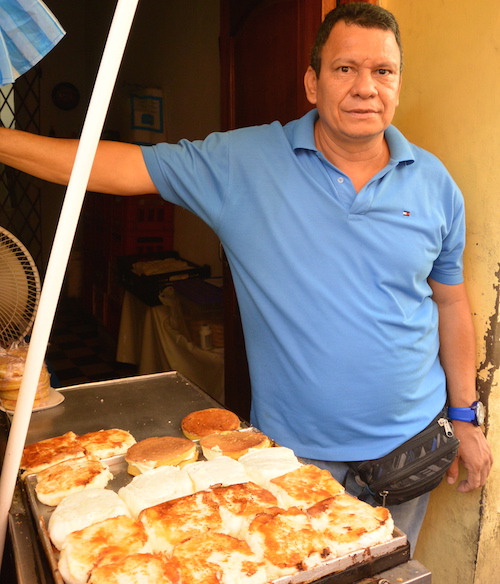 We walked a few more steps to a man selling the hugely popular street fare of arepas. Arepas are everywhere in Colombia, as prevalent as hot dogs at a baseball game. The ground corn flatbread is grilled on flattops with butter and is most commonly stuffed with cheese, but can be filled with whatever floats your boat. This stand was particularly special to Ellis, as this was one of the first places she frequented as she began to "eat her way through Cartagena."
Partaking in two kinds of arepas con queso, we first tasted the more classic take made with ground, dried corn harmonizing with cheesy, buttery elements. Arepa de choclo con queso was next. Made from giant Andean sweet white corn kernels, it had a much fluffier consistency and had notes of condensed milk and honey.
We continued around the corner and down the street, passing brilliant flowers cascading off balconies. With every step Ellis chatted about this magical city. Her eyes lit up with a look of someone in love.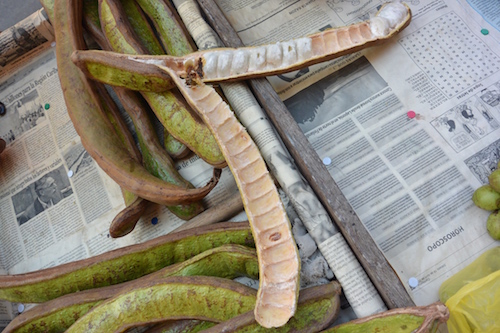 A cart rolled up with guama, an indigenous Amazonian fruit. Also known as the ice cream bean, the large pods are engulfed in a fuzzy white pulp that has hints of vanilla. It was the first time that I had ever seen guama and was pleasantly surprised by the sensation. The texture and flavor flirted with confectionary dessert, reminding me of Japanese bean cakes.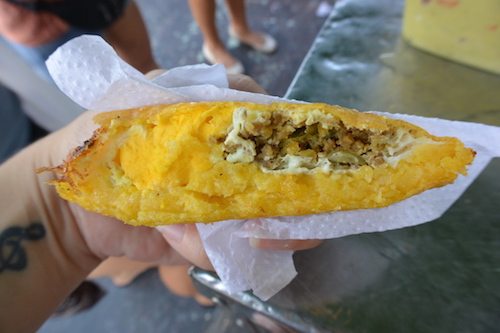 Arepa de huevo was the next item to hit the deck. It is a culmination of tastes heralded by locals as a crowning achievement of the special mix of cultures present in Cartagena—from indigenous people to Spanish conquistadors, African slaves brought over to work the plantations, and merchants from the Middle East.
Ellis said, "Arepa de huevo has the egg, which was brought by the domesticated chickens coming over with the Spanish. The corn that was being grown by the indigenous populations…a staple food for the indigenous people already. The frying and the seasoning of the meat [ground beef] are very African and reflect the food that comes from there. And the suedo, the white cream sauce that gets put on top, is the legacy of the Syrian and Lebanese. It's everything all together in a famous snack."
Ellis picked this particularly popular stand because of the quick turnover, assuring a fresh product, and the abundant selection of sauces. Papas rellenas were offered from the same locale and we happily grabbed them. The stuffed potatoes were fried and seasoned globs of goodness with a punch of cumin to the meat. Ellis told us jubilantly that she'd had an Irishman on her tour exclaim that this was the best potato he'd ever put in his mouth.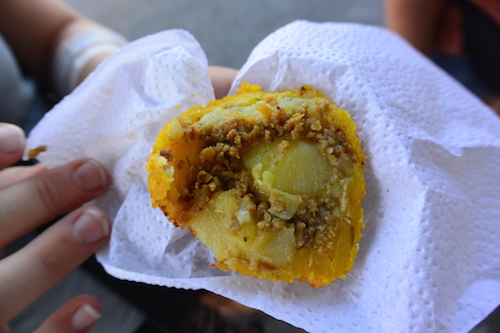 We sashayed over to the next stand a few feet away to try carimañola—a yuca fritter filled with flavorful ground beef. With similar characteristics as the papas rellenas, the carimañola was lighter on the palate and entirely pleasurable.
Walking down the busy street next to the old barrier wall we tucked into an open-air restaurant and copped a seat on worn plastic chairs. We were in this stripped-down spot for one thing: chicharrones. Holy hell, this rendition of the fried pork belly found throughout Latin America was the best that has ever passed through my lips. It was crispy on the outside with a gloriously tender center, the yuca and suero sauce counterbalancing the sheer debauchery of the chicharrones.
Sauntering on, we passed buñuelos on a ledge. So, why not indulge? The fried dough balls are similar to doughnuts. After that, I felt I had met my fried food quota for more than a month!
Making our way through foot traffic, we came to a kind-faced man proudly serving matrimonio—literally, a marriage. In this case, of bacadillo de guayaba (guava paste) and queso costeño. Although we had encountered costeño cheese at the start of the tour, this version was fuller-bodied and spongy. The pairing of the fruit and cheese was a match made in heaven.
With our bellies full and the heat of the day manifesting itself in the form of a super unsexy sweat-stache, we clambered on to our final stop. Ellis called through an open window to an old woman selling boli de mango (fresh mango popsicles) from her living room. The frozen treat was an impeccable closer to an afternoon of revelry in Colombian Caribbean street fare. Feeling drunk off the consumption of so much deliciousness, my friend and I said our goodbyes and stumbled back to our hostel for a much-needed siesta. For any lover of street food, Cartagena is paradise.
Annie Merkley is a freelance journalist, banjo strummin' songstress, traveler by simple means, poet, and dreamer of dreams and things. She has worked in restaurants from Athens, Georgia to Ischia, Italy, from New York City to Cornwall, England. From serving to being a cook, baker, bartender, barista and manager she's seen the insides of restaurants at every angle. Annie is on an around the world trip for the year of 2015 and writing about it along the way.