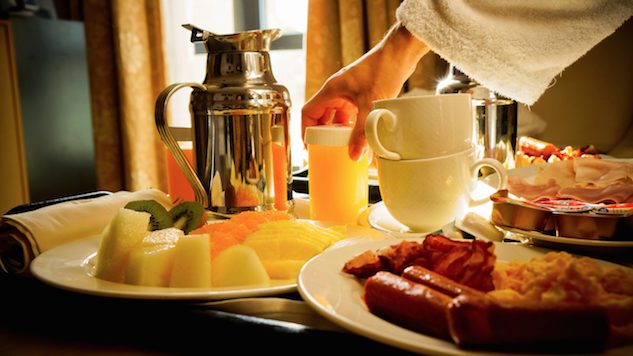 Pamela Capalad is a brunch hero. She eats up to four brunches on a given Sunday, and it's not because she's some kind of socialite omelet diva. For Pamela, corned beef hash is business. Pamela is a fee-only Certified Financial Planner™ and she's built her NYC-based company Brunch & Budget around giving financial advice over brunch.
Tax season is the most stressful time of the year for many people, financially speaking, and though Pamela can't do your taxes for you (she's not an accountant), she'll be waiting with a plate of waffles and some measured money management tips. Over years of brunching on the job, Pamela has picked up quite a few tips for maximizing that glorious mid-morning (or midday, or evening—you do you) feast. I asked her to share her knowledge.
Full disclosure: I have met with Pamela for financial advice, but she's not giving me any sort of discount or kickback for this interview.
Paste: What do you see as the main benefit of talking to clients about their finances over brunch?
Pamela Capalad: There are a lot of people who are stressed out about their finances and the idea of talking about it with someone else is even more stressful and also embarrassing. We all have some shame about our money situation, whether we feel guilty, stupid, hurt by our financial past, or we dwell on "mistakes" we think we've made. The idea of sharing this with someone who is a "professional" (and usually that equates to judgmental in our heads) is plain scary for a lot of folks.
The brunch-based model has made all the difference in giving people the space to finally feel comfortable talking about their money. When you share food with someone, you start to develop a different kind of relationship, where you're on the same level and hearing each other equally. There is an exchange of thoughts and ideas that can happen more freely where you're both nourishing yourselves and when it comes to money, you need that open, two way conversation to really understand someone's complete situation and experience.
Paste: What are some of your strategies for eating so many back-to-back brunches? Is it hard to enjoy all of them?
PC: Since I'm given the name of the restaurant where we are meeting, I try to check out the menus beforehand and plan around dishes I definitely want to try. For instance, if there's an interesting, but heavy dish at one place, I'll plan to get an egg white omelet or a small plate a the next place.
I have to say though, there are some weekends where I just can't help but go a little extra. A recent Sunday for me consisted of buttery lobster omelet at Peaches Shrimp & Crab, shrimp and grits (with pork belly thrown in because why not, right?) at Tchoup Shop, housemade breakfast gnocchi with eggs and bacon at Krupa Grocery, and burrata and fish tacos at Roebling Tea Room. That was a memorable day.
Paste: What are your top three favorite brunch foods?
PC: I LOVE a great corned beef hash with runny eggs, that meal is just so comforting and filling and it's perfect for brunch because you really don't need to eat again until dinner.
I'm a big fan of a well done omelet—the super fluffy, buttery kind where you swear there's milk in it, but they just have a special way of treating the eggs where there is air in every bite. It's the kind of omelet you could never make at home. I enjoy them filled with a light cheese, like goat cheese, and fresh seasonable vegetables.
I also love chicken and waffles for breakfast, but the only place that does them how I like them is a place in Inglewood, California called The Serving Spoon. First of all, they have the right kind of waffle—all these NYC places making it with a Belgian waffle are doing it all wrong! It needs to be a flat Eggo-style waffle, it's just better with the chicken/syrup/butter/hot sauce situation. The waffle's surface area is very important to making the whole combo work and the big chambers in a Belgian waffle leave too much space between the chicken and the waffle.
But, here's the kicker—they serve their chicken and waffles with eggs, which, it turns out was a game-changer for the whole meal. I didn't think anything was missing from chicken and waffles until I had them with eggs.
Honorable mentions go to shrimp and grits as well as cheesy breakfast scramble bowls.
Paste: What's the single best brunch you've ever eaten? The worst?
PC: What a hard question! I have eaten some great brunches, but the one that stands out in recent memory is actually at this place called The Brunch n Lunch in Dover, Delaware. I was in town for a panel at Delaware State and Yelped for a good place to eat. I had a hard time choosing, but ended up settling on their mac and cheese bacon cheeseburger. The server asked if I'd like fries, salad, or mac and cheese on the side. I literally did a double take and said, "Did you say I could have mac and cheese as a side for my mac and cheese burger?" It was everything you could want and more. I've never thought to put mac and cheese on a burger but now it's going to be hard to have it any other way.
As for the worst brunch, I honestly just put those places out of my memory. I do have to call out California as a state though. I have yet to find a place that makes a good omelet over there! Why are the eggs runny, why are the vegetables soggy, why is the bacon limp, why are the home fries flavorless? Granted, they do make up for it by having pretty much the best breakfast burritos in the country.
Paste: I know you don't actually do people's taxes, but I imagine you're pretty familiar with tax season stress among your clients. What's your number one piece of advice for people who are currently freaking out about their finances and are liable to stress-eat their body weight in waffles?
PC: Ha! Yes, I don't even do my own taxes, so I can put most of that stress onto my accountant! I guess that's my piece of advice to you as well—if taxes are stressing you out so much that you're binge-eating brunch food, then consider hiring an accountant to help you with your taxes this year. They are a bit more expensive than Turbo Tax, but the fact that you don't have to spend hours figuring out what the hell all these boxes and words mean can save you a lot of headache and heartache. As a freelancer and business owner especially, getting those hours back is priceless.
If you're freaking out about your finances in general, the first thing I recommend doing is taking some inventory of what you have and where all your money is going. It might help to do this with a friend who is also in a similar situation (or can at least pour you a glass of wine). I teach this thing called the Urgent/Important Spending Matrix where instead of giving yourself arbitrary "budgets" for your spending, figure out what you value first (usually the thing you really want, but feel guilty about buying because someone told you that you "shouldn't" want it) and plan your spending around these things that matter to you.
Paste: What brunch food do you feel best represents your personality?
PC: I'd say I'm a good kitchen-sink scramble—there are a whole lot of random things thrown in the mix and some things maybe don't seem to belong, but somehow it all works together.
You can book your own brunch or video chat with Pamela on Brunch & Budget's website, where you can also find her podcast, which tackles the intersection of social justice and personal finance.
---
Molly Jean Bennett is a writer and multimedia producer based in New York City. Her essays, poems, and strongly worded letters have appeared in McSweeney's Internet Tendency, Atlas Obscura, VICE, and elsewhere.