Edible Tableware Lets You Have Your Plate and Eat It, Too
At this meal, everything except the tablecloth is on the menu.
Photos by Madina Papadopoulos
Food
Features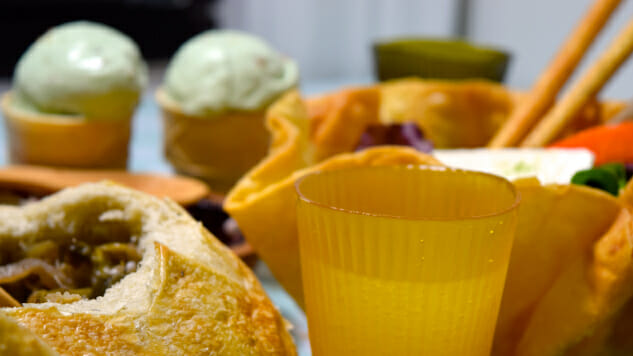 My parents never took me to Disneyland. I didn't mind. I had my heart set on a place that didn't exist: Willy Wonka's Chocolate factory. Now grown, I still cling to the hope that some mad genius (Bompas & Parr?) will recreate the edible world in Willy Wonka's candy factory. The moment in the film when Gene Wilder wrapped up his song "Pure Imagination," sipped tea out of a flower-shaped teacup, and then took a bite out of it made my imagination purely soar.
After taking a look at various food blogs, I can see I'm not the only person with a piqued interest in edible tableware. One of the best recent food trends has been all of the edible receptacles (made of Jell-O, cookie dough, or fruit) that enthusiasts create at home. Since no one has built Wonka Land yet, I satisfied my dreams by treating myself to a fully edible dinner. Fortunately, there are a few very cool products popping up on the market…and, if my wishes come true, there will be more.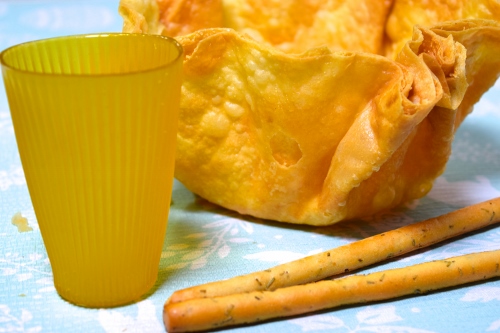 Glassware was by far the easiest to find. Loliware was on Shark Tank earlier this year, with industrial designers Chelsea Briganti and Leigh Ann Tucker presenting their delicious cups made primarily from seaweed. On top of coming up with a totally adorable product that aims to help the environment, they came up with a totally adorable tagline: biodegr(edible).
For those who love those #cookiecups flooding Instagram but aren't good at baking, ChocAmo sells a delectable, readymade kind. Initially created by student Michelle Silberman for her seventh-grade science project, Silberman revisited the concept once she grew up; she's now an entrepreneur with her own business.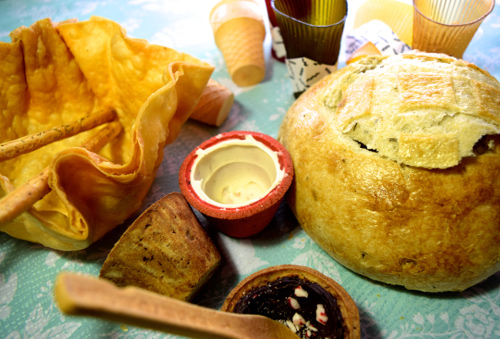 Unfortunately, I couldn't find any company manufacturing edible plates. But this was merely a small hiccup, as some edible bowls already play a part of food culture. As a lover of Mexican food, I ate my first taco salad bowl long ago. As a fan of medieval history, I'm familiar with the bread trencher. The bread bowl I fashioned from La Brea Bakery loaf, and the taco bowl was from from Noche Mexicana.
The most difficult to find, as is easy to imagine, were the utensils. I looked long and hard for these, and only came up with one utensil for sale, coming all the way from India (it seems that edible tableware is an international movement). A company called Bakeys, started in Hyderabad, India, by scientist Narayana Peesapaty. Through edible utensils, Peesapaty's goal is to address the environmental concerns of disposable cutlery. His solution is appetizing. So far, Bakey's has a flour-based spoon, and is designing a fork and chopstick. I searched for an edible fork, but to no avail. My friend, an architect at Google and quite clever, recommended I use grissini (thin, crisp, Italian breadsticks) as chopsticks. So I did.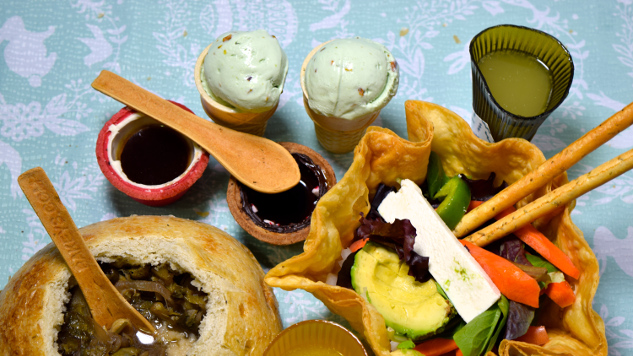 With all my tableware set, I was ready to eat. I placed the food directly on a clean tablecloth, as my rule was that I was not allowed to use any clay or metal. The dinner opened with a salad inside a taco bowl, and grissini to eat it with. I'm quite able with chopsticks, if I may say so myself, so using them did not prove to be too much of a challenge. As the textured grissini met my lips with the lettuce at the end, there was the temptation to chomp the delicious garlic sticks, but I had to remind myself that I needed them to get to the bottom of the bowl. Using the sticks added a flavor on the tongue, and an unexpected, soft sensation on the skin that one does not get from silver spoons. The 'chopsticks' broke halfway through the salad eating, but luckily I had more and did not mind eating the broken ones. Once the salad was done, I proceeded to eat the oily and crisp taco bowl. No morsel was left uneaten.
Next on the menu, an amazing Brussel sprouts soup from Le Pain Quotidien, served in a La Brea bread bowl with a Bakey's flour spoon. I'm not a fan of thick soups, and the brussel sprout was a light, brothy, one. However, looking back on it, a thicker soup would have worked better in a bread bowl, as the bowl began to soak up the thin liquid and eventually made its way to the tablecloth. The Bakey's spoon held up well. The spoon is shallow, so it mainly picked up the chunkier veggies in the soup, not as much of the broth. But the flavored broth integrated divinely with the bread bowl, making it a soggy and crispy mess to finish.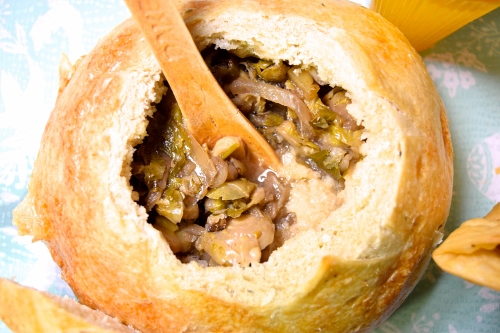 Each of the first two meals was paired with Orangina in a Loliware glass. I chose the yuzu citrus glass, as the orange flavors were an obvious match. The glasses are reminiscent of crisped gummy—they are malleable, but hard enough to withstand usage. I worried they'd melt a little from my hand's heat and leave me with unappetizing sticky fingers, but they did not and held up wonderfully until I devoured them. Again, what struck me was the sensation of eating with something soft and textured. The glasses are delicate, and compared to a hard glass or piece of plastic, they had a very comforting effect, almost like a baby bottle.
Now, a soup and salad may not seem like a large dinner, but remember how many carbs I also ingested by eating my bowls and glasses. With that, all that was left was the grand finale: dessert. With ice cream, I've always preferred cone over cup, so the Talenti Pistachio gelato in the Let's Do Organic cones was a predictable hit. But the coffee served inside the ChocAmo cookie cups—that was a divine discovery. I was worried the hot coffee would seep through the breadiness of the cookie, but it didn't. The ChocAmo cups are made of cookie on the outside with a lining of frosting on the inside. That lining keeps the hot liquid from seeping through, but also the different flavors of the cup (in this case peppermint bark and red velvet) diffused into the aroma of the coffee. The cups held strong, the coffee seeping in just slightly. And once again, I have to highlight the sensory effect of eating with an edible material. The soluble texture of the cup grazes the lips, while providing an added scent and flavor.
Overall, my dinner was a carb-packed success. (A silver golden lining was not having to do any dishes.) The various inventors behind these products are taking the Mary Poppins approach to the environmental problem posed by disposable tableware, by adding a spoonful of sugar and a cup full of flour to make the biodegradable choice easier (and tastier). Perhaps in the future, catered events will have no need to recycle or wash as many dishes, as all the guests will have eaten the tableware. The implications of these early products are considerable, as well as considerably fun, coaxing citizens to care for the environment with the carrot rather than the stick.
Now, if anyone knows of an edible house on the market…
Madina Papadopoulos is a New York-based freelance writer, author, and regular contributor to Paste. You can follow her food adventures on Instagram and Twitter.