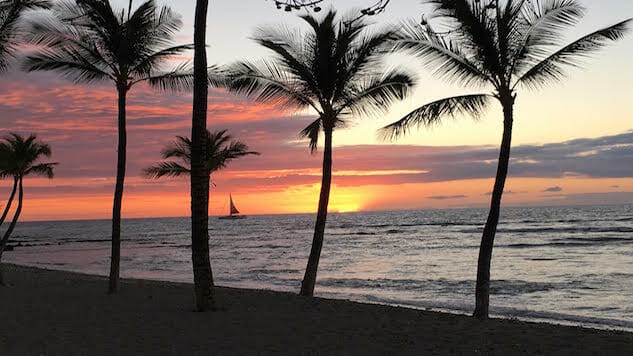 When people think of Hawaii they typically think of Maui or Oahu. But for those looking for a more authentic and less touristy, run-of-the-mill experience, the Kohala Coast should be your next destination. Away from the hustle and bustle of the bigger and more populated islands, Kona is considered one of the most cultural and spiritual places in Hawaii filled with jet-black lava rock fields, a currently active volcano and of course, good eats. Here are nine spots you have to try on the Kohala Coast:
1. Merriman's
65-1227B Opelo Rd,
Waimea, HI 96743
(808) 885-6822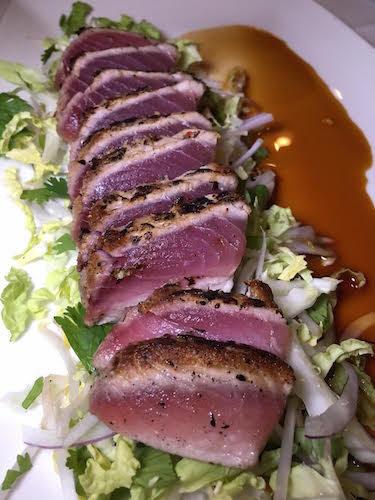 Merriman's famous Wok Charred Ahi
Photo: Kristie Hang
Merriman's is the Big Island's most popular high-end restaurant and rightfully so. Located in the inland town of Waimea, Merriman's is a scenic must-stop when driving between Hilo and Kona. Executive Chef Peter Merriman—a three-time James Beard Award nominee—has been a pioneer of supporting the community by sourcing locally and sustainably for more than 25 years. His close relationships with local growers, farmers, and fishers are what make his food some of the freshest around. Chef Peter and his staff often use 90 percent fresh, local ingredients for their dishes, a standard that is unsurpassed even with the popularity of farm-to-table food cuisine these days. The menu changes to reflect what's in season and what the farmers are bringing in. Merriman's cuisine is centered around simplicity and letting the quality ingredients shine through.
Signature dishes include Kahua range-raised lamb, Macadamia Nut Crusted Mahi Mahi, Yukon Gold Jalapeno Whipped Potatoes, Prime Bone-in New York Steak, grass fed and marinated with Sichuan Peppercorn rub, among others. To get the best bang for your buck and stomach, order the Shared Dinner option where each of your guests will be able to taste 13 of Chef Merriman's best dishes family style. There'll be so much food that you'll be going home with lots of leftovers, but don't forget to leave room for their Pineapple Bread Pudding and Chocolate and Chocolate Oblivion Torte dessert.
Tip: Reservations are a must. The restaurant is consistently fully booked.
2. Umeke's
75-143 Hualalai Rd, Ste 104?
Kailua-Kona, HI 96740
(808) 329-3050
Umeke's is a no-frills poke shop located in a small shopping plaza. There's nothing fancy. You walk in, order, grab and go. But make no mistake about it, you can't get fresher poke than Umeke's. The fish is caught off shores on the island and always fresh. Behind the counter, you'll see employees carving huge yellow fin tuna. Umeke's has the typical shoyu poke as well as rotating specials of the day. Their spicy poke known as "Da Hottie" has a smoky chipotle kick and is a real crowd pleaser. For those that want a poke bowl, you can get two scoops or white or brown rice/quinoa and a side. Don't forget Umeke's homemade lemonade and strawberry lemonade.
Tip: For those that want to bypass the line, Umeke's does call-in orders.
3. Copper Bar
62-100 Mauna Kea Beach Dr,
Waimea, HI 96743
(808) 882-7222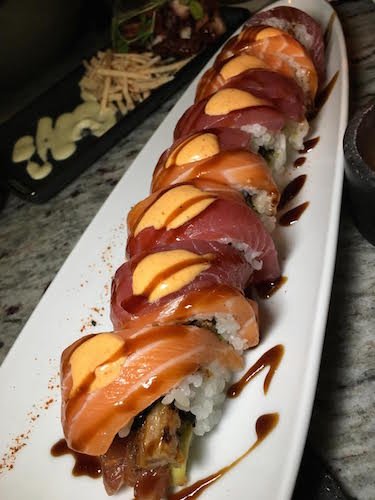 Photo: Kristie Hang
Newly remodeled in 2016, the Copper Bar's multi-million dollar renovation includes an elongated bar and panoramic view of Kaunaoa Bay. Located in the beautiful Mauna Kea Beach Hotel designed by Laurance S. Rockefeller, the space is decorated with copper accents and marine rope as well as a triptych painted by local artist Solomon Enos.
Dinner or late night drinks at Copper Bar are a must. The menu consists of must-order dishes like Spicy Macadamia Nuts with cayenne, cumin, and garlic, Thick Cut Bacon marinated with Sichuan pepper and wasabi aioli, Kung Pao Ahi, as well as a number of unique sushi rolls prepared with fish caught nearby. The bar also serves specialty cocktails, made with local and exotic ingredients, as well as tap beer and wine. Their signature Mauna Kea Mule is made with house-made ginger beer, Pau Vodka, fresh lime, soda and a dash of bitters, and served in an appropriately themed custom copper mug. There's also live music and hula dancing at night.
Tip: Don't forget to walk next door to the lookout where the Mauna Kea Beach Hotel shines floodlights into the water to attract Manta rays. You'll see huge manta ray swimming and gliding alongside snorkelers at night.
4. CanoeHouse
Mauna Lani Hotel and Bungalows
68-1400 Mauna Lani Dr, Waimea, HI 96743
(808) 885-6622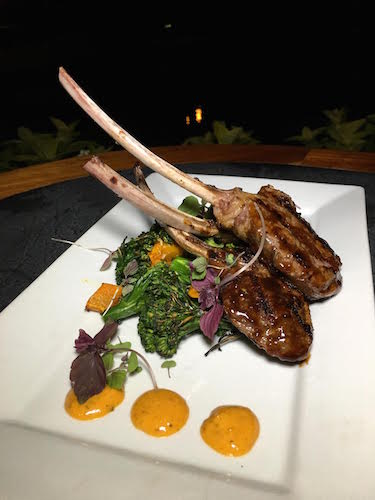 Chef Allan Nagun's grilled rack of lamb with Mongolian BBQ glaze, roasted kabocha, local vegetables, sizzling pepper aioli and micro herb salad.
Photo: Kristie Hang
CanoeHouse. is an oceanfront open-air restaurant by the serving contemporary Hawaiian cuisine. Helmed by Chef Allan Nagun, who is a multi-time winner of the Hawaii Island's annual Poke Festival Competition, CanoeHouse's dishes are a modern twist on traditional Hawaiian pupus or appetizers. Chef Nagun incorporates local Hawaiian homegrown products and sources directly from the farmers on the island. CanoeHouse has constantly changing seasonal menus. Enjoy fresh-from-the-sea pan roasted Big Island abalone topped with miso emulsion, nori wrapped tempura ahi, wok tossed Kona lobster, and other farm to table dishes. The desserts are also to die for. The Kokoleka with crunchy peanut butter and chocolate cookie, milk mousse, candied peanuts, peanut butter, and chocolate sauce is basically the most airy Kit Kat dessert you'll ever taste.
The best time to eat at CanoeHouse is just as the sun as setting so you can enjoy live guitar playing and singing from Emmy award-winning Charles Brotman while sipping on an island cocktail. Top that off by finishing your dessert under a pitch-black sky with a beautiful, unobstructed view of the stars with the sound of crashing waves in the background.
5. Hawaiian Style Café
65-1290 Kawaihae Rd,
Waimea, HI 96743
(808) 885-4295
Hawaiian Style Café is a local hole in the wall open only for breakfast and lunch. They say everything is bigger in Texas, but everything at Hawaiian Style Café gives Texas a run for their money. Their pancakes are larger than your face and each dish is so big that even two people may have problems finishing it. Although their specialty is the Kalua Hash, their loco moco and pancakes also do very well. Don't forget a helping of their delicious Banana Mac Nut Pancakes or French Toast with Portuguese sausage.
6. Original Big Island Shave Ice Co.
61-3616 Kawaihae Rd,
Waimea, HI 96743
(808) 895-6069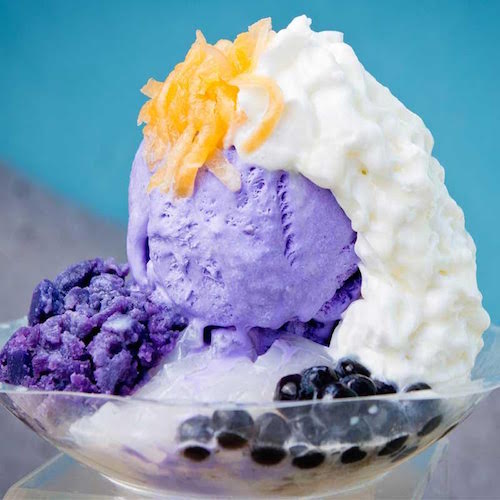 Original Big Island Shave Ice's popular Halo Halo shaved iced combination.
Photo: Original Big Island Shave Ice Co.
It's not a trip to Hawaii without some shaved ice. The must-eat shaved iced on Kona not only comes from a truck, but it's also every bit unconventional. Original Big Island Shave Ice is not for traditional shaved ice purists. Their specialty combinations are a cross between shaved ice and ice cream. The most popular item is the halo halo. They use real fruit syrups and they have unique toppings like mochi, ling hi mui gummies and boba pearls. The shaved ice is very fine and fluffy with a creamy texture to it. Located in close proximity to other shaved ice trucks, but make no mistake this is the one.
7. Captain Cooks
Manago Hotel
Mamalahoa Hwy
Captain Cook, HI 96704
Captain Cooks is a landmark in Kona. Opened in 1917 by Japanese immigrants in the Manago Hotel, Captain Cooks sits on the on the slopes of Mauna Loa at an elevation of 1,400 feet. The restaurant specializes in pork chops. It's no-frills and bare bones, but the food keeps locals and tourists coming back for more. The famous pork chops are cooked in the same black iron pan they've been using since the 1940s.There are no menus, just a small board in the center of the restaurant. For around $12, you'll get two large fried pork chops smothered in brown gravy and sweet onions, rice along with and family-style helpings of four Hawaii-style side dishes that change daily.
8. Island Gourmet Markets
Queens' Marketplace
69-201 Waikoloa Beach Dr # 201
Waikoloa Village, HI 96738
(808) 886-3577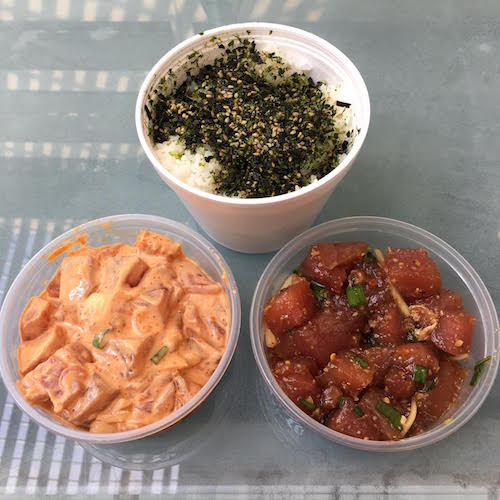 Island Gourmet Markets has a poke bar with a number of choices.
Photo: http://www.obisic.com
For those looking to save some money on your Hawaiian meals, Island Gourmet Markets is a sight to behold. The market is an offshoot of the popular ABC Store, but easily five times as big and much nicer. Island Gourmet has a plethora of hot and cold foods, snacks, and even unique Hawaiian flavored candies and snacks you can't find anywhere else like lilikoi (passion fruit) and pineapple flavored Hi-Chew candy. Open until late at night, the market also has a deli counter, a poke station, and shelves stocked with salads, desserts, bread, and cookies. Must eats include the pineapple chunks covered in ling hi mui powder, punalu'u traditional Hawaiian sweet bread, and poke.
Tip: If you spend $100 or more during your stay, the store will give you a free Hawaiian mug.
9. Village Burger
67-1185 Hawaii Belt Rd,
Waimea, HI 96743
(808) 885-7319,
There's nothing quite like eating a really good burger. If you're on Kona, look no further than the Village Burger for Chef Goto's locally sourced Wagyu Beef Burger. The cows are pasture-raised and the meat is hormone and antibiotic-free. The produce is locally grown on the island. The goat cheese is from a local goat dairy and the brioche buns are from a local bakery. The Wagyu Burger allows for customization. You pick your patty, bun, toppings, sauce, etc. The burgers are fresh tasting and very juicy. I recommend ordering the Wagyu Burger medium rare with avocado, onions, tomatoes, and lettuce. Don't forget to order a chocolate shake. It's made with Hershey's Kiss candies. Non-meat eaters in the group will be satisfied as well with the Hamakua mushroom, taro or ahi burgers.
Kristie Hang is a jet setting freelance food and travel journalist featured in LA Weekly, LAist, Gothamist, MSNBC etc. She has a Masters in Broadcast Journalism from the University of Southern California's Annenberg School of Journalism and a B.A. from UCLA. Find her online on Instagram @kristiehang.