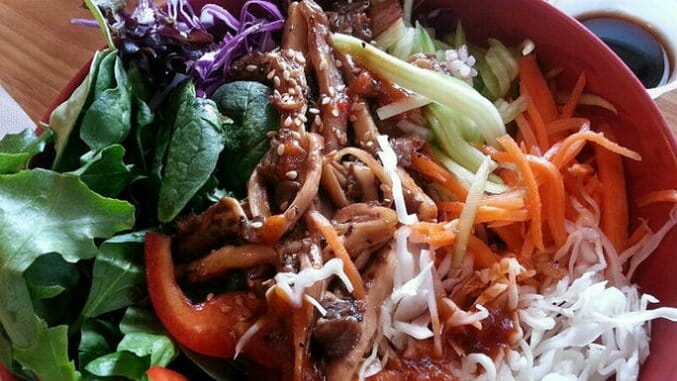 One of the boons of traveling to Austin's SXSW in March is all that glorious Texan food. At this time every year, conference participants make their lists of top movies, panels, and bands to peep, and right along with those, dream of the best barbecue and breakfast tacos their stomachs can take.
But after a couple days enjoying barbacoa with a Topo Chico on a beautiful Austin patio, SXSW attendees discover that an evening of bingeing on Austin's delicious food pockets can result in an evening of bingeing on GlaxoSmithKline's delicious gourmet Tums.
It's then that intrepid SXSW attendees—and those thrifty denizens going to unofficial events—desire a break and healthier fare. But where, exactly, do you find an alternative to all that free beer and brisket goodness amidst the branding bonanza in downtown Austin? Paste has the answers with these seven locally-owned and run eateries, and luckily enough they even include some healthy tacos!
Daruma Ramen
Located in the heart of the action right on 6th street close to the Austin Convention Center, Daruma Ramen will fortify you with delicious traditional Japanese ramen that's hearty but won't give you a heart attack. Their broth is chicken-based and lighter than the more widely-used pork, so you can slurp it to your delight and it won't slow you down. Mostly sourced locally, their Shio ramen is light and tasty and even includes goji berries. They offer two vegan ramens, and their Hiyashi-chuka cold salad will hit the spot on those hot afternoons between day parties. Daruma's space is tiny, but don't be deterred if it's full; they serve fast.
Koriente
Around the corner from Daruma on 7th street, Koriente is a local favorite. This family-owned Asian food restaurant focuses on offering low-priced healthy meals. Their dishes are made with healthy, fresh vegetables like avocades and Korean radishes, and they have plenty of vegan options. Their gourmet vegetarian curry is only $7, and their bibimbap will make you stronger instantly—or at least give you enough nutrient fortification to get through four more bands on the French Legation lawn.
Blenders and Bowls
Calling themselves a "healthy mobile food truck," Blenders and Bowls offers smoothies and bowls of fruit and granola with a generous dosage of acai. Looking at their menu will give you serious choice-anxiety—everything sounds delicious. Their Beach Bowl is my favorite for the addition of mangoes to strawberries and blueberries along with hearty granola, and as far as the smoothies go, I can't tear myself away from the Healthy Hulk and its mix of greens. Blenders and Bowls is located just a block's distance from the convention center, so grab something on your way to wait in what's sure to be an hours-long line to see President Obama's keynote and/or the First Lady's.
Juiceland
If you prefer your nutrients in drinkable form, there's local chain Juiceland. This smoothie and cold pressed juice-focused establishment has a concoction to salve every festival-related wound, from green smoothies to protein varieties. They have locations all over Austin, including their newest spot right in the Frost Bank Tower in downtown. Best of all, you can even order through their website and save yourself from waiting in yet another of Austin's endless lines.
Mr. Natural
Never exactly touted as a foodie destination, Mr. Natural is none-the-less a good standby for Austin denizens seeking food that doesn't clog the arteries. They offer everything from various taco incarnations to smoothies, and all their sandwiches are served on organic whole wheat bread that's made in house. Try the grilled veggie sandwich to offset all those tacos and beers. Their Energy Bowl—packed with acai and granola—is my personal favorite for starting off a full day of walking from venue to venue to venue. And vegetarians will be pleased to have their pick of several meatless options.
Counter Culture
Mostly comfort food, Counter Culture's place on this list is dubious, except that they're entirely vegetarian and mostly vegan, not to mention have a plethora of gluten-free options and use fresh ingredients. Their Beet Mushroom Walnut Burger is a terrifically tasty alternative to the meat variety, and their salads are rounded out with sides like quinoa salad and raw pickled vegetables. Counter Culture is located a decent hike down Cesar Chavez, though, so this may be one to save for a day when you have a lot of time between events or just want to avoid the crowd.
Bento + Picnic
Bento Picnic is a little hard to spot without being in the know, as this grab-and-go healthy eats cart is located inside Practice Yoga on East 6th street. Luckily, Practice is located in the heart of many unaffiliated music events, not far from the Fader Fort. Bento Picnic offers a little bit of every food group in that way that would make your mom proud. Their almond granola is a great pick-me-up when your energy is low, and their protein and greens bowls let you customize your salad with fresh local vegetables, gluten free starches and a protein.
Veracruz Tacos
See, I told you there were some healthy taco options! Veracruz has been growing a popular food truck empire for a few years now, having started with smoothies and moving into the taco game. Their tacos are made from fresh mostly local ingredients, and their fish taco is a great bet for nutritious and tasty. They gets bonus points for having multiple locations, including ones on Cesar Chavez and behind Hotel Vegas, both in the middle of SXSW and unaffiliated venues.
Main photo by rg-fotos
Erica Lies is a writer and comedian in Austin, Texas. Her work has appeared in Splitsider, Bitch, Rookie Mag, and The Hairpin.