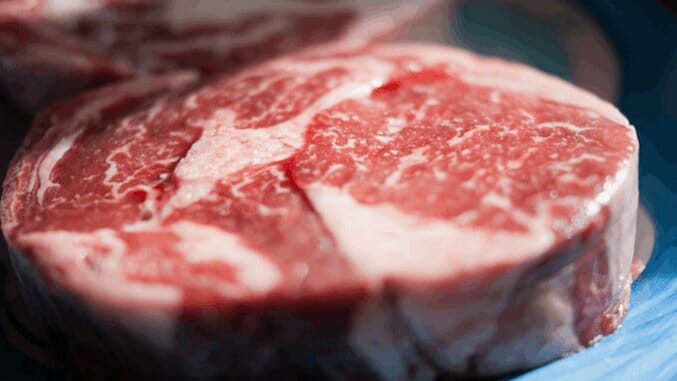 Imagine you're at a party and someone really cute walks up to you and asks what you do. You could say "I work in finance," or "I'm a writer," or "I tend bar." Or you could say, "I collect Contemporary Meat Art," to really grab their attention.
Meat Art isn't just about putting a pork chop on a cat's head and taking a photo. Respected contemporary artists have made art with real meat. This short introduction to Meat Art will give you the basics on the best of the Meat Art world. Meat Art comes in many forms: paintings, illustration, sculpture, performance and conceptual art, and it can also become high fashion as it did in the capable hands of Franc Fernandez, Nicola Formicetti and Lady Gaga at the 2010 MTV Video Music Awards.
Below, our collection of five times meat was used to make art:
1. "Meat Seat" by Armando Testa
2px); width:calc(100% 2px);">
Armando Testa (1917- 1922) was an artist, designer and painter who opened a graphic design studio in his hometown of Turin, Italy, that went on to become one of Italy's largest agencies, which it remains today. It's obvious Testa knew his prosciutto, because this chair is draped in an extremely fine quality slice of it. The silkiness, the perfect amount of fat and the color, all come together to proclaim that this is the family chair without compare. Who would sit in this chair? The father of the house? The mother? Several children? Or is it just perfect for the single person in its immaculate elegance?
2. "The Meat House" by preemiememe/kerri
2px); width:calc(100% 2px);">
There's something about this meat house created by kerri's digital artistry that brings thoughts of Little Red Riding Hood and the Wolf, or the other cottages always so dangerous in fairy tales. Yet this meat house is also terribly beguiling, reminding one of a large meat-lovers pizza or some combination of Korean barbecue and Italian-American red sauce place. This is the house you need to put your Meat Seat in, obviously.
3. "If Walls Could Talk" by Marcus Haas, Xi-design, Size Two and Mario Mankey
2px); width:calc(100% 2px);">
This mural moves meat into the political arena. The design by Marcus Haas won an international competition for works using The Berlin Wall as a theme. The steel knife engraved with the phrase "Berlin 1961-1989" is slicing the meat cleanly into sections (Haas has stated that the sections are East and West Berlin) and by looking closely at the marbling of the meat, one can see the neighborhoods or districts inscribed there. The Berlin Wall, which divided families and an entire city, was built in 1961 to create a legal boundary between the two parts of the city with the well known Checkpoint Charlie as the most well-known crossing point. The Fall of the Wall in 1989 allowed the two parts of the city to become one again. This mural was built across from the Berlin Wall Memorial -designed by Haas and built with the collaboration of Xi-design, Size Two and Mario Mankey.
4. "My New York" by Zhang Huan
2px); width:calc(100% 2px);">
The work of Chinese artist Zhang Huan lives firmly in the art world realm of collectors and museums — and this 2002 piece of performance art, where he roams the streets of New York City in an enormous, bulging suit of meat he designed and created — is considered to be an integral part of his body of work, exploring the experience of the immigrant, the ideas of man and animism, American bodybuilding culture and the concept of personal masks vs. personal reality. As he walked through the busy streets, at one point he released one white dove into the sky — a Buddhist tradition.
5. "Wood Meat Dress" by Mark Ryden
2px); width:calc(100% 2px);">
Lowbrow/Pop Surrealist artist Mark Ryden's work will be familiar to anyone who's ever seen a Juxtapoz magazine cover. He's been dubbed the "godfather of pop surrealism" by Interview magazine, and he often uses meat in his work. He talks about his reasons for creating art from meat in his artist statement here, but apart from any intellectual reasons, his Meat Art is utterly beautiful, almost hypnotic. The "Wood Meat Dress" sculpture is composed of pale-tinted sausages large and small, thin cut butterflied steaks, pork ribs, shanks and roasts, all put together to forms the dress of a very serious-looking young lady – as she should be. I know I'd probably look every bit as soulful if I were wearing that dress.
---
Karen Resta is a writer, a food culturalist, and a sometimes-fashionista who mostly loves ice cream and Brooklyn.