Wandering a Delicious Path with Eat Mexico's Street Food Tour
Photos courtesy of Eat Mexico
Food
Features
mexico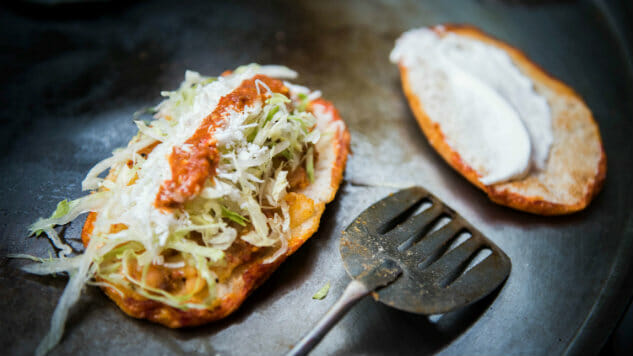 My day is behind already, and it's not even 9 a.m. I've made the mistake of thinking that Uber in Mexico City will get me to my Eat Mexico street food tour faster than the metro. CDMX traffic, however, is a juggernaut of doom.
It might have been faster to jog in a leisurely fashion from my friends' house in Navarte, clutching my notebook and phone. I'm desperately Whatsapping and texting my Eat Mexico tour guide, Paco, in the hopes that the group won't leave without me.
But when I get to the destination, a Sanborns department store on Paseo de la Reforma in Cuauhtémoc, our maestro Paco is as chill as can be. He and the other members of the tour, who are perhaps a bit more peeved than he at my 20-minute lateness, are drinking bottled waters in the shade of what is becoming a beautiful, but hot — as always — Mexico City day.
Eat Mexico is a vibrant tour company that has been leading Mexico City food tours since 2010, when it was founded by Lesley Tellez and Jesica Lopez Sol. Owner Tellez, a food writer, is a third-generation Mexican-American who splits her time between Mexico City and New York. A passionate student of Mexican food and a graduate of the Escuela de Gastronomía Mexicana, Tellez recently penned a cookbook called Eat Mexico, which features recipe delights of the bustling city.
Our tour starts out with a tiny speed bump that turns into a joy ride. Because one of the favored street vendors had disappeared, Paco has to improvise. He chooses to start our morning tour not with street food but with the next best thing: hot, crispy, sugary churros and hot chocolate from Churreria El Moro.
As our group of Australians, Kiwis and Americans breaks the ice with travel stories, some of us perch ourselves outside the show window to shoot video of the captivating process of making the churros. These miraculous little pieces of heaven start as long strings of dough squeezed into hot oil. Then, the chef twirls them into round circles of dough and fries them together. They are cut up into curved pieces, and coated in sugar. Paired with dipping sauces of caramel, chocolate or condensed milk and downed with a malted milkshake or a hot chocolate (choices include Spanish, Mexican, French or Swiss), this is a warm and decadent breakfast.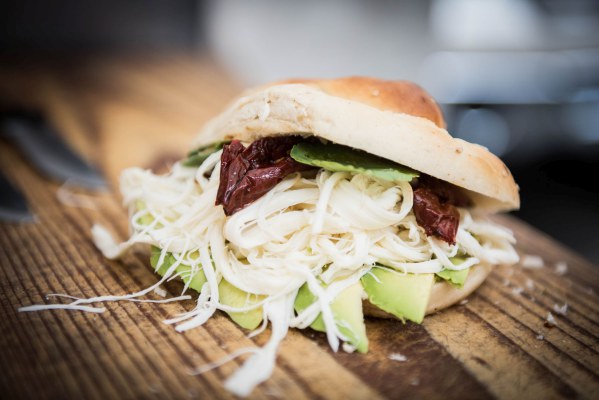 Paco tells us he has been leading tours with Eat Mexico for many years, and that we're in for quite a treat that day with the markets, tortillerias and food carts. Our very first stop, a small, modest market devoid of tourists, shows us that Mexico City is a land of starkly poetic contrasts. A few stalls down from a flower vendor selling perfectly geometrical, brightly-colored arrangements is a flank of chicken butchers carving up dozens of bloody fowl to send out to the city's kitchens. In the market, chicharrones and carnitas abound directly next to stalls overflowing with mangoes and plantains. Every stall owner seems to know one another, and by 10 a.m. business is booming. We drool over pollo rostizado and Paco knowledgeably explains the different mangoes to us so that we can select a few to purchase.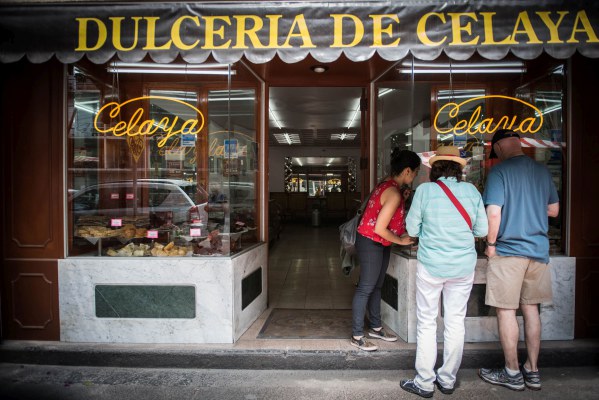 We proceed to what Paco says is one of the best tortillerias, a long, skinny hole-in-the-wall joint where the senora obviously knows Paco, and rewards us with hot, fresh tortillas straight from the machine. We gobble them down in wonder. For some of us, this is the first time tasting tortillas that are not from a grocery store package. They are so intensely fragrant with corn and delightfully warm to touch that I ask for another, and devour it gratefully. If all tacos had tortillas like this, I'd never eat anything else for breakfast, lunch or dinner.
We are led into the tortilleria, where we get to see the tortilla-making process firsthand, and it is fascinating watching masa dough be fed into the machine and pressed out. The heat is a tsunami wave, and I marvel at the strength of the few workers to handle the heat and repetition for so many hours.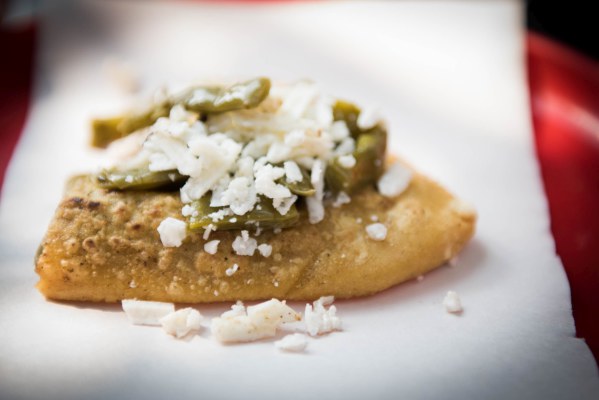 Later, we feast on blue corn tlacoyos, addictive football-shaped flat corn cakes topped with beans and cheese that my friends had warned me I wouldn't be able to resist. Paco had worried to us that tortillerias and heritage breeds like blue corns may not be around for long, especially with larger commercial production of tortillas and changing economic and farming patterns.
There are 64 varieties of native corn, Paco tells us, and nomadic tribes use the milpa farming system to raise crops such as corn. We are learning as we eat, and I make an iPhone note to Google the milpa system later, when I discover that Monsanto is trying to enter the Mexican corn market with GMO corn, much to the dismay of many Mexican chefs such as those at Enrique Olvera's famous Pujol.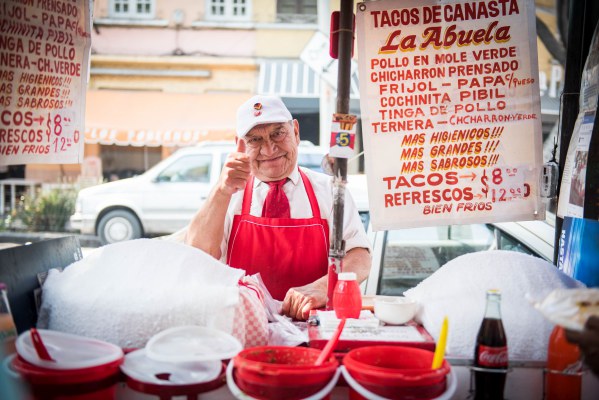 Our bellies already stuffed, we head to a wise-looking middle-aged vendor with a relaxed demeanor. His red cart with an abuela on the front holding a basket is peddling tacos de canasta, tacos with tortillas soaked in chile oil. I've never had, much less heard, of these tacos before, and I am eager to try the chicharron. Whereas the tortilla of a taco usually served as a mild-tasting, textural counterpart to the fiery ingredients, this taco is moist through and through, with heat in the shell as well. It's a revelatory taco, and I immediately start Googling recipes on my phone to Evernote. I'm only regretful I wasn't able to also try the cochinita pibil taco de canasta. Ah well, there's always tomorrow.
Then we're off to grab some mid-tour lightness in the form of ensaladas de frutas, but this fruit salad is served con chile y limon, so it's almost a savory snack. The vendor quickly and skillfully slices watermelon and mango for me, piles the fruit into plastic bags extending the height of child-size plastic cups (one of many examples of street vendors extending the capacity of cheap materials), and sprinkles lime, tamarind and chile powder on top. Sour, spicy, sweet and bursting with ripe tropical flavor, it's almost too much to handle. My sour adaptors, despite an affection developed for tamarind candy from Mexican high school pals, aren't sure they can handle it. I'm ready for another taco.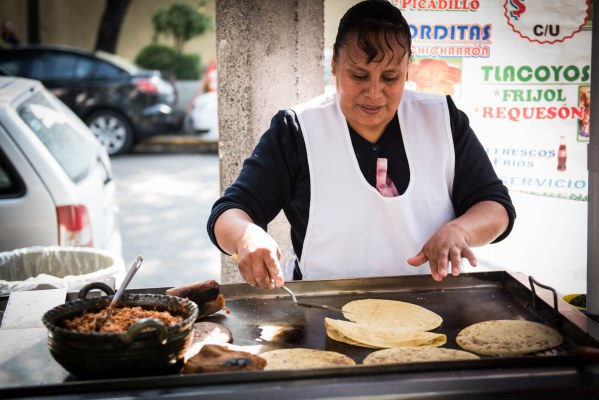 We have an impromptu herb lesson at a cart, and various members of our group opt for quesadillas, sopes, cemitas, tamales, al pastor and carnitas along the way. Paco tells us the sopes lady has a new innovation: a taco with beef and smashed potato that's phenomenal. Of course we have to try it. We each get a rich, tender tostada de pulpo drizzled with mayo at a seafood cart. It kind of makes me want to cry that I can't make and eat it every day at home. We cap off our epic tour with the best burrito I've ever had at the burreria, which features a squash blossom, bean and cheese, and epazote burrito that I make a valiant effort to finish.
We are so stuffed we can barely walk. As we finish off in front of a restaurant advertising a set menu lunch, Paco explains comida corrida to us. Comida corrida is the quick, hot workers' lunch, with set menu options at a fair, economical price. This one, he says, gesturing to the restaurant, is a great deal and great food, though not all are delicious.
When I get back to my friends' apartment in Navarte, I show them the photos. Both are Mexican food writers, and they say to me that the tour is an excellent one, because it's the way that D.F. residents really eat. I'm honored to have been taken around by Paco on the tour, and glad that I went.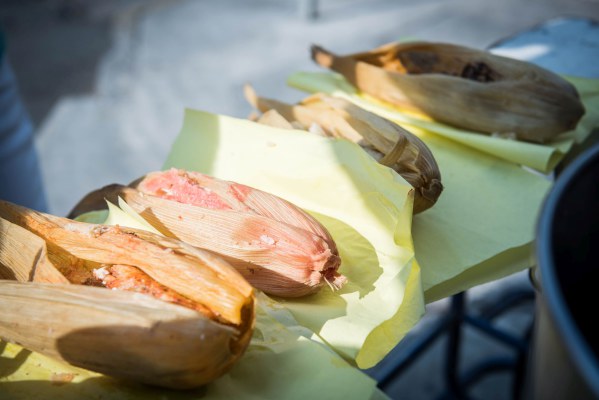 I really enjoyed the diversity of snacks eaten in such a short period of time, the close look into daily Mexican lives, the interaction with street vendors, and Paco's knowledge of Mexican food culture and history. I was especially thrilled to try so many dishes I'd never had, "con todo." We were taught to order and given a handout with ordering instructions, as well as a recipe. Supporting small business owners has never been so easy.
I understand Mexico's need for a long lunch now. You need some time to digest all this incredible, but not so light, food, and it's too hot to work anyways, especially outdoors in the early afternoon. I head off to try to find "una chela," a well-deserved beer after so much hard digestive work.
Dakota Kim is Paste's Food Editor. Tweet her at @dakotakim1.