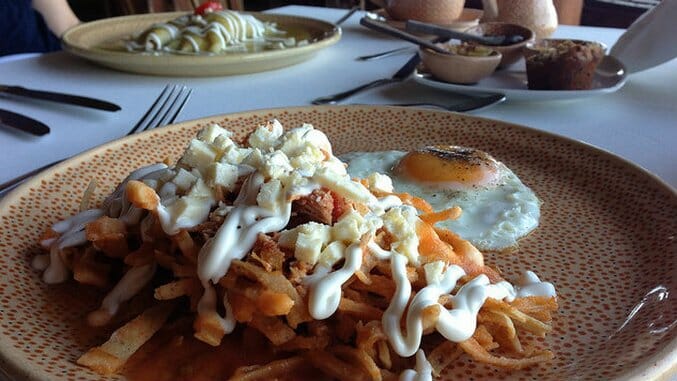 Austinites are a passionate brunch bunch, and our evolving culinary landscape keeps us on our toes with new flavors and fusions to go along with the ol' Bloody Mary bar.
Because of our varied cultural influences, the traditional brunch menu often gets rounded out with brisket (put an egg on it!), Kolache (in Austin, we often eschew the traditional fruit-filled Czech pastry for a sausage or ham-and-cheese filled variety), or even hot pot.
Craving something even more different? Here are a few spots that tempt your palate for a little weirdness.
The Mongers Market & Kitchen
Opened in 2015, this fresh-from-the-Gulf seafood emporium serves up a popular buttermilk oyster version of chilaquiles with cheddar cheese, onions and cilantro, and a smoked grouper omelette in addition to its fresher-than-fresh raw bar (try the Ménage-a-Raw, which includes crudo, ceviche and poké).
Elizabeth Street Cafe
The breakfast bánh mì is legendary at this adorable Vietnamese-influenced boulangerie. Order it with scrambled eggs and ginger pork sausage; fried eggs, pork belly, avocado and mint; or egg whites, mushrooms and chiles. Then satisfy your French tooth with an almond croissant, beignets and jam or macarons for dessert.
Stubb's
The sounds of live gospel music reverberating through the halls of Stubb's promises to make a brunch-time believer out of the most skeptical souls. Make your reservations for Sunday Gospel Brunch at this longstanding Austin live music venue, and enjoy not only the spirited choir, but also a belly-busting buffet of brisket, fried catfish, migas, garlic cheese grits, nopalitos, pies and cakes.
Thai Fresh
This quirky South Austin restaurant serves up a fine Thai rendition of fried chicken and waffles. Elsewhere on the menu, you'll find a Thai omelet with Berkshire pork and steamed rice or the classic Thai breakfast, chicken rice with fried ginger, garlic and cilantro and a tasty ginger-garlic-soy-lime sauce with a side of fresh cucumbers.
Counter Culture
A hotspot for "vegan comfort food," Counter Culture's recent brunch specials have featured mouthwatering Almond Joy French toast, breakfast sandwiches made with garbanzo "eggs" and tofu benedict. Pair it with their house lavender lemonade or mimosas. Raw and gluten-free options abound, and even if you're not dietary-restricted, it's a great place to nosh on something new.
Stella San Jac
Located inside the Westin downtown, Stella San Jac's brunch offerings like Stellaquiles (chili, pork belly and eggs layered over potato chips) and short rib grilled cheese are popular among diners looking for something a little different. Order bacon churros for the table, served alongside whipped cream with ancho spiced chocolate — no shame if you want to lick your fingers.
Odd Duck
The farm fresh flavors that Odd Duck is known for combine to create an innovative take on brunch staples, like the Kohlrabi pancake, pizza with wagyu beef, fried egg, broccoli and pecan pesto and a pancake-battered quail. Guaranteed to be flavors you've never tried together on the same plate, but equally guaranteed to be delicious.
Photo by Darren & Justine CC BY-SA
_Cynthia J. Drake is an Austin, Texas-based freelance writer and author of Budget Travel for the Genius. Follow her on Instagram._