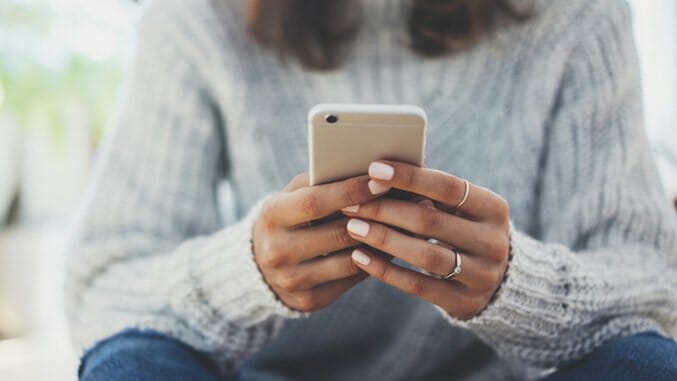 Today in health news that can only function in the 21st century, doctors are literally debating whether or not there will be serious health consequences from overusing cell phones.
In a world where, according to a 2015 Pew Research Center survey, 72 percent of Americans, 77 percent of Australians, 74 percent of Israelis, 88 percent of South Koreans and 71 percent of Spaniards report owning a smartphone, these concerns aren't exactly unfounded. "I think we may see more problems in terms of hand disorders, such as tendinitis, repetitive strain injuries, arthritis, thumb arthritis down the road, and even possibly carpal tunnel syndrome," said Dr. Sanjeev Kakar, an orthopedic surgeon at the Mayo Clinic.
"Kids 20 years ago were not using handheld devices, and now they're using them all the time in schools and at home. We may be at the tip of an iceberg, and we're going to see a cumulative effect," Kakar added. "I don't think this will happen if you've texted once in your life. I think the process of doing this over 20 to 30 years may lead to having these problems down the road."
The most recent study dealing with this debate, published in the journal Muscle and Nerve, suggests that using devices for more than five hours a day could harm the nerve in the wrist most closely associated with carpal tunnel syndrome.
The research looked at 48 adults, having each complete questionnaires and undergo physical examinations of their hands and wrists. It found that the adults that used devices for five or more hours a day exhibited enlarged and flattened median nerves linked to carpal tunnel syndrome and more frequently had positive clinical tests indicative of such. They also more frequently reported hand and wrist pain when compared with those that used the electronic devices less.
However, not all medical opinions agree with this.
"To date, there really is no specific diagnoses that is caused by either keyboard computer use or smartphone use that we know of. So for example, just because you use smartphones doesn't mean you're likely to get carpal tunnel syndrome," said Dr. Aaron Daluiski, a surgeon and clinician-scientist at the Hospital for Special Surgery in New York.
"If it were specifically related to cell phone use or smartphone use, we would expect a surge in seeing a ton of additional patients in our office and doing many more operations per year because of the influx in use of smartphones over the past 10 years or so," Daluiski added. "We're just not seeing a dramatic uptick in incidence."
Photo: ImYanis/Shutterstock, CC-BY
Emma Korstanje is a freelance journalist based out of Athens, GA.