New England Patriots Star Rob Gronkowski Just Crashed Sean Spicer's Press Conference
Photo by Jonathan Leibson/Getty
Media
Features
Sean Spicer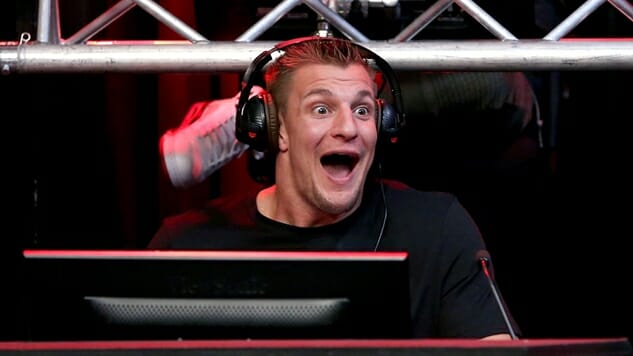 Apparently this is a thing that happens now.
GRONK just crashed Spicer's briefing @RobGronkowski@Patriotspic.twitter.com/cJs6qOzavA

— Bradd Jaffy (@BraddJaffy) April 19, 2017
If you're unfamiliar with "Gronk," he's basically the King of the DudeBros, as exemplified by the drunken cruise that he hosted last year, which was advertised as such:
It's time to PARTY, it's time to ROCK, but more importantly, it's time to get GRONK'D! Rob Gronkowski and his family want you to grab your sunnies, your swimsuits, your babes and your bros for one hell of a shindig sailing down the coast. It's time to go big or go home 'cause we're throwing a 3-day party sailing from Miami to Gronk's Island (our own private island) and Nassau, Bahamas with his most hype'd up fans, favorite bands, DJs, and comedians!
We clearly don't live in reality anymore, and the future humans running our simulation are just fucking with us now.
Jacob Weindling is Paste's business and media editor, as well as a staff writer for politics. Follow him on Twitter at @Jakeweindling.