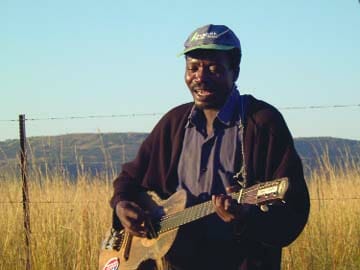 The Story: As much fame as the 66-year-old song, "In The Jungle" has enjoyed (appearing in countless movies, television shows, commercials and Broadway staple The Lion King), its true creator has remained largely unknown. The man who wrote "In the Jungle" was never properly credited. Originally titled "Mbube," the African isicathamiya song was first transformed into a strummy banjo folk tune by Pete Seeger and copyrighted by his band, The Weavers. The song went on to different reincarnations with doo-wop group The Tokens, and then George David Weiss, who ultimately collected all royalties off the song Solomon Linda created.
The Treatment: Director François Verster interviews the men touched by Linda's music, mainly Johannesburg musicians, and Linda's family, as well as the musicians who took credit for his song over the years (with the exception of Weiss). The documentary follows both the impoverished family left behind in the wake of Linda's death and the people working tirelessly to repair the unjust situation. Music serves as the common thread tying these worlds together and—with Verster's storyline editing—everyone involved plays a unique role in this audiovisual tapestry.
The Verdict: With one of Linda's daughters succumbing to AIDS, and his family too poor to erect a tombstone at his burial site, the story delivers a powerful narrative, its pain consuming. Linda's family still sings "Mbube" with the same passion he did in 1939, but they cry immediately afterward.