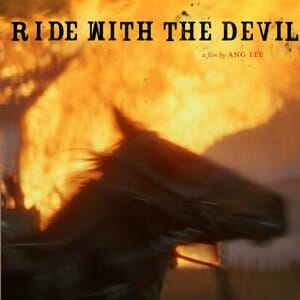 Release Date: Available Now
Director: Ang Lee
Writers: James Schamus (screenplay), Daniel Woodrell (novel)
Cinematographer: Frederick Elmes
Starring: Tobey Maguire, Skeet Ulrich, Jeffrey Wright
Studio/Run Time: Criterion, 148 min.
Re-cut Ang Lee Civil War epic still suffers blood loss
In a video interview—part of bonus footage accompanying the Criterion director's cut of Ang Lee's epic Ride With the Devil—supporting actor Jeffrey Wright surmises that this forgotten picture is "the last film about the Civil War of the 20th century; that arc from Birth of a Nation to Ride is an evolution in our ways of portraying this critical defining point in our history." While the all-star ensemble cast (also featuring Jim Caviezel, Jonathan Rhys Meyers, Simon Baker and Jewel) follows a curious footnote to the Civil War—guerilla armies and slaves fighting alongside the Confederacy in Kansas and Missouri—no one can do much with the tedious script and poor pacing. Wright is phenomenal as a slave emancipating himself and finding his voice, but Maguire's freshly shaved protagonist is simply overpowered, unable to strike a balance between awkward boy and assured hero.