Fans Are Petitioning Disney to Let Ava DuVernay Direct a Star Wars Film
Photo via Getty Images, Para Griffin
Movies
News
Ava Duvernay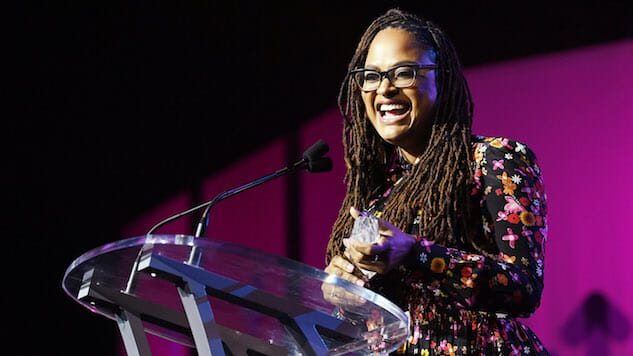 A new petition is gathering steam online, with the goal of bringing some attention to the issue of diversity/inclusion within the creative side of the Star Wars universe. In order to do so, the petition requests that director Ava DuVernay be given a Star Wars film to helm, and it's gathering signatures by the thousands.
The petition came to light after a recent report in Variety claimed that 96 percent of the franchise's creative leads have been white men over the years. That was calculated from the 24 people who have been brought on to "direct, write or otherwise take creative lead" on a Star Wars movie over the past 41 years. Of those 24 people, only one (screenwriter Leigh Brackett on Empire Strikes Back) was a white woman. All the rest were white men. There has never been a person of color in any of those roles on a Star Wars film.
"Star Wars has a problem with diversity amongst its directors — but director Ava DuVernay has proven that she has the chops to tackle the franchise," writes petition author Sarah Rose, who is also Care2's Senior LGBTQ Issues Advocate. "Even Rian Johnson [director of director of Star Wars: The Last Jedi] has publicly stated that he would love to see her take on a Star Wars movie. Disney has already placed its confidence in her for the upcoming Wrinkle in Time film, and she has clearly demonstrated she's capable of handling a major budget film. Tell Disney to give Ava the reigns and take us to a galaxy far, far away!"
It's not as if there's a shortage of upcoming Star Wars projects in the hands of white men, so Rose has a point. In addition to Rian Johnson being given a whole trilogy of his own after The Last Jedi, Game of Thrones showrunners David Benioff and D.B. Weiss have also been given the reins to a new trilogy of some kind. One would think that "too many Star Wars movies" is no longer a serious excuse for denying at least one to a PoC director.
Ava DuVernay, who was Paste's film person of the year in 2014 after directing Selma, has been pretty busy lately. In addition to directorial duties on the aforementioned A Wrinkle in Time, which releases on March 9, she announced this week the launch of a diversity program "to fund internships in the entertainment industry for young people from undeserved communities." We would certainly be curious to see what corners of the Star Wars galaxy she might want to explore, if given the chance.