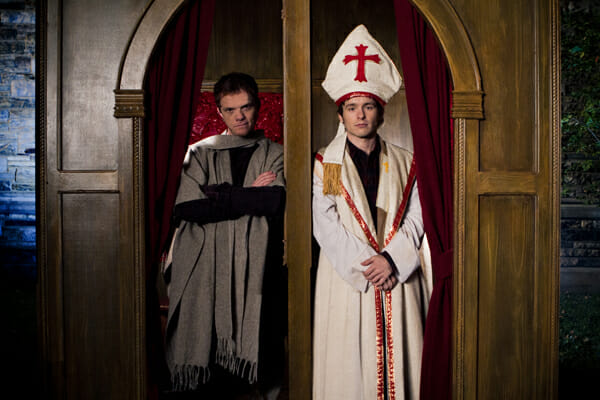 Blue Like Jazz represents Steve Taylor's sophomore outing as a feature director. A riotous adaptation of Donald Miller's book of essays reworked by Taylor, Miller and co-writer Ben Pearson into a tale of coming of age and crisis of faith, the film follows young Donald Miller (Marshall Allman) as he breaks free from his fundamentalist Christian life in Texas to explore the larger world via Portland, Ore.
Donald, disillusioned by the hypocrisy he sees in his church and his own home, turns down the Bible college he was planning to attend and rebels by enrolling at Reed University, a notoriously God-less school (especially by his hometown standards), where he seeks freedom in booze, drugs, activism and some PG-rated hedonism. Among the fellow students he meets there—bright-eyed activist Penny (Claire Holt), a frenetic school prankster known as The Pope (Justin Welborn) and a hard-edged lesbian (and Donald's new best friend), Lauryn (Tania Raymonde). Misadventures, long conversations, an arrest and one giant condom all come into play as Donald struggles with the shame he carries about his background and faith, even as he tries to understand how he fits into a world that is suddenly much bigger and scarier than he'd imagined.
Donald works hard to separate himself from his past, and he is largely successful as he plays the snarky anti-religionist in class and follows Penny into social action in support of various causes. He tries on many identities, including those of activist, vandal, beer drinker and builder of preposterous bicycles. But much of what Donald is doing is running rather than exploring. He's hiding from his past and from his own anger.
Led by the superb Allman, the cast shines. Allman's Donald somehow maintains a boyish charm even as he grows more cynical and lost. His arrival at school, goofy and bewildered, is one of the most buoyant sequences in the film, and it keeps the audience afloat through his attempts to fit in, his anger with his mother and youth pastor (played excellently by Jenny Littleton and Jason Marsden, respectively) and his battle with himself and God. As Penny, Holt deftly juggles both genuine optimism and self-importance as the girl who is always out saving the world while everyone else nurses hangovers. Penny, in turn, is well balanced by Tania Raymonde's caustic yet somehow warm Lauryn. And as The Pope, Justin Welborn gives the film a much-needed injection of danger as he careens through the university with his shopping cart of burning books and an energy always on the edge of slipping from irreverent fervor into downright meanness.
Taylor and the writers keep things clipping along, and the wit with which the story is told, including good-natured jabs both at conservative Christianity and typical university activism, keep the viewer engaged long after the story's destination becomes clear.
The filmmakers are fully aware of the reputation Christianity has in contemporary America, and they neither deny or shy away from it. But at its core, Blue Like Jazz is a film for a very specific audience. It is a film for those who have been damaged by fundamentalist religion and have come out the other side without completely turning their backs on their faith. It is a film for those who can nudge one another and smile at inside jokes about youth group lock-ins and corny pastors, a film for those who will nod sagely as Donald's crisis of faith comes to a conclusion that seems inevitable from the opening frames. Ultimately, Blue Like Jazz doesn't meditate so much on the question of whether God exists as on whether a certain "our" God does, and that alone severely limits the film's scope.
Donald's struggle results in a kind of dual apology—a public one for the negative actions of the church machine, and a private one to the purest part of his faith for turning his back on it. Whether this will make the film accessible or isolate it is difficult to predict. (While it should speak profoundly to those within the faith, those outside "the church" don't necessarily spend much time worrying about what Christians think of their own Christianity.)
That said, Blue Like Jazz is as entertaining and exuberant as one could possibly desire in a coming-of-age story. As a result, it deserves a serious look from audiences outside its target demographic. When all else is stripped away, Donald's search is one for personal identity and integrity. And that should speak to everyone.
Director: Steve Taylor
Writer: Donald Miller (story & screenplay); Ben Pearson & Steve Taylor (screenplay)
Starring: Marshall Allman, Claire Holt, Tania Raymonde, Jason Marsden
Release Date: Apr. 13, 2012