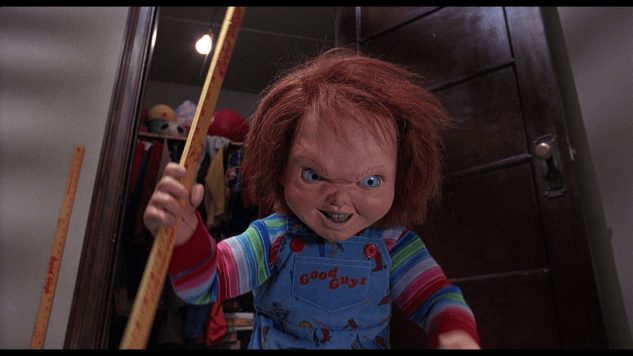 Who do we have to thank, exactly, for the sudden surge of interest in Child's Play and its homicidal killer doll, Chucky? Was it the mega box office of It that turned everyone's eyes onto this property, in the pursuit of a quick buck? Or are we still just that hungry for every form of '80s and '90s nostalgia?
Regardless, we've known since back in July that MGM was working on a straight-up Child's Play remake, recreating at least some of the original aspects of Tom Holland's 1988 classic film about a murderous doll stalking a young boy. That film made some waves for the assumption (which still seems to be accurate) that it will not cast the iconic voice of Brad Dourif as Chucky, which will be the first time someone else has voiced the character. It's an especially odd choice, given the fact that the original Child's Play timeline is still pretty fresh in fans' minds after the film had its most recent sequel, Cult of Chucky, in 2017.
But now things are going to be further complicated by the confirmation of some news we'd also heard earlier in 2018: Child's Play is also being adapted into an unrelated television series on Syfy, this one produced by original series creator Don Mancini. Once again, we don't know anything about Dourif's involvement—The Hollywood Reporter didn't even see fit to mention his name in their news story, which makes you wonder about their horror credentials.
It sounds like the Syfy series would at least acknowledge the character's past film appearances, as opposed to the film's reboot route, which would make Dourif's involvement make even more sense. Mancini will be writing the script, joined by producers David Kirschner and Nick Antosca, whose similarly horrifying Channel Zero was recently canceled by SyFy after its fourth season.
"I've long wanted to bring Chucky to television and Syfy is the perfect network for us," said Mancini. "The show will be a fresh take on the franchise, allowing us to explore Chucky's character with a depth that is uniquely afforded by the television series format, while staying true to the original vision that has terrorized audiences for over three decades now."
This all begs the question: What does the shape of a Child's Play series look like, exactly? It rather sounds like they're positioning the character of Chucky to be the protagonist here, something we're not sure you could really maintain over the course of a single season of television, let alone multiple ones. Is Chucky an antihero now? What kind of challenges will this immortal serial killer doll be overcoming? Will he try to transfer his soul into the body of Andy Barclay in every freakin' episode?
"I worked with Don on Hannibal and on Channel Zero for Syfy, so developing Chucky with UCP really feels like coming home," Antosca said. "Syfy is the perfect place to tell the next chapter in the Chucky saga and having the original creative team lead the project will help elevate the story we are excited to tell."
Whether or not this is ultimately a good idea, we sure hope "the next chapter in the Chucky saga" is one that involves Dourif, whose presence as Chucky's voice is really indispensable. If they know what's good for them, they'll secure that casting post-haste.