Disney Solidifies Fox Acquisition by Topping Comcast Bid
Photo by Chip Somodevilla/Getty
Movies
News
Disney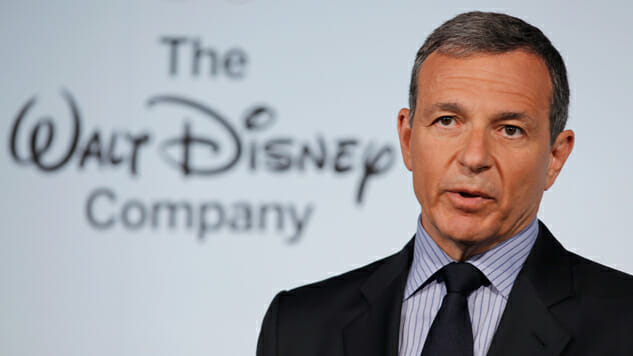 Disney has been planning to buy 21st Century Fox since December of 2017, and that plan keeps moving forward after the mega-corporation out-bid Comcast for their latest acquisition. Though Disney had originally put up $52.4 billion to acquire the company, Comcast's recent all-cash offer of $65 billion forced them to up the ante. Now the news appears official yet again, as Disney prepares to buy Fox for $71.3 billion ($35.7 billion in cash and $38 per share).
According to a statement from Disney, "The 21st Century Fox businesses to be acquired by Disney remain the same as under the original agreement." Those businesses include Twentieth Century Fox, Fox Searchlight Pictures, Fox 2000 Pictures, Twentieth Century Fox Television, FX Productions, Fox21, FX Networks, National Geographic Partners, Fox Sports Regional Networks, Fox Networks Group International and Star India, as well as Fox's interests in Hulu, Sky plc and Tata Sky.
Disney CEO Robert Iger, whose contract has been extended into 2021 to oversee the acquisition, said the company is "even more enthusiastic and confident" about this move than they were six months ago:
The acquisition of 21st Century Fox will bring significant financial value to the shareholders of both companies, and after six months of integration planning we're even more enthusiastic and confident in the strategic fit of the assets and the talent at Fox. At a time of dynamic change in the entertainment industry, the combination of Disney's and Fox's unparalleled collection of businesses and franchises will allow us to create more appealing high-quality content, expand our direct-to-consumer offerings and international presence, and deliver more personalized and compelling entertainment experiences to meet growing consumer demand around the world.
You best start believing in monopolies again, America. We're in one.